Description
NOW YOU CAN BREAKTHRU YOUR 'STUCKNESS' & ACHIEVE YOUR GOALS (within 3 months), WITHOUT SPENDING PRECIOUS TIME REPEATING SELF-DEFEATING PATTERNS...
Read More Below...


There are 3 Steps to Take Control of your Life...
Identify your unconstructive subconcious patterns (there are Twelve) that are sabotaging you.
Un-block those negative patterns through a proven advanced psycho-therapeutic system.
Calibrate yourself by installing empowering scripts to drive new desired behaviours.


SOUNDS SIMPLE RIGHT?
Yet 87% of people just cannot Breakthrough their 'Stuckness'! The main reasons for their failure are:
They are misinformed, or don't have the right knowledge & teachings.
They rely on unregulated modalities, or signed up for some misleading programs/ workshops.
They attempt to DIY such techniques unsupervised (eg: follow some youtube video instructions).

They fail to prioritise & take action, & end up circling round the same issues for years.

They fail to take personal responsibility over their issues, choosing rather to blame others



Whatever the reasons, only YOU can Decide your Destiny!
---
Register for this FREE Seminar & learn how your self-sabotaging behaviours are limiting your potential. Discover what is really preventing u from achieving your wealth potential, enjoying quality relationships, experiencing emotional freedom, & living your fullest potential. At this seminar, you will...
✔ Learn the science behind neuro-psycho-energy to Breakthrough your Limitations!
✔ Understand your 4 Self-Sabotages that hinder your progress!
✔ Identify the 12 Auto-Response Patterns that prevent u from achieving success!
✔ Harness the hidden power of your Subconscious to construct your desired future!
---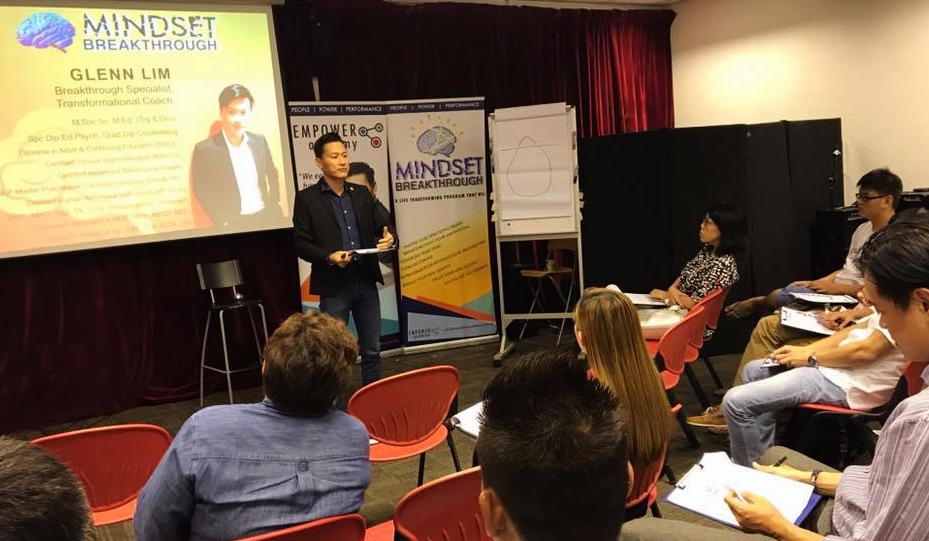 ABOUT THE COACH:
GLENN LIM (M.Soc.Sc., M.Ed, Dip Ed. Psych, DACE) is a Breakthrough Specialist, Transformational Psychologist & Coach. Since 2006, he has worked with clients stucked in emotional, mental, relationship problems, as well as those struggling in their personal career & finances. Without fail, Glenn observes a common pattern in all his clients - All the resources needed to overcome their issues lie within their minds. And the individual who can successfully calibrate his mind begins to tap into his potential for personal breakthroughs! But in order to do so, one must first understand how his mind works.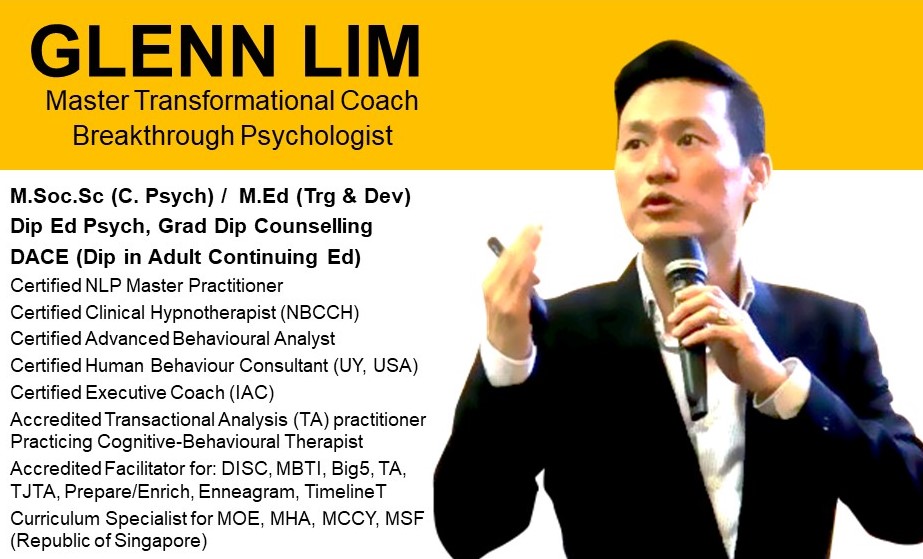 ---
HEAR HOW STUDENTS HAVE BENEFFITED FROM THIS PROGRAM:
"Powerful, powerful mindset program...that broke my past limiting scripts so that I can pursue my dreams today!..." L. Wei Sian (GM, Finance Industry)
"It's been a liberating journey so ...a lot of removal of emotional baggages that stop me from achieving my potential..." - Jane K. (former Lawyer / Educational leader)
"This is a LIFE-TRANSFORMING program!..." - Alice P. (Assoc Dir / Senior Realtor)
"I'm able to formulate my vision, goals, what I want to achieve...and even find my business partner (all within) 2 days after the program!...all through reprogramming my mindset!" - Peter R. (Entrepreneur)
"I'm impressed with Glenn's dedication to help participants breakthrough their issues systematically...I recommend this to those whose lives are stuck in a rut, not improving, need more confidence, & Breakthru...!" - Doreen W. (Entrepreneur)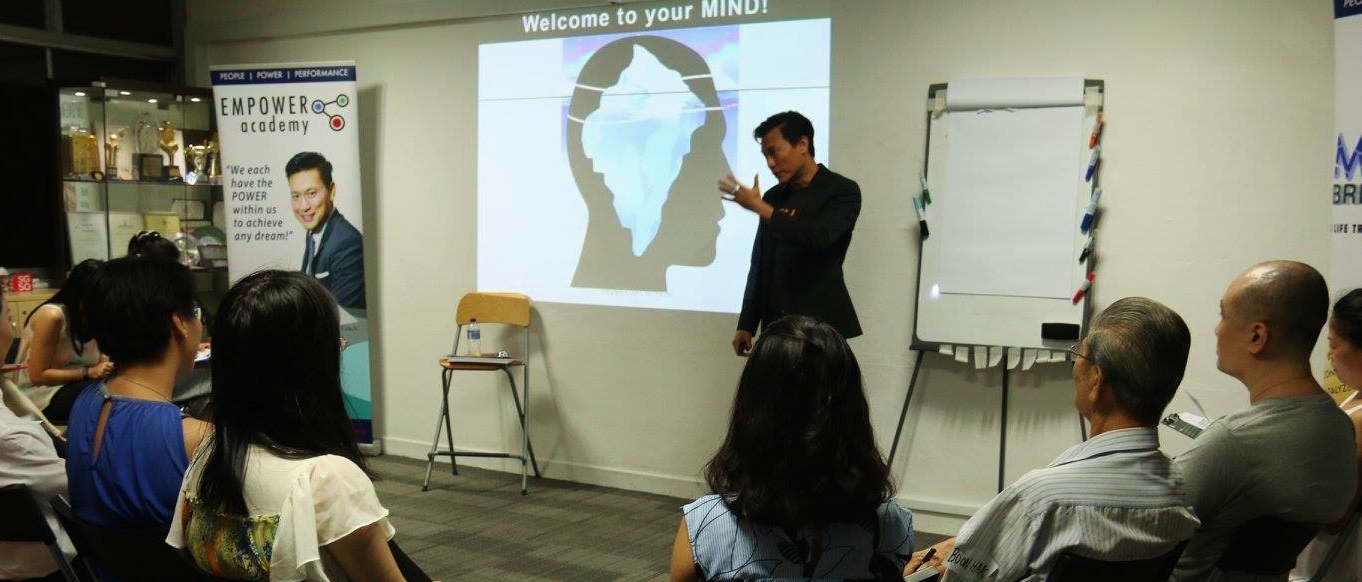 VERY LIMITED SEATS!
Register early to avoid disappointment!
We also ask that u please register RESPONSIBLY? ie) If u sign up, please show up. Otherwise u will be taking a seat from someone else who was able to attend. We seek your kind understanding.
Please text / call 9299-4148 for queries.