Minding Your Business: A Legal Primer & Coaching Course for Spiritual Entrepreneurs
By Cynthia R. Litman, Esq., PLLC
Date and time
January 6, 2015 · 5pm - January 27, 2015 · 7pm PST
Refund Policy
Contact the organizer to request a refund.
Description
MINDING YOUR BUSINESS
A Legal Primer & Coaching Course for Spiritual Entrepreneurs
Presented by: Cynthia R. Litman, Esq., PLLC
Time to Put on Your Legal Hat and Mind Your Business
You've poured your heart, soul and passion into your purpose
There's fire in your eyes, lust in your heart
Now you must make sure it doesn't fall apart.
Thinking like a lawyer is the last thing you want to do
But since you must, I've created this course just for you.
We'll get intimate, raw and real and
Ground your energy into creating seamless Business Deals.
More details and the enrollment button is below!!
Let's get our geek on during this 4 Week Intensive Tele-Seminar Series!!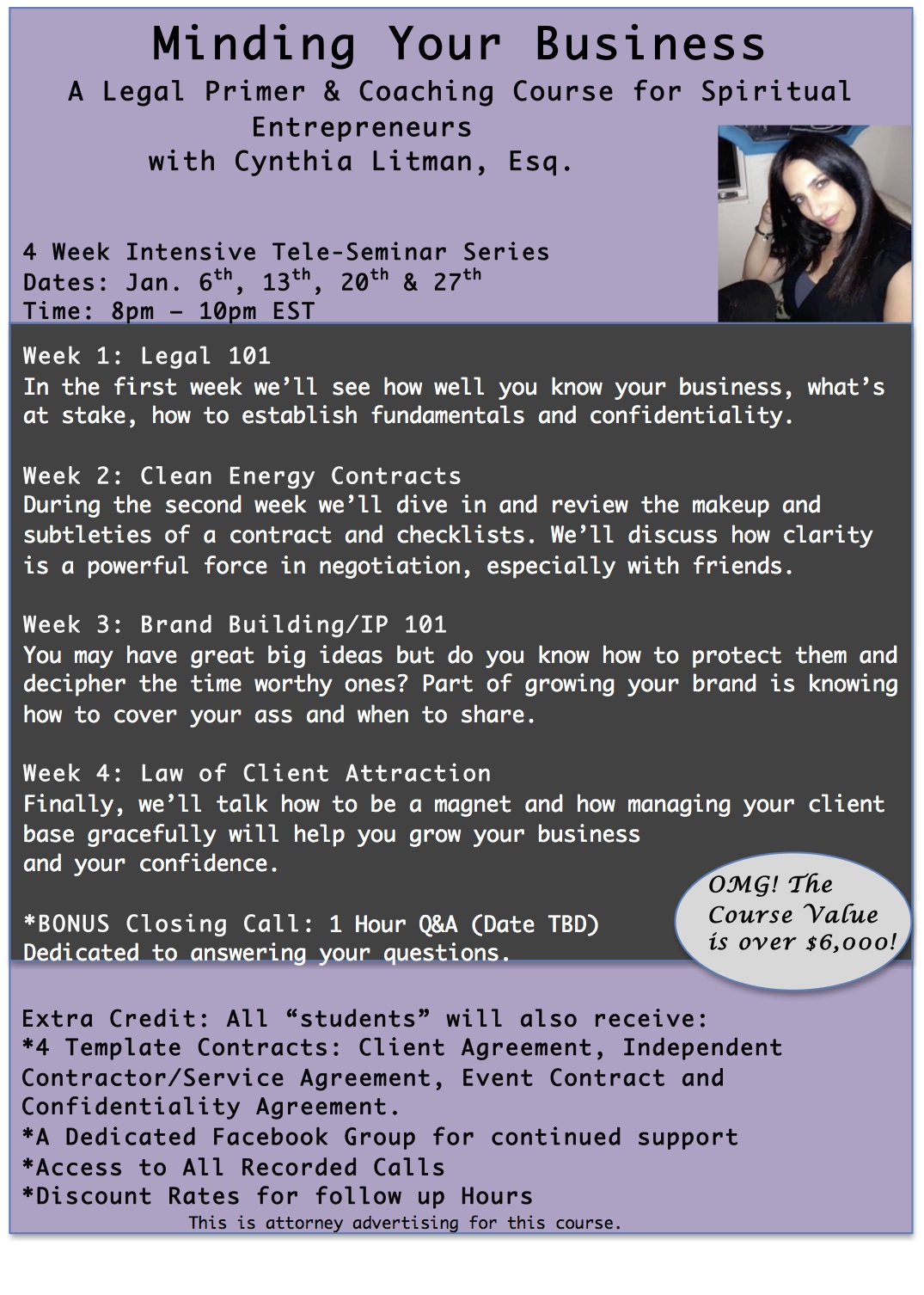 My experience as a lawyer and a spiritual practitioner has revealed common threads across any business and I look forward to imparting the wisdom I've learned during my practice to empower you to manifest your visions!!

A portion of each sign up will be donated towards Gabrielle Bernstein's Pencil of Promise School!!! #dogood

GOT QUESTIONS??? Here's some COURSE FAQ's

Where do I call in?
Call in information will be sent to you after payment is received.
What if I miss a call?
No worries!! All calls will be recorded and archived, so even if you miss the live call, you may listen to the recordings at any time.
Will I have a chance to have my personal questions answered?
YES!!! There will be a question and answer period at the end of each call. Plus, the last "bonus" call will be all Q&A. You may also e-mail Cynthia during the course to ask questions and receive feedback.
If I join the course, does this mean that Cynthia is my lawyer?
NO!!! Please understand that the course is being offered for general informational and educational purposes. Your enrollment does not create an attorney/client relationship with Cynthia.
Is the Information shared during the course protected by the attorney client privilege?
NO!! Again, there is no attorney/client privilege between Cynthia and the participants and hence no privilege. Further, whenever a third party is present to a conversation there is no privilege.
When will I receive the course materials?
The course materials will be provided after your enrollment and sent throughout the course.
Who owns the course materials?
Um, me. The materials and content shared during the course is proprietary to me and my firm and are being provided as a resource and for my informational purposes. The templates will be drop and go and may be used and tailored for your needs. I suggest that you run them by your personal advisors.
Is my registration/ticket transferrable?
Unfortunately not. If you know someone who wishes to take the course, you should take advantage of the Friend Special and sign up together.
Are payment plans available?
If you feel called to take the course but cannot afford the one time payment, e-mail me as we may be able to work out a payment plan.
What is the refund policy?
Sorry, but there will be no refunds.
If you have any further information about the course, please feel free to contact Cynthia at info@litmanpllc.com.
#luvyourbiz
About the organizer
I am an experienced lawyer, entrepreneur, Reiki Master, writer, event producer, speaker, momma and am passionate about empowering you to manifest your dreams!

I graduated from New York Law School and began my career in the Business and Legal Affairs department at New Line Cinema.

As an entrepreneur at heart, I co-founded the Spiritual Cinema Circle with Stephen Simon, Gay & Katie Hendricks and Arielle Ford. My role was to build the solid foundation upon which the business could thrive and later be sold to Gaiam. I created a niche for myself in spiritual entertainment and focused on indie filmmakers.

I've evolved and nurture clients across multiple business platforms and professions as a confidant and counselor. Whether my clients need legal advice, strong business instincts or a whisper of courage, I dive in with my entrepreneurs, authors, producers, public relations firms, spiritual practitioners, mom business owners, child obesity doctors and distributors and give them the support and discretion they need to empower them in their businesses.

In my spare time, I work on my passion projects - writing, connecting and photography.

In 2009, I launched a spiritual parenting brand, Mommas Pearls. (nominated for a 2010 Blog Luxe award) and cultivated a community for my blog, newsletter, radio show, coaching, v-logs, workshop and tele-calls.

I also co-founded MomTime Events, to promote, market and support local mom business owners through networking and other events.
Check out my full firm bio at www.Litmanpllc.com or via Linked In