Description
Join us for a Mindful Community Evening hosted by Mission Be, Mindful Education on Monday, March 12, 2018 at Historic Adobe Building.
Come with an open mind and leave with a warmed heart and tools to practice mindfulness daily.
Event Details:
Please join Carin Winter (Mission Be) and Daniel Kottke (early Apple employee and Mission Be Board Member) to learn about the science of mindfulness and practices that can help you overcome everyday stress. This will be an interactive event and followed by a Q&A session.
What is mindfulness?
Learn practices to help you be present in the world with yourselves, nature and one another
Learn the importance of digital detox and how technology effects your emotions and neurology
Bring these mindfulness practices home with you for your own integrative daily practice
Connect with a like-minded community and make new friends

End the night with story telling by Daniel Kottke who will share the effect that mindfulness had in his life

Enjoy free refreshments
and much more!
---
Meet the speakers:
Carin Winter (Mission Be)
Carin Winter is CEO and founder of Mission Be, Mindful Education non-profit, which has successfully brought mindful education program to 60+ schools, reached over 50,000 children and trained thousands of adults from Big Sur to Berkeley. Have been studying the work of mindfulness for over 20 years, Carin is a licensed social worker, yoga instructor, talented meditation teacher, gifted speaker and visionary.


Daniel Kottke
Daniel Kottke has been immersed in the world of mindfulness since the early 1970's when he became​ a close​ friend​ of​ Steve Jobs at Reed College in 1972, which led to a 4-month pilgrimage​ for the two friends to India in 1974. ​From there, ​Dan​​ Kottke ​practically created tech, in Silicon Valley, with his two friends, Steve Jobs and Steve Woznia​k​​ ​by helping build ​the first ​Apple-I computer in Steve's garage in 1976​​. Kottke worked for Apple 1976-1984 ​as an ​early member of the Mac design team​​. ​ From 1984-2008 ​Dan was involved in: Lucidity Research, EcheLON, General Magic, SleepTrace, Silicon Gaming, Vertical Networks, CubeRoot, Blinkenlabs, Fastmovie.tv.
Kottke earned his JD in 1998 and produced/hosted ​the ​cable tv show The Next Step 2005-2012. He was Gen'l. Partner for Cobb Mtn Partners 2010-14​. ​ Kottke i​s now in​ the marketplace for Smarthome products, where he is now working on a stealth startup aimed at multi-tenant and senior/eldercare market sectors. He has​ begun working on ​ a memoir about his friendship with Steve ​Jobs ​prior to Appl​e​.
This community night was made possible by a grant from "Inspire Mountain View", managed by the Los Altos Community Foundation.
---
About Mission Be: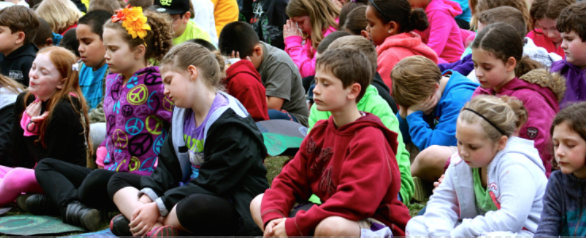 Mission Be brings mindfulness, compassion and altruism to schools, communities, and organizations in Northern California and New York. Since 2013, Mission Be has brought its mindful education programs to 60+ schools, reached over 50,000 children and trained thousands of teachers. Mission Be offers workshops on mindfulness, ranging from thirty minute introductions to five day workshops, to eight-twelve week programs.
Mission Be, Inc. ("Mission Be") is a New York not-for-profit corporation operating through a fiscal sponsorship with September's Mission, Inc. (Federal Tax ID: 60-0001462), a New York not-for-profit corporation recognized by the IRS with federal tax-exempt status as a public charity under Section 501(c)(3). Contributions to Mission Be are tax-deductible to the fullest extent of the law.
FAQs
Are there ID or minimum age requirements to enter the event?
18+
How can I contact the organizer with any questions?
Carin Winter, CEO and Founder
631-513-6151