Half-Day Mindfulness Meditation Retreat ~ Cost - Donations greatly appreciated.
About this event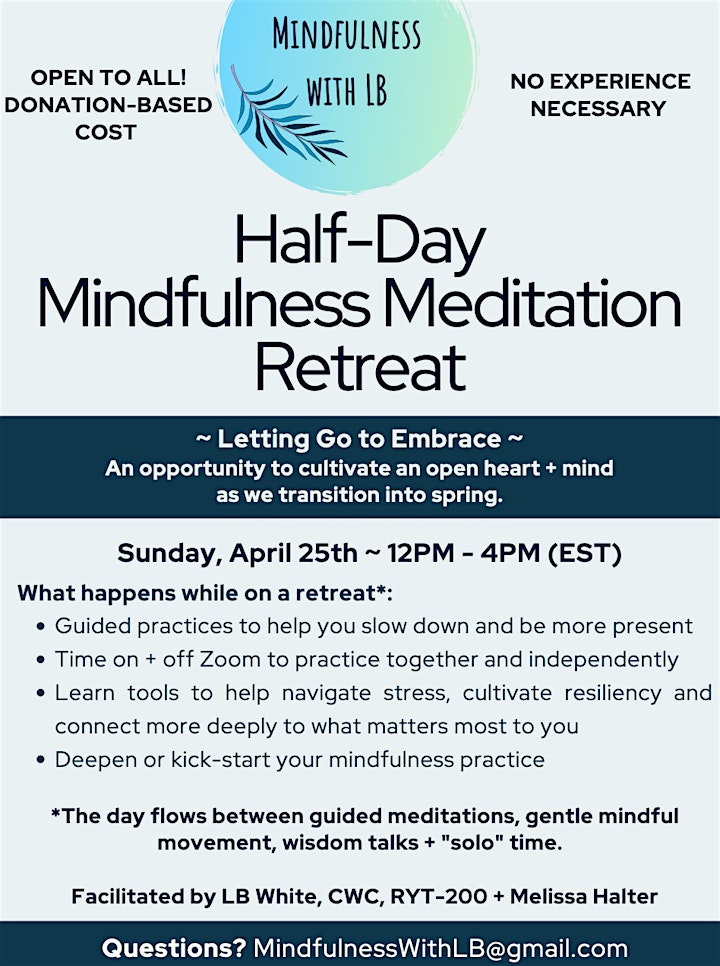 No Experience Necessary - Open To All!
An opportunity to cultivate an open heart + mind as we transition into spring.
What happens while on a retreat:
Guided practices to help you slow down and be more present
Time on + off Zoom to practice together and independently
Learn tools to help navigate stress, cultivate resiliency and connect more deeply to what matters most to you
Deepen or kick-start your mindfulness practice
The day flows between guided meditations, gentle mindful movement, wisdom talks + "solo" time.
Donations* Gladly Accepted ~ Please donate what you are comfortable with and able to. Any amount is welcome!
Suggested Donations: $15 - $50
*100% of the proceeds will go to Meghan's Foundation - Meghan's Foundation offers FREE yoga & meditation programs for veterans, who may be experiencing symptoms of post-traumatic stress disorder (PTSD).
For more information about Meghan's Foundation please visit: www.meghansfoundation.org
Facilitated by LB White, CWC, RYT-200 + Melissa Halter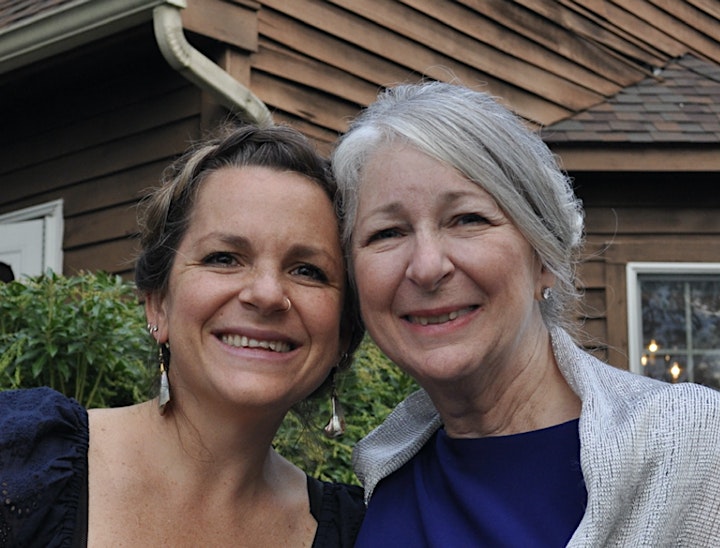 About the teachers: LB and Melissa, mother/daughter duo-team, have endlessly supported one another through their own individual mindfulness journeys and the ups and downs that life undoubtedly brings. They share a passion of continual self-understanding through contemplative practices, wise mentors and teachers, and learning from challenges. They inspire to share the bits of wisdom they have gleaned to others who may benefit from these wonderful practices as well.
Laura Beth (LB) White has been working in the wellbeing field for nine+ years where she has served a wide range of populations including healthcare employees, veterans, youth, and young adults. She completed her undergraduate degree with a focus on the intersection of mindfulness and holistic mental health counseling at Union Institute & University. LB has also completed a yoga teacher certification through YogaDharma, a wellness coach certification through the National Institute of Whole Health, and just recently completed her Koru Mindfulness training. Her personal mindfulness practice combines with her education and training to provide her with a foundation of expertise and authenticity for her work with others. Currently, LB serves as the Wellbeing + Mindfulness Specialist of the Dartmouth College Student Wellness Center where she is developing programs that enhance students' capacities for mindfulness while also broadly supporting the holistic wellbeing of all students.
On most days, you can find LB doing something food related: cooking, listening to food podcasts, perusing cookbooks, and of course eating! She spends many an afternoon cleaning up after her 4-year-old and 19-month-old's pizza dough escapades! One day she hopes to rekindle Quincy's - the Saturday morning farmers market stand that she and her mother once (wo)manned.
Melissa Halter White
Melissa has completed various MBSR (Mindfulness Based Stress Reduction) programs and workshops through Jefferson Mindfulness Institute and Princeton Yoga Center. She is a member of the Tergar Meditation Community. She attributes the many shifts her life has taken to her personal mindfulness practice of mediation, jotting down her "morning pages" and reading from a vast array of inspirational books.