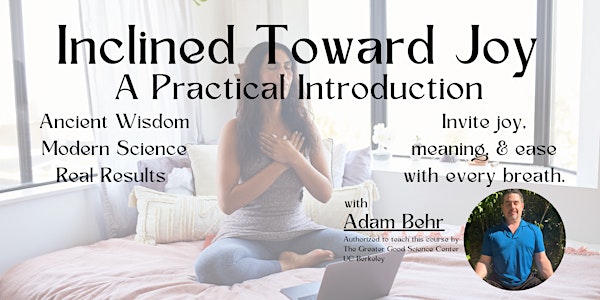 Mindfulness Meditation & Compassion Practices for Meaning, Ease, and Joy.
Ancient Wisdom meets Modern Science for Real Results in YOUR daily life. Two weeks, four LIVE sessions. Cultivate joy, meaning, and ease.
About this event
Everybody's talking about all the proven good mindfulness can do for your health, mood, relationships, and more absolutely everywhere these days...
But where to start?
Right here with Inclined Toward Joy's popular, secular/evidence-based, LIVE, online, two week, two 90 minute sessions per week, intro course!
Our practical approach to mindfulness meditation starts exactly where you are and introduces an array of proven, open-ended, invitational guided practices to help you find a path and practice that works for you, bringing ease, joy, and meaning into your daily life.
What a gift to give yourself this year!
Four LIVE 90 minutes online sessions
Two sessions per week
All sessions start at 3:30 pm EST/12:30 pm PST
Monday December 12th
Friday December 16th
Monday December 19th
Friday December 23rd
Each session includes a guided meditation, a guided heart practice, a didactic talk regarding the connection between them and how they might fit into your personal mindfulness practice, suggested practices for the coming week, and plenty of time for your feedback and questions.
Schedule and Syllabus:
Day 1: Monday, December 12th at 3:30 pm EST
Mindfulness of the Breath and Other Anchors, Loving Kindness
Introductions, Sharing Intentions and Aspirations
What is mindfulness?
How can it bring ease, meaning, & joy into our lives?
What gets in the way of mindfulness?
How can we use meditation to train for mindfulness in other aspects of life?
Instructions for daily practice
Questions, answers, and feedback
Guided Practices:
Finding an anchor, such as breath, to learn return to
Gentle, seated, stretching sequnce (adaptable for all)
Loving kindness cultivating meditation/guided heart practice
Day 2: Friday, December 16th at 3:30 pm EST
Mindfulness of the Body, Imperanence, Compassion
Check-ins, Sharing how practice has gone
Why do we begin with mindfulness of body and breath?
How does mindfulness of the body supports our practice?
What does mindfulness of the body reveals about change and impermanence?
How can living a mindfully embodied life deepen our compassion and wisdom?
How can we work mindfully with pain and illness, impermanence, grief and loss?
How can being present in our bodies for the highs and lows in a balanced way lead to a wise response?
How can we work skillfully with trauma responses if they arise?
Questions, answers, and feedback
Instructions for daily practice
Guided Practices:
Mindfulness of the body meditation
Body scan
Compassion cultivating meditation/guided heart practice.
Day 3: Monday, December 19th at 3:30 pm EST
Mindfulness of Thoughts, Gratitude, Sympathetic Joy
Check-ins, Sharing how practice has gone
Does mindfulness mean getting rid of thoughts, or changing how we relate to them?
Are we our thoughts, or can we notice otherwise if we pay attention?
Just how impermanent are our thoughts?
How do emotions feed thoughts?
Which limiting beliefs, unconscious and implicit biases, and thoughts are causing us to suffer?
Which thoughts, beliefs, and practices can incline the mind toward more wholesome states?
Questions, answers, and feedback
Instructions for daily practice
Guided practices:
Grounding, Arriving Where we Are Meditation
Mindfulness of thoughts and skillful strategies including counting, naming, treating as sounds, and noting patterns
Sympathetic Joy/Joy For Others cultivating meditation/guided heart practice (HINT: If you want to multiply your chance of being happy by EIGHT BILLION learn to be happy for others' joy and good fortune)
Day 4: Friday, December 23rd at 3:30 pm EST
Mindfulness of Emotions, Being Fully Human, Inclined Toward Joy
Check-ins, Sharing how practice has gone
What can the highs and lows of our emotions teach us about being fully human?
How can the ever changing swirl of our emotions give us the tools for ease, peace, and even liberation?
What is the RAIN practice, and how can we use it to work skillfully with painful or negative emotions?
How can we apply self-compassion and remain mindful, rather than getting swept up in reaction, when confronted with difficult emotions?
What are different types of joy?
How can we use mindfulness to incline ourselves toward the natural joy and well-being we were born with?
How can we directly experience the aliveness of genuine well-being in the body, mind, and heart as we connect with the goodness inside and around us?
How can we connect with what brings us delight and appreciation, letting ourselves mindfully relax into it when it is here?
How can our own well-being and joy be a gift to others as it awakens those qualities in those around us?
Guided practices:
RAIN (Recognize, Accept, Investigate, Nurture) Practice for difficult emotions
Mindfulness of Emotions Meditation
Cultivation of Joy and Happiness Practice
You couldn't be more welcome!