Mindfulness, Gratitude + Mindset

Tuesday, February 19, 2019 from 6:30 PM to 8:30 PM (CST)
Event Details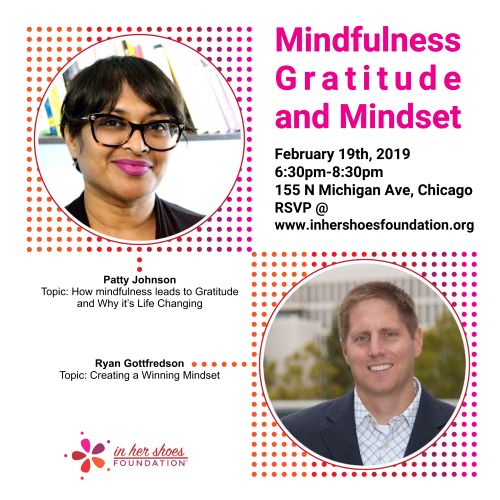 $10.00 in advance, $20.00 at the door (cash only), Free to IHSF Members!
Speaker 1: Patty Johnson
Patty Johnson is a clinical health psychologist, author and speaker whose focus is on social justice and having meaningful discussions about equity. She has spoken in many platforms, including a TEDx event, churches, universities and medical settings. Patty recently published Essays of Night and Daylight, a book about race, immigration and American life through the lens of a woman of color. Go to www.pjtemple.com to connect with her.
Topic:
How Mindfulness Leads to Gratitude: And Why it's Life Changing
Mindfulness is a form of noticing and accepting the experiences in our lives, whether positive or negative. When in a mindful state, we acknowledge that the emotional aspects connected to our circumstances are present, rather than attempting to unrealistically shut out our pain or miss the presence of blessings in our lives.
And how does mindfulness promote gratitude? Whether life is giving us joy or strife, we choose how we approach our circumstances. Gratitude prevents us from being controlled by our circumstances and instead causes us to shift our framework. This outlook can extend to our careers, relationships and life goals so that we strive to live each moment with a sense of deep meaning.
We will discuss how the connection between meditation and gratitude can transform the different roles we carry. I will also conduct a brief meditation session. Afterward, I will explain how to implement it as a daily practice to promote emotional, physical and relational health.
Speaker 2: Ryan Gottfredson, Ph.D
Ryan Gottfredson, Ph.D. is a cutting-edge leadership consultant, trainer, coach, and researcher. He helps improve organizations by improving the success of their leaders' and managers' lives, work, and leadership. Ryan is currently a leadership and management professor at the Mihaylo College of Business and Economics at California State University-Fullerton (CSUF). He holds a Ph.D. in Organizational Behavior and Human Resources from Indiana University, and a B.A. from Brigham Young University. He is also a former Gallup, Inc., consultant where he helped dozens of organizations improve the engagement of their employees. As a respected authority and researcher on topics related to leadership, management, and organizational behavior, Ryan has published over 15 articles across a variety of academic journals. As a speaker, he has spoken for PIHRA Long Beach, CUPA-HR Southern California Chapter, Volcom, Experian, ACCOC, Orange County Business Council, CSUF College of Engineering, among others.
Topic: Creating a Winning Mindset
Often, the primary factor that holds people back from greater success in their lives, work, and leadership is self-limiting beliefs. These self-limiting beliefs are rooted in our mindsets. In this workshop, we will explore the mindsets that will allow us to overcome our self-limiting beliefs to obtain greater personal and professional success. In the process, you will enhance your mindfulness and be empowered to break through your self-limiting beliefs to create a brighter future.
Learning Points:
Participants will learn that our mindsets are foundational to how we think, learn, and behave; and consequently, shape how successful we are in our lives, work, and leadership.

Participants will learn specific mindsets that, if harnessed, will result in greater success in one's life, work, and leadership.

Participants will be able to identify the health and state of their own personal mindsets, and they will be given direction on how to improve their mindsets to enhance their success.
By attending this event, you agree to be photographed and/or filmed and give permission to use your likeness in promotional and/or marketing materials related to In Her Shoes Foundation. Please note we expect you to follow our Code of Conduct found on IHSF website.
All ticket sales are final. We apologize for any inconvenience.
The funds we raise from all IHSF events go towards our IHSF operations, Ready Set Girls Academy, Ready Set Women Academy and our Giving Back Programs.
This event is free for IHSF Members.   Membership is checked at the door.
When & Where

155 N Michigan Ave
155 North Michigan Avenue
7th Floor
Chicago, IL 60601


Tuesday, February 19, 2019 from 6:30 PM to 8:30 PM (CST)
Add to my calendar
Organizer
In Her Shoes Foundation (IHSF) is a 501(c)3 organization that is dedicated to making a positive impact on society by empowering women and girls.
OUR VISION is to empower and inspire every woman and girl to be her personal best.
OUR MISSION is to embrace the potential of all women and girls by providing: • Positive Influences • Learning Opportunities • Community Partnerships • Leadership Development
OUR CORE VALUES form the foundation of how we conduct ourselves as an organization. These are also the qualities we value and encourage in our members and volunteers. We are: • Accountable • Empathetic • Intentional • Authentic • Inclusive
A NOTE FROM OUR FOUNDER I'm so proud to be the founder of this organization that is made up of creative, smart, strong, confident women and men. And, I'm grateful to all of the committee volunteers. In Her Shoes Foundation has over 60 committee volunteers who run this organization on a daily basis, in addition to working their full-time jobs and fulfilling their everyday obligations as parents, spouses, siblings, daughters - or sons and friends. When I founded this foundation in 2008 we originally called it The Positive Girls Club. It was envisioned as an organization that would support women of all ages who were determined to make positive changes in their lives. I started hosting monthly professional development workshops to inspire, connect, educate, and support the women in our community. Simultaneously, I completed my master's degree in community counseling and began working full time in the field of mental health. I worked with people of all ages and all backgrounds. I was able to learn so much about life struggles and the challenges people faced.
Nevertheless, there is no greater calling than to teach young people. It's easier to teach people at a younger age as they are more adaptable to change rather adults who are more comfortable in their ways and sometimes refuse to get out of their comfort. In my 10+ years of experience as a crisis worker on the southside of Chicago, I've spent my professional career engaging in the vital work of giving hope to others. Hope is the most important thing in the world. It allows people to still see the light when they are so shackled in darkness. However, we miss the bigger picture when we focus solely on helping people when crisis has already struck. We must also dedicate ourselves to the work of promoting healthy lifestyles that can often preempt avoidable yet devastating moments of crisis. All too often, I was sent out to respond to a call from the police, a hospital, homeless shelter or a jail where there was a young woman in crisis. Many times these girls were facing stressful situations related to abuse, neglect, bullying, having an absent parent, or having a relative in jail or dealing with substance abuse. These girls were often suicidal – or worse, homicidal. Sometimes, engaging is self -harm to cope with their emotions. Sadly, many of these situations ended with the young woman being institutionalized. It was heartbreaking, and it was happening again and again.
Other times, I would be called into schools or homes to see young girls and teens in emotional and sometimes physical crisis. As a medical clinician and clinical crisis worker responsible for the safety and wellbeing of the individuals in these situations it would require me to hospitalize them in inpatient behavioral settings. I then followed them through the system of admissions and institutionalization to monitor and report on their care and condition. Through experience I witnessed many young teen women struggle with the lack of knowledge and guidance related to conflict management techniques and other healthy lifestyle skills and resources that they have no exposure to therefore were unable to learn. I quickly realized that the common denominator for many of these recurring situations was that the girls were severely lacking in coping skills. I knew that more than anything, these girls needed to be given the tools to face life's challenges so that they wouldn't turn to these desperate measures. And, I realized that I was in a position to help them. My specific experience working with teenage girls in underserved, underprivileged, and unstable situations led me to create the Ready Set Girls Academy, a teen group mentorship program The IHSF RSG Academy program seeks to reach these vulnerable young women before crisis strikes and we seek to equip them with the tools they can use to help avoid and/or manage traumatic situations. Through our knowledge based curriculum, RSG students will gain knowledge and exposure to life skills and problem solving techniques not taught in the traditional public, private or charter school environments. I hope that the benefits of this program will inspire you enough to join us so that you too can become the BEST version of yourself.
Today, over 10 years later, we're now known as In Her Shoes Foundation, and our flagship program, Ready Set Girls Academy, is exceeding our goals year over year for reaching young women preventatively. This curriculum-based program is run by our volunteer group mentors and is being delivered within public and private high schools. In addition we partnered with multiple community organization who support our initiative. Finally, due to the success of RSGA, we created a curriculum for girls in 6th, 7th and 8th grade since we know that the bullying, self-esteem and body image concerns start earlier then high school. We are now invited to deliver that version of the RSGA to a few middle schools. Today, we are achieving our vision of empowering and inspiring every woman and girl to be her personal best. We currently have three programs and hope to expand in the next couple of years. Please learn more about the Professional Development Program and the Giving Back Program via www.inhershoesfoundation.org
Thank you for attending and supporting our events.
Kasia Wereszczynska, MA, LCPC, RYT.