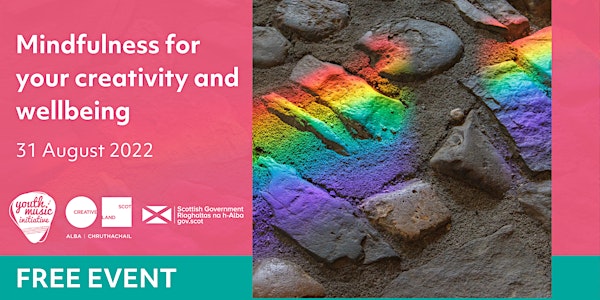 Mindfulness for your wellbeing and creativity
Learn about how you can use mindfulness to calm your mind, boost your creativity and improve your overall mental and physical wellbeing.
About this event
This free webinar is funded by The Youth Music Initiative and delivered by Children in Scotland.
Background
Looking for a way to side-step burn-out, break through artistic blocks and reconnect to your creative joy? Join us for this session aimed at arts sector practitioners to learn all about the technique of mindfulness and how you can use it to calm your mind, boost your creativity and improve your overall mental and physical wellbeing.
This webinar is aimed at anyone working creatively with children and young people in Scotland; from freelance practitioners to salaried staff, we welcome participants from across all artforms and disciplines.
Facilitator
Lorna MacPhail is a speaker, leadership & embodiment coach and wellbeing consultant.
Lorna has a background in science and has worked in the education sector for over 17 years.
Lorna is also a certified coach accredited by the counselling and psychotherapy central awarding body, advanced yoga and meditation teacher, including mindfulness and compassion for both adults and children. She is the founder of a pioneering programme that supports schools in taking a whole school consistent approach, to integrating mindfulness and compassion into the wellbeing curriculum.
Lorna is a strong advocate for supporting leaders in putting wellbeing at the heart of their own lives and at the heart of their organisations; a vital component for a sustainable future.
Become a member of Children in Scotland
Children in Scotland is the largest national membership organisation for the children's sector in the country. To access discounted webinars and many other membership benefits including exclusive content and resources, and discounted commissioned training, please visit here.
Local authorities in membership with Children in Scotland
Please note that all local authority staff working from both headquarter and regional offices including senior management are included in membership and can register as members for discounted training with Children in Scotland. Membership does not extend to schools and nurseries within individual local authorities. If you are interested in your school or nursery becoming a member, please visit here.
System requirements for attendees
This webinar will be delivered using Zoom. You can attend from anywhere using a compatible computer, laptop, tablet or smartphone connected to the internet.
Please note, some organisations have additional security settings that may prevent you from accessing Zoom on a work device.
Please check that your organisation permits access to Zoom. If they don't provide access, we encourage you to use a personal device with Google Chrome instead. Otherwise, please speak to your IT team to gain access or ask them to change the security settings on your work device to access Zoom.
Display name
When you join the webinar, please ensure your Zoom display name is the same as your first name and surname. This is so we can ensure your name matches up to your ticket even if you access the webinar using a different email address than the one you've used to purchase your ticket.
Closed Captioning and Live Transcription
Zoom enables Close Captioning and Live Transcription. Once you have joined the Zoom, you can access this by:
1. Click the "CC Live Transcript" button
2. Click one of the following:
Show Subtitles – Displays captioning on the bottom of the video. You can also select Hide Subtitle once subtitles are selected to hide them.
View Full Transcript – Opens a panel/pop-up and displays captions in real-time with both the speaker's name and time stamp.
Accessibility
The Children in Scotland Learning and Events Team are committed to doing all we can to ensure our learning opportunities are accessible to everyone. If you require any adjustments to assist your learning, whether they be in relation to course materials or delivery format, please do contact us at events@childreninscotland.org.uk to discuss.
Cancellations
If you are unable to attend the webinar for any reason please do let us know so that we can offer your place to someone else.
Copyright and data sharing
Recording and/or distributing the webinar in any form is prohibited. This training may be recorded for internal review and use.
Please note that your personal details may be shared with the trainer for training purposes. These details will be deleted once the webinar has taken place.
If you have any questions or concerns, please email events@childreninscotland.org.uk.