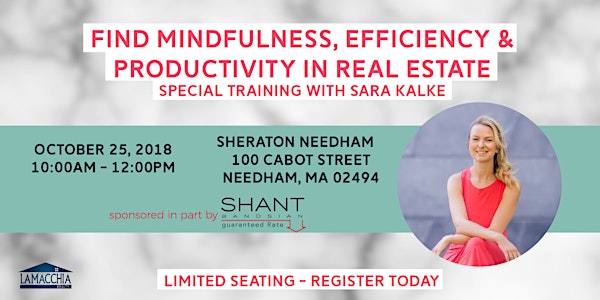 Mindfulness, Efficiency & Productivity Event
When and where
Location
Sheraton Needham Hotel 100 Cabot Street Needham, MA 02494
Description
REGISTRATION: 9:30 AM – 10:00 AM
EVENT: 10:00 AM – 12:00 PM
Learn How to Sell 100+ Homes a Year and Still Have a LIFE!
Sara Kalke, Realtor, explains how she gets this done during her Finding Mindfulness, Efficiency and Productivity speech at our first Crush it in Real Estate Event!
Are you struggling to find balance between your Real Estate business and your personal life? This event will be life changing!
Sara Kalke, of Edmonton Canada, is an expert at being a productive Realtor while still maintaining her personal life and sanity. She is a millennial real estate entrepreneur, who will share her triumphant story of growth and her passion in real estate. Despite some of the difficult life events she has faced, she managed to close 105 real estate transactions as an individual agent in 2017 and has 89 firm transactions in 2018 year to date. All of this was accomplished while having a blast traveling with her husband and 5 year-old daughter, Zoë and while spending time with her 4 horses.
"I'll share with you the struggles, successes and strategy that took me from 20 sales a year to 105 sales a year without a buyer's agent, and while having a life." – Sara Kalke
The story of her 3 rules of work, living her absolute best life of fun and adventure, and how she overcame adversity when her daughter passed away is both emotional and inspiring!
This is a life changing talk about work ethic, efficiency and effectiveness.
TO REGISTER FOR THE EVENT, PLEASE RESERVE YOUR FREE TICKET. YOU DO NOT NEED TO BRING A PRINTED TICKET TO THE EVENT, YOU CAN CHECK IN WITH REGISTRATION.