Description
Become a mindfulness & compassion teacher
Do you want to spread mindfulness & compassion in your company or team and don't know how to do it? Are you a leader who wants to create a new business culture and is looking for tools to do that? Do you want to spread mindfulness in your business but still feel like you are the only weirdo? Are you a coach who wants to integrate mindfulness into your repertoire?
This teacher training will support you to gain the tools to train mindfulness & compassion to people in your company or team. It will also enable you to become a great facilitator for group sessions and co-creative team processes and at the same time support you in your own self-exploration to connect with your own passion and purpose at work and life.
Next, to the skills, you learn you will become part of our mindful business community, meet like-minded people who have the same vision to bring mindfulness into their company.
Outcomes
You will be able to support your company bringing mindfulness into your business culture and at the same time deepen your own way of being a mindful business manager.

transformational experience fostering personal and professional growth and promoting powerful insights that provide deeper integration with your true authentic self.

Guide into understanding your own challenges and how to navigate them

Learn skills to be an outstanding facilitator

improve your presentation skills

Learn how to empower others

Become part of a movement that creates a new business world
Description
The train the trainer program will focus on bringing out the best of you, going deeper in your personal quest to become the person who you really want to be. You will be guided and supported by mentoring to start the search inside yourself. Over six months you will do several exercises, have multiple 1:1 conversations and connect with a group of business people who look for a better and purposeful world and will become your fellow trainers. At the end of the teacher training you will be able to become a facilitator for your company - as a certified Mindfulness & Compassion@Work Teacher, you can give workshops within and outside of your company.
PROGRAM DESIGN
We believe everyone has a unique set of talents and we want to support you to get it out there. At the same time, you will learn the content of our 7-step program and how to use it yourself and to teach it. The course is split in 3 parts: 2 weeks Teacher Trainer Intensive followed by 5 months of study and implementation time and a final one-week intensive that will support you to integrate what you have learned in the months before. The highly interactive and experiential program includes the following core components:
BECOME A TEACHER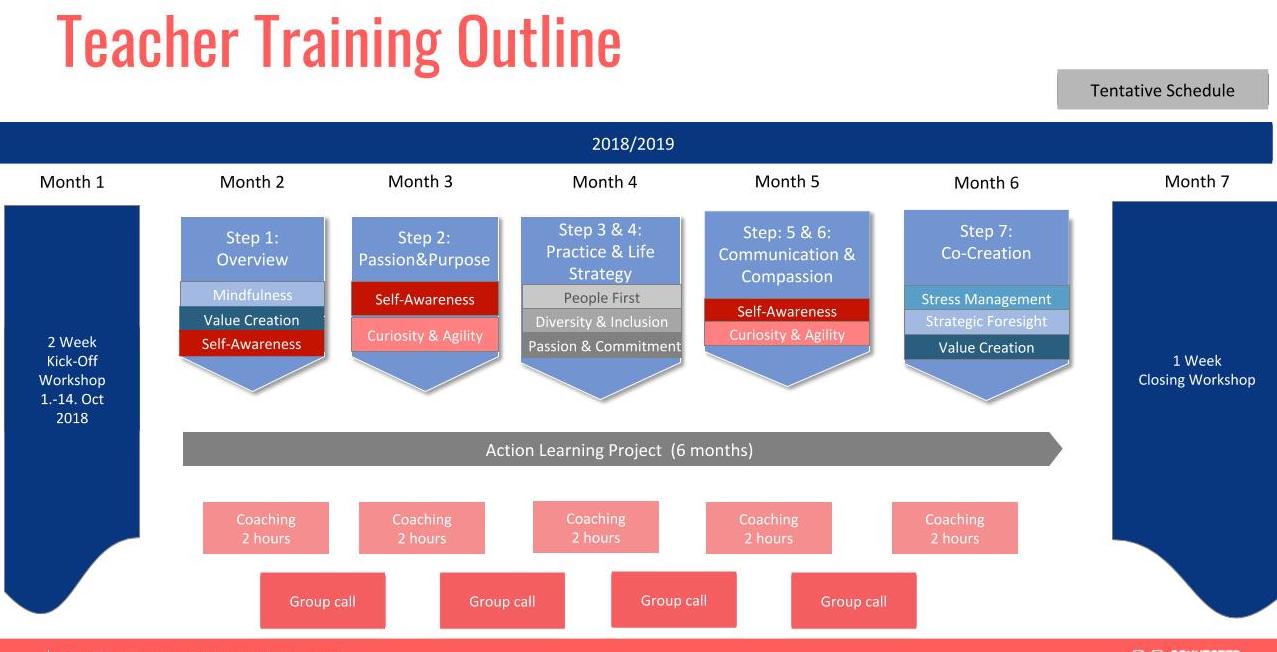 2-week teacher trainer intensive:
Learn how to teach mindfulness

Find out what kind of teacher you want to become and how your journey so far can be integrated into this

Dive deeper into different practices like Yoga, Meditation, Pranayama, Ceremony

Indivual coaching sessions to support you for your own path

Learn more about your new toolbox and dive deeper into the following topics:
Overview Mindfulness & Compassion@work: how does mindfulness fit into your company context, how can it create a new business culture of co-creation and how does the new leadership look like

Find Your Passion & Purpose: happiness has to do with what you really want, go on a quest to find your strengths, values, vision, and passion

Practice: find your own practice, deepen your practice and learn new methods

Life Strategy: create a plan how you can bring your passion & purpose into reality, have a regular practice in your day-to-day (business) life, create routines and action plans that support you

Authentic Communication: find your own voice and learn how to communicate effectively

Compassion: From I to WE. Working with compassion is a way of looking for the benefit of all through this you naturally become a leader with influence no matter in which position you are - because people will follow you

Co-Creation: work in a way, that inspires the passion and highest potential of each individual and creates solutions that were co-created by the whole team
5-month study time:
study time to integrate the content and practices deeper

group calls

coaching sessions/mentorship and feedback while you already start implementing the content in your company
1-week follow-up teacher training intensive:
deepen the practices you have learned during the last 5 months

using the wisdom of the group to move your challenges out of the way

create an action plan for your future

Final individual coaching sessions
As part of the modules, you will join a regular meditation, yoga and affirmation practice and build your own practice routine. Throughout the whole time, there will be individual coaching and mentorship so you can create your very own action plan and positioning.
You will go through a very own process and at the same time connect with like-minded business people who have the same aspiration to join the movement.
COURSE HOSTS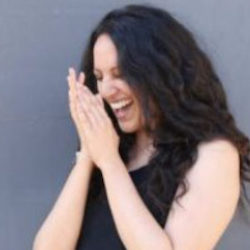 Mounira Latrache: Mounira's vision is that we will find a way to work with each other that includes the diversity and passion of the whole person, that aims to find solutions for the greater good as a community and is fun at the same time. She also wants to bring love & compassion into this environment because she believes that change in the inside inspires change outside and will contribute to world peace.
Before launching Connected Business, Mounira was leading the YouTube Space Berlin and heading YouTube PR for Germany, Austria & Switzerland. During her 5 years at Google she dedicated 20% of her working time to spreading mindfulness at Google and externally. Mounira has 15+ years of management experience leading international brands. In previous years she lead brand communications and marketing initiatives for Red Bull and BMW. Mounira is also a trained business coach, Forrest Yoga teacher and facilitates mindful leadership trainings across the world.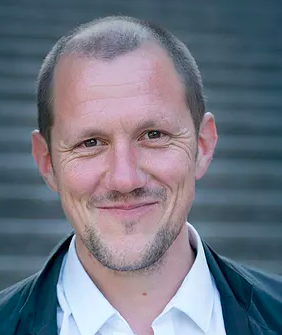 Angel Hernandez: From early childhood on, he has asked himself, how we can grow into our highest accessible potential, as individuals and society? To find answers he undertook numerous travels into the inner and outer world, always investigating this question and bridging worlds between engineering, neuroscience, high-performance, entrepreneurship, mindfulness and indigenous tribes.
Angel is a full-blood entrepreneur and international expert in co-creative project development. Over the last 10+ years, he supported individuals, groups, and organizations to connect with their true purpose and visions. Combining digital concepts with mindfulness is at the heart of Angel's work - as an expert for creating mindful cultures through co-creative processes he mentors startups, social entrepreneurs, and organizations to a transformation by using learning organization models.
His personal deep mindfulness practice and high-performance strategies always guide him to look beyond things and evolve a servant leadership style that empowers people.
For more information, please visit www.connected-b.com
Any questions? Send us an email: contact@connected-b.com
REFUND POLICY
If you're unable to attend a program that you've registered and paid for, you are eligible for a full refund until four weeks prior to the event.
If you cancel within four weeks of the program you are eligible for a 50% refund

if you cancel within the last 8 days of the program we charge the full price
Refunds will be issued through Eventbrite and processed within 15 days of notification of cancellation.
For Questions please contact Connected Business: contact@connected-b.com
Course costs do not include accommodation and food. Connected Business believes in radical generosity. When you purchase a ticket to attend, you are supporting scholarships for individuals who cannot afford the full price of a ticket. Scholarship applications will be open while spots are available. Please apply here.
Accommodation:
We have found a wonderful location that has a lake and great nature around, Schloss Arendsee nearby Berlin (we will provide a shuttle more details once you enrolled)
You have 3 different room options:
premium princess room 75€ per night including super healthy organic breakfast, lunch, and dinner

castle flair room: 60€ per night including super healthy organic breakfast, lunch, and dinner

room outside of the castle (directly next to it): 55€ per night including super healthy organic breakfast, lunch, and dinner

Let us know your room preference in your booking and we will send you a separate payment link for that.
ABOUT Connected Business
Connected Business supports companies to bring Compassion and Mindfulness into their daily business interactions. Our vision is to empower and connect business people to create a new culture of leadership and doing business. In doing so we build a community with a joint purpose: connected, peaceful, sustainable, fair, mindful, loving and diverse.
We are part of a co-creative group and a global movement - join us!
---
TICKET INFORMATION
After the purchase, you will receive a confirmation email from Eventbrite our ticket partner. Your E-Ticket will be attached to this email. Important: if you did not receive a confirmation email, please check your spam folder, if you still do not find it please click here and contact Eventbrite.

If you encounter technical issues with the order process please click here and contact Eventbrite.

Do you want to look at your order again or actualize it? Here you will find all information.

All purchases are binding.

Mentioned facilitator or speakers can be subject to change.
I accept the terms of use for my purchase of the online ticket. Here you will find the general terms and conditions.