The objective of the course is to give you tools to increase resilience and better lead oneself and others through these challenging times
About this event
About this event
Organizations function in complex and dynamic environments. This reality creates on-going challenges, stress and at the same time unlimited possibilities and opportunities.
Nowadays in order to lead effectively leaders need to be able to better manage themselves, others and the vast amount of opportunities out there.Mindfulness is becoming a key tool for leaders in cooperation worldwide. Leading organizations like Google, Facebook, General Mills, Apple and more, have already implemented mindfulness programs which have resulted in increased productivity, innovation, and employee engagement.
The objective of the course is to give you tools as a leader to better lead oneself and others. By learning to re-center in high-performance situations, you can develop a higher quality of attention, connect more authentically with others, lead more intentionally and produce better results and increased innovation.
Course objectives:
Increased self-awareness
Improved decision-making process
Increased capacity to engage and inspire others
Promote real and candid conversation
Fulfillment of your leadership potential
Course description: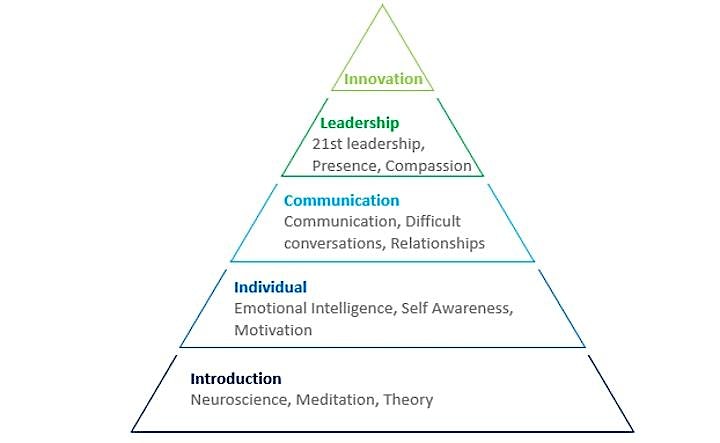 © WISDOM TO LEAD TM
Details:
The Mindfulness Based Leadership course, an online program will be live and interactive. The course will include real-time exercises and conversations in pairs and small groups.
The online MBL course will include 7 meeting, 2 .5 hours each meeting.
Hours of the meetings: 9:00- 11:00 IDT
The dates of the course occurs every Monday during 7 weeks: 25-Jul-21, 01- Aug- 21 , 08- Aug - 21, 15 -Aug - 21, 22 -Aug -21, 29 -Aug - 21, 05 -sep-21.
The course will be on Zoom – you will have to connect through your computer or device.
Please find a quiet place when you are connecting to the course. I f you are at the office find a quiet room. Please don't connect from a coffee shop or a noisy place, this will make it difficult for all the participants to hear the class.
The cost: 1,100$