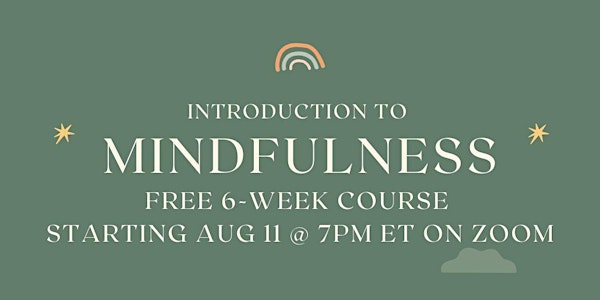 Mindfulness 101
Free six-week online introduction to mindfulness.
About this event
In this introduction to mindfulness course, we will cover the basics of mindfulness meditation, as well as how you can bring a sense of loving awareness to your daily experience. You will learn the foundations of mindfulness: mindfulness of the body and breath, feelings, thoughts, and concepts and ideas -- and gain experience in practicing each, all the while building your own personal daily meditation practice. We will even explore how mindfulness can help us face this moment, as systems and structures disintegrate, and aid us in creating the world we want to see.
We will meet for an hour a week for six weeks on Zoom, and you will be invited to begin practicing mindfulness from day one. Homeplay during the week will support you to bring the teachings into your daily life immediately. You will finish the course with reduced stress, improved focus, and an increased feeling of connectedness and compassion for yourself and everyone around you.
This course is based in the tradition of Mindfulness or Vipassana meditation, as taught by Tara Brach and Jack Kornfield. I'm offering it for my certification as a meditation teacher through the Mindfulness Meditation Teacher Certification Program (MMTCP).
Please plan on attending all six weeks!