Description
Mindful Self-Compassion: Core Skills for Men
a two-day benefit for the Institute for Meditation and Psychotherapy
presented by Chris Germer and Daniel Ellenberg
Jan 27th 9:00am - 5:00pm & Jan 28th 10:00am - 4:30pm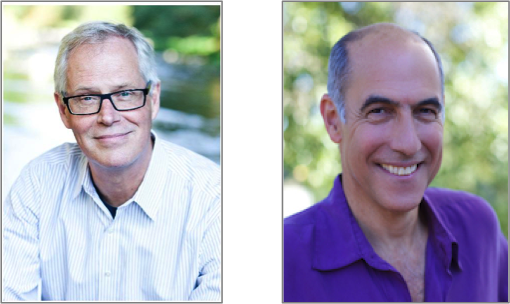 For someone to develop genuine compassion towards others, first he or she must have a basis upon which to cultivate compassion, and that basis is the ability to connect to one's own feelings and to care for one's own welfare... Caring for others requires caring for oneself.
- Tenzin Gyatso, the 14th Dalai Lama
This workshop, designed specifically for men, is a two-day, condensed version of the empirically-supported, 8-week Mindful Self-Compassion (MSC) training. MSC was developed by Chris Germer, a clinical psychologist, and Kristin Neff, a pioneer in the scientific study of self-compassion. The workshop will be taught by Chris and Daniel Ellenberg, a trained MSC teacher and expert in men's psychology.
Scientific evidence shows that self-compassion—the ability to treat ourselves with respect and kindness when things go wrong—is a powerful inner resource. It enables us to address challenging conditions in our lives and transform them for the better.
Rapidly expanding research demonstrates that self-compassion is associated with a wide range of positive psychological factors including enhanced achievement motivation, a sense of wellbeing, emotional resilience, reduced stress, anxiety and depression, a stronger immune system, healthy life habits such as diet and exercise, and wisdom. Self-compassion also provides a foundation for relating compassionately with others and thereby improves our relationships.
Self-compassion is not a lot of work—it's about letting go of the stress that we invisibly and inevitably add to our daily lives. Fortunately, self-compassion can be learned by anyone.
8 Good Reasons to Attend this Workshop
In this weekend workshop, you'll learn:
What self-compassion is and isn't

How to practice self-compassion in your daily life

Ways to motivate yourself with kindness rather than criticism

Strategies for living close to your core values

Techniques for handling difficult emotions with greater ease

How to transform challenging relationships
How to enjoy ordinary life more fully
Self-compassion skills that can be taught to clients
Who Should Attend?
This workshop is intended for men of any background who wish to integrate self-compassion into their personal and/or professional lives. Meditation experience is not required to participate in this program.
Registration
To register, please click the green 'TICKETS' button above. Fees: $295 general admission; $200 IMP member or graduate student with ID (Limited student spots available). Any profit from this workshop will be donated to support the good work of the Institute for Meditation and Psychotherapy.
Learning Objectives:
At the end of this workshop, you will be able to:
1. Define the empirical construct of self-compassion, and identify misconceptions
2. Understand the benefits of self-compassion for men and overcome unique obstacles to practicing self-compassion
3. Practice concentration/breath meditation to calm the autonomic nervous system, and explain the scientific rationale for concentration meditation.
4. Compare and contrast the constructs of loving-kindness, compassion and self-compassion.
5. Practice loving-kindness meditation for emotional wellbeing
6. Describe the role of self-criticism in anxiety and depression and practice self-compassionate motivation as an antidote to self-criticism.
7. Define and recognize personal core values, and apply strategies for adhering to core values in daily life
8. Practice self-compassion strategies to sustain emotional connection in challenging therapeutic interactions.
9. Apply self-compassion skills to alleviate caregiving fatigue
10. Teach simple mindfulness and self-compassion practices to clients and patients

FACULTY:
Daniel Ellenberg, PhD is a leadership coach, licensed therapist, seminar leader, and group facilitator. He is a principle in both Rewire Leadership Institute and Relationships That Work. He leads Strength with Heart men's groups and seminars and is a founding member of the Men's Counseling Guild. He has been leading weekly men's groups for over 30 years and wrote his dissertation on psychological aspects of the male sex role. He is a board member of the Wellspring Institute for Neuroscience and Contemplative Wisdom and co-author of Lovers for Life: Creating Lasting Passion, Trust, and True Partnership. He co-created and delivered a resilience training program for several NASA space centers.

Christopher Germer, PhD is a clinical psychologist in the Boston area. He is a Lecturer in Psychiatry, Part-Time, at Harvard Medical School and a founding faculty member of the Institute for Meditation and Psychotherapy. With Kristin Neff, PhD, Dr. Germer developed the Mindful Self-Compassion program. He conducts workshops and lectures internationally on mindfulness and self-compassion, is co-editor of Mindfulness and Psychotherapy and Wisdom and Compassion in Psychotherapy, and author of The Mindful Path to Self-Compassion.
CONTINUING EDUCATION:
Continuing education credit hours are available with no extra charge for all ticket levels. For more CE information, please see the IMP event page or contact carrie@meditationandpsychotherapy.org.
Psychologists: The Institute for Meditation and Psychotherapy is approved by the American Psychological Association to sponsor continuing education for psychologists. The Institute for Meditation and Psychotherapy maintains responsibility for this program and its content. This course offers 11.5 hours of credit.
Licensed Mental Health Counselors: The Institute for Meditation and Psychotherapy has been approved by NBCC as an Approved Continuing Education Provider, ACEP No. 6048. Programs that do not qualify for NBCC credit are clearly identified. The Institute for Meditation and Psychotherapy is solely responsible for all aspects of the programs. This program is approved for 11.5 clock hours. It is also applicable for MaMHCA/MMCEP hours for relicensure, in accordance with 262 CMR.
Nurses: This program carries 11.5 contact hours and meets the specifications of the Massachusetts Board of Registration in Nursing (244 CMR 5.00).
Social Workers: Application for social work continuing education credits has been submitted. Please contact The Institute for Meditation and Psychotherapy at mail@meditationandpsychotherapy.org for the status of social work CE accreditation.
Marriage and Family Therapists: Application for professional continuing education has been submitted to the Massachusetts Association for Marriage & Family Therapy, Inc. Please contact The Institute for Meditation and Psychotherapy at mail@meditationandpsychotherapy.org for the status of MAMFT CE accreditation.
LOCATION: Arlington Center, Arlington, MA. 781-316-0282 ~ www.arlingtoncenter.org. Please see the IMP event page or contact mail@meditationandpsychotherapy with any questions.
Suggested Reading:
The following books are recommended, but not required:
Germer, C. (2009). The Mindful Path to Self-Compassion . New York: Guilford Press.

Neff, K. (2011). Self-Compassion: The Proven Power of Being Kind to Yourself. New York: William Morrow