Description
Club Soda and Morning Gloryville for a #MindfulPubCrawl around Shoreditch and experience the best bars for mindful drinkers.
If you are looking to moderate your drinking, take a month of booze, go alcohol-free or just have a social night out that doesn't end up with a dry mouth and a fuzzy head the next morning, then this is the event for you.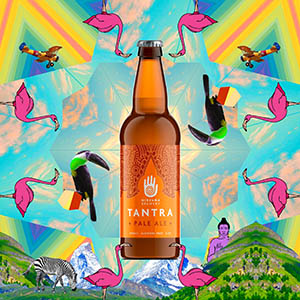 This Mindful Pub Crawl is fuelled by Nirvana, London's first alcohol-free brewery. Their Tantra (0%) Pale Ale is behind the bar at The Strongroom, but tonight you will also get a taste of their Kosmic Stout (0%), Sutra IPA (0.5%) and Karma Pale Ale (0.5%). Their alcohol-free beers are vegan and much lower in calories than a full-strength beer – or even a cola.
We've picked the best pubs on the Club Soda Guide – "Good Places for Mindful Drinkers" – and will be joining like-minded people to make our way around Shoreditch, to the following venues:
The Strongroom Bar
One of the best venues on the guide (they score 5) you can be sure there is a drink for you to enjoy in casually cool surroundings. They stock Tantra Pale Ale from London's Nirvana Brewery, Rothus Tannezäpfle, Dalston's Lemonade and Ginger Beer, Real Kombucha, a range of Fentimans including Rose Lemonade and Franklin & Sons' sodas.
The Book Club
Hipster heaven? We think so. Try their enticing new range of zero-Proof cocktails including Turmeric Spritz Turmeric, Beetroot Espresso Martini, Lavender Lemonade and Peach & Fennel Spritz alongside a straight-up Seedlip & tonic. We'll be rating them to join the guide whilst we're here!
The Draft House Old Street
One of our best alcohol-free venues in London, they always have a great range of low (under 3%) and no-alcohol beers including Brewdog's Nanny State and home-grown, seasonal soda's from Hackney's very own Square Root.
---
What's a Mindful Pub Crawl?
A Mindful Pub Crawl is a pub crawl with a difference. Instead of boozing to excess, you'll be sampling drinks a little less ordinary that are low or no alcohol. We've picked the pubs with the best and widest selection of drinks – so whatever your flavour preference, there'll be something for you.
What do I get?
It is £5 to sign-up but you get your first drink free!
Who is this for?
Everyone! You might be doing a sober month, or starting a health kick, or maybe you just don't drink alcohol – we'd love you to join us, even if you're just a little curious. If you're after a pub experience that's a little different, the #MindfulPubCrawl is for you.