Mindful Movement is a moderate intensity circuit workout suitable for all fitness levels. Get fit, relieve stress, and build confidence!
About this event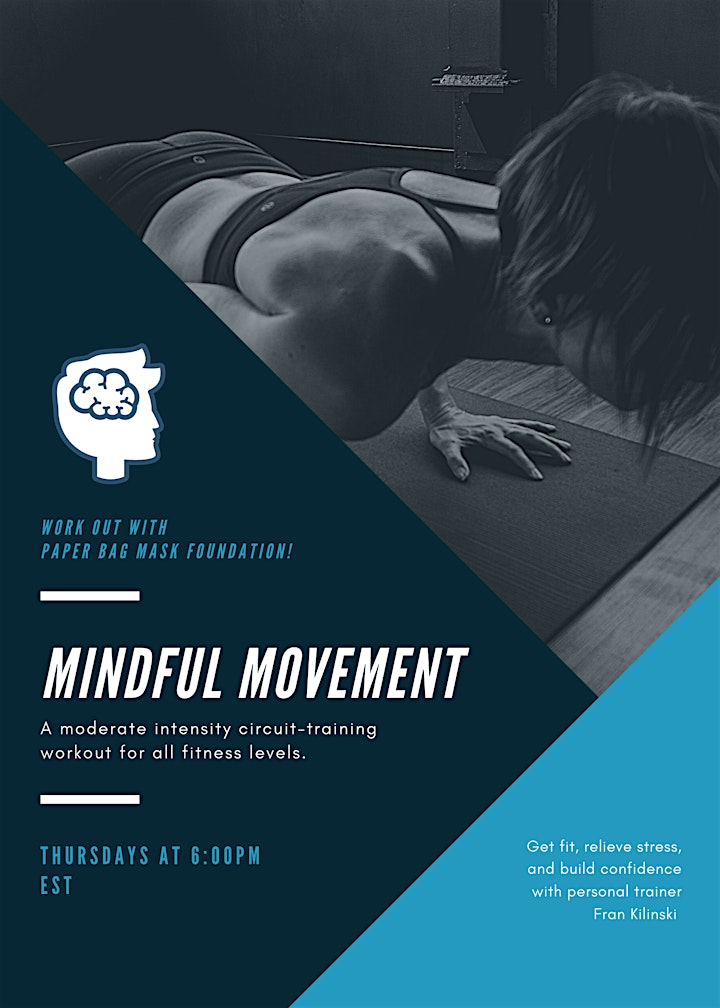 Mindful Movement is a weekly workout hosted by Fran Kilinski, a certified personal trainer based in NYC.
These workouts are designed to elevate your mood, decrease tension, and improve self-esteem. Whether you're joining this class to cope with anxiety and stressors or just want to sweat, we are excited to meet you virtually!
*A $10 donation is suggested, but not required.
The Paper Bag Mask Foundation offers this and other recurring classes to introduce the public to free holistic methods of coping with stressors. Although donations are much appreciated, these classes are entirely free, and no gift or purchase is required to attend.
100% of proceeds collected from this and upcoming events go to the Paper Bag Mask Foundation to continue outreach programs for the mental health community.
Connect with us on Instagram! @PaperBagMask.co
Organizer of Mindful Movement (virtual workout)
The Paper Bag Mask Foundation helps young adults tackle stress and anxiety through holistic methods by hosting classes revolving around proven methods of boosting self-esteem, elevating mood, and improving cognitive function.
Paper Bag Mask Foundation events are based off on 3 pillars:
1.) Movement 2.) Creativity 3.) Meditation
-
Classes are free to attend, but proceeds received from optional donations will go to the Paper Bag Mask Foundation to continue hosting classes and carrying out programs.