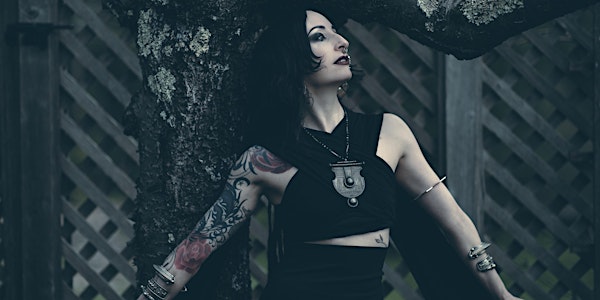 Mindful Movement dance workshop with ARIELLAH in Portland!
Join one of the innovators of Dark Fusion dance, all the way from Oakland, CA, in a 3 hour workshop to expand your practice and your soul!
By Last Minute Productions
Date and time
Sunday, June 11 · 11am - 2pm PDT
Location
Portland Dance Studio 232 Southeast Oak Street Portland, OR 97214
About this event
Burlynomicon - A Darkly Decadent Burlesque Revue is extremely honored to host dark fusion goddess ARIELLAH in a very special movement workshop on Sunday, June 11!
This workshop is limited to 14 spaces, so do not delay on securing your space now!
On Sunday, June 11, join Ariellah at the Portland Dance Studio - Studio 104 for
**Mindful Movement: A Nourishing Approach to a Strong Practice**
We will approach our dance practice with awareness placed on our mind-body connection. Mindfulness will be our guide through our practice of meditation, moving meditation, conditioning exercises, technique and drills/combos. Alongside this physical practice; grounding techniques, mind body awareness exercises(mindfulness), a focused eye and more inward understanding, will be emphasized in order to approach your dance practice with more awareness, commitment and authenticity. Moving meditations, technique and drills will be used to offer a more grounding, spacious, effective class and practice. Join Ariellah in a class that offers much self-care, grounding, and tuning in to your body and mind, whilst effectively approaching and working on your conditioning and technique. This workshop is excellent for any dancer who wants to delve deeply into their dance practice with more of a full mind and body approach. Come out of this workshop feeling calm, reinvigorated, accomplished and nourished!
Ariellah studied classical ballet with the Royal Academy of Dance of London for twelve years, beginning at age three. After a four-year break from dance that included two years in the Peace Corps, living and working in Africa's Ivory Coast, she returned to the United States eager to learn the dance of her Moroccan ancestry.
Ariellah is an international performer and instructor of modern fusion belly dance. She has studied and performed belly dance since 2001. Ariellah began her belly dance training with Janine Ryle of Danse Mahgreb and as a founding member of The Indigo with Rachel Brice. In 2009, Ariellah began training in classical Indian Odissi dance, studying in India at the Shakti School of Dance. Her style infuses many genres of belly dance, all with a modern dark flavour that is uniquely her own. She is featured on many DVDs, including the first of its kind "Gothic BellyDance" DVD and her first instructional DVD, "Contemporary BellyDance and Yoga Conditioning" and she also won first place in Siren's Insanity belly dance competition in 2004. She is considered a pioneer in the innovative new genre of Fusion Belly Dance and is known for her strong technique, precision of movements and her artistry. Her dance manifests what is deep in her heart and expresses her own experience and perceptions of this wondrous, beautiful and tragic thing called life. www.ariellah.com
Mindful Movement: A Nourishing Approach to a Strong Practice
with Ariellah
Sunday, June 11
Portland Dance Studio, 232 SE Oak St, Portland, OR, 97214
Studio 104
11am-2pm
$65 for 3 hours of unique movement!
*** Workshop attendees also receive a discounted admission price to a very special BURLYNOMICON - A Darkly Decadent Burlesque Revue on Tuesday, June 13, with headliner Ariellah and a cast of Portland's finest darkly decadent fusion, burlesque, circus and drag performers! Discount code will accompany workshop ticket confirmation. ***