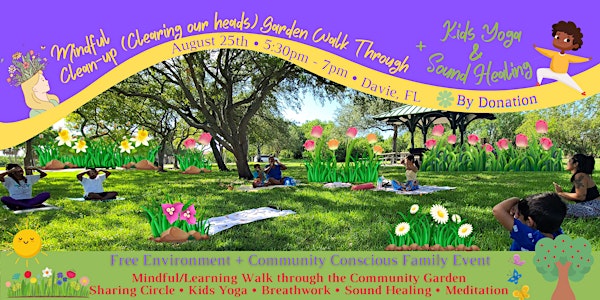 Mindful Clearing Garden Walk Through + Kids Yoga & Sound Healing
A FREE community + nature conscious family event! Join us at the park for a mindful/learning walk through the garden, yoga + sound healing.
When and where
Location
Robbins Preserve Park Lodge 4005 South Hiatus Road Davie, FL 33330
About this event
It's important to take moments out in nature to rest, recalibrate and re-energize especially now that it's back to school!
Let's connect to nature and our community while having mindful fun with other families in the Davie area. Join us after school/work for a mindful & blissful family gathering in the beautiful and serene Robbins Preserve Park just before the sun sets.
All ages welcome!
You don't have to be a parent to participate, you can bring your nieces, nephews, neighbors, cousins and/or young friends.
What to Expect:
We will kick off with a welcome circle: quick intros + our intention, the importance of learning about and being involved in our communities and environments.
Then we'll begin with Mindful Breathing & Oming to get us all ready for Kids Yoga led by Miss Aileen @aileenlee335, certified kids yoga instructor, regenerative gardener, early childhood educator and nature advocate. (15-20 min.)
Now we're ready to start our Mindful Walk through the Garden to help clear our heads while we enjoy the scenery and learn about what's growing in our community garden + gardening tips! Our walk will be led by permaculture graduates Miss Aileen along with Miss Alexa Bee @pushngrow, Orgonite creator, certified Reiki advanced practitioner, co-founder of @sisternaturerocks and expert tree climber. (15-20 min.)
We'll come back to our circle and cool down with drinking water & mindful breathing as we settle in for a restful Sound Healing Meditation led by Lili B @lightingblooms, creator of the 'Moon Meditation Tribe' a Sound Healing podcast on Patreon, doTERRA Wellness Advocate, co-founder of @sisternaturerocks and mindful meditation mama. (15 min.)
Closing our event we'll pass around our lettuce squishy toy for a round of 'lettuce talk about it' to share what we learned/enjoyed the most about our garden walk, yoga and sound healing.
What to Bring:
Yoga mat or towel/blanket to lay on.
Water in personal reusable drinking bottle (we will have additional drinking water to pour).
Bug repellent (it's mosquito season in SoFlo)!
Comfortable, breathable clothing for an afternoon at the park (yoga/work-out clothes).
Come ready to connect to nature and have a great time with community!
*Option to bring your own snacks to keep your kiddos happy and energized.
This is a FREE event, donations are welcomed to help us keep this event going on a monthly basis for our community and environment.
Thank you for being a part of this heart-felt community gathering.