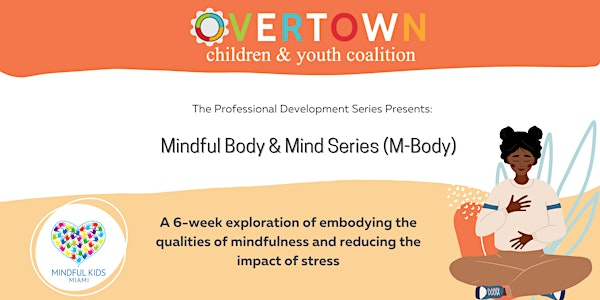 Mindful Body & Mind Series (M-Body)
Come join us for a 6-week exploration of embodying the qualities of mindfulness and reducing the impact of stress.
About this event
The Overtown Children And Youth Coalition has come in partnership with Mindful Kids Miami to bring children and youth service providers M-Body.
The Mindful Body & Mind (M-Body) training is an introduction to mindfulness-based on the foundations of the Mindfulness-Based Stress Reduction (MBSR) program, the golden standard of mindfulness research-based programs in the world.
The many benefits of mindfulness practice range from reducing stress, burnout, and anxiety, to increasing sleep quality, pain management, and the quality of relationships.
In this course, participants will be introduced to mindfulness through topic discussion and a variety of brief mindfulness practices.
Participants will receive a weekly email reminder, guided audio recordings, and resources for moving forward.
This is a 6-week training so each week's content complements the following week's content, each session is unique! So you don't want to miss out.