Description
LET OP: OM TE BOEKEN
1. KLIK OP BLAUWE KNOP HIER RECHTSBOVEN OM EEN DATUM TE KIEZEN
2. DE KNOP WORDT GROEN, KLIK OP ''TICKETS'' OM TE BESTELLEN


Stap terug in de tijd en kom naar het fort bij Aalsmeer.
Stap terug in de tijd en kom naar het fort bij Aalsmeer.
De beste plek om stil te staan bij je telefoongebruik. In 1905, toen het fort in gebruik werd genomen was er nog geen telefoonnet. Nee, ook het ''vaste'' net bestond nog niet. Ook de radio was nog niet uitgevonden.
Het fort staat symbool voor de verdediging tegen de vijand. Die vijand is slim. Hij vermomd zich steeds in een andere gedaante. In een app, in een algoritme, onzichtbaar. Hij vuurt een eindeloze stroom berichten en signalen af. En zonder dat je dat beseft krijgt hij teveel invloed.
De beste verdediging hiertegen is DEFENS, een programma waarin je leert hoe je met focus, met verrijkte omgevingen, en met oefeningen weer grip krijgt op je dagelijkse productiviteit, en alles wat je doet weer in lijn is met de doelen die je jezelf hebt gesteld.
Je gaat verder terug naar de tijd van prins Maurits, de uitvinder van de dril. Die is ook nodig om DEFENS goed uit te kunnen voeren. Maak je geen zorgen, we gaan je niet als een soldaat drillen. Het is vooral ontspannend. De middag is een kennismaking met het programma wat zelfstandig kan worden voortgezet.
Kledingadvies: Casual en warm kleden, meerdere lagen. (Jeans, T-shirt of shirt, plus trui of fleece, plus jas.) Stevige schoenen.
Het programma bevat enkele lichte sportieve, en ontspannende oefeningen. Van de deelnemers wordt verwacht dat ze bereid zijn hun ervaringen over telefoongebruik te delen en deel te nemen aan een groepsgesprek hierover.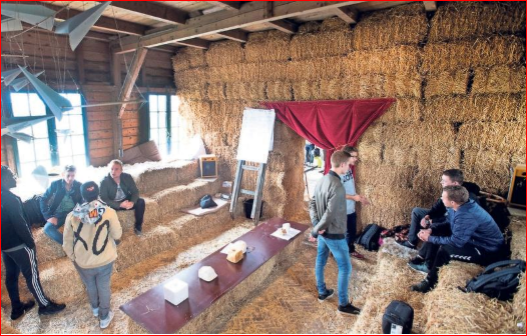 ---