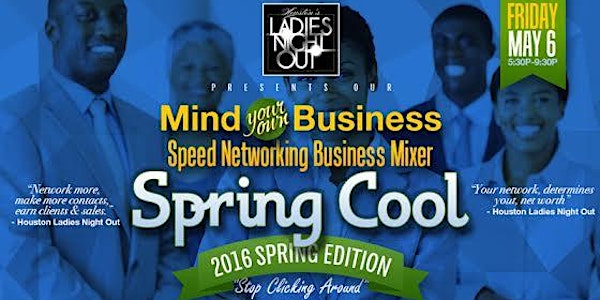 "Mind Your Own Business" Speed Networking Business Mixer
By Houston's Ladies Night Out
Date and time
Fri, 6 May 2016 17:30 - 21:30 CDT
Location
Courtyard Marriott ~ Houston Medical Center 7702 Main Street @ N. Braeswood Houston, Texas 77030
Description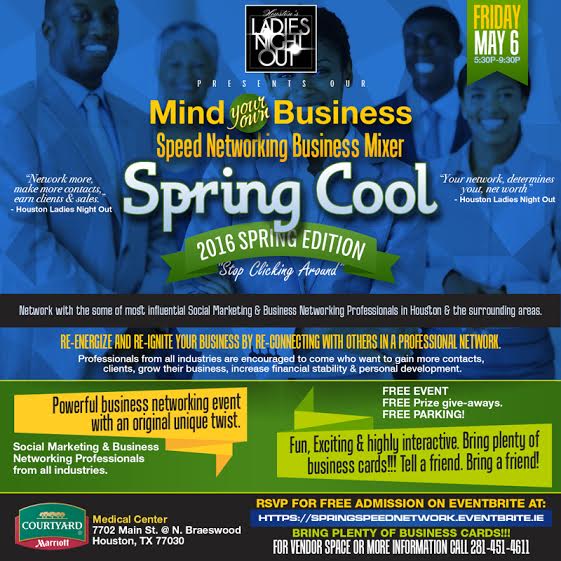 Houston's Ladies Night Out
presents our
"Mind Your Own Business"
Speed Networking Business Mixer
SPRING EDITION
Friday, May 6th, 2016
5:30 pm -9:30 pm
COURTYARD MARRIOTT
(Houston Medical Center )
7702 Main @ N. Braeswood
Houston, TX 77030
Springtime is an early or flourishing stage of development. A time for blossoming. You can develop, flourish and blossom your business at our "Mind Your Own Business" Speed Networking Business Mixer.
Re-energize and re-ignite your business by re-connecting with others in a professional network.
Professionals from all industries are encouraged to come who want to gain more contacts, clients, grow their business, increase financial stability & personal development.
Network more, make more contacts, earn sales.
Your NETWORK determines your NET WORTH!
Network with the some of most influencial Social Marketing & Business Networking Professionals in Houston & the surrounding areas at our....
"Mind Your Own Business"
SPEED NETWORKING BUSINESS MIXERS.
It is a powerful business networking event with an original unique twist.
~~~~~~~~~
A TRUE NETWORKING EVENT.
Grow on multiple levels of business.
~~~~~~~~~~~
FREE EVENT
FREE Prize give-aways.
FREE PARKING!
Fun, Exciting & highly interactive.
Bring plenty of business cards!!!
Tell a friend. Bring a friend!
RSVP for FREE admission on Eventbrite at:
https://springspeednetwork.eventbrite.ie

For vendor space or more information call 281-451-4611
Visit the Houston's Ladies Night Out Facebook page:
https://www.facebook.com/HoustonsLadiesNightOut
Ladies join the Houston's Ladies Night Out meetup group:
http://www.meetup.com/H-town-Ladies-Night-Out
Join the Ladies Night Out event page:
https://www.facebook.com/groups/587194424730829/

Follow Houston's Ladies Night Out on: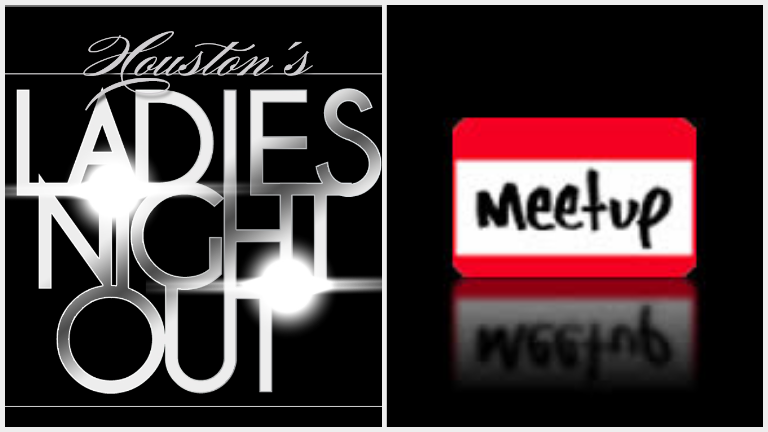 About the organiser
Houston's Ladies Night Out Meetup group is an outlet for upward mobile progressive professional women ages 25 & up. We provide a safe atmosphere for sophisticated upscale events conducive for socializing & business networking. We welcome ladies who are like-minded and positive, inclusive of those new to the Houston area. We meet once or twice a month, give or take. Meetups include, but is not limited to, our "Mind Your Own Business" Speed Networking Business Mixers, Neo-Soul concerts hosted by us, Cuban Night, movie premiers, wine tastings, Happy Hour, book release & signing events, party bus tours, CHL classes, non profit volunteer work and fundraisers in and for the community, fitness and traveling...anything constructive, encouraging and uplifting for our members and anyone with whom we meet. We have a list of signature events that we hold monthly, bi-monthly and quarterly.