Description
Mind Your "Happiness Gap" -

How to go from Ordinary to Extraordinary!

How did a high profile lawyer walk away from his promising career to focus on his passion - developing human potential ? What simple strategies can we follow to accelerate our personal growth in 2019 ?
Our Key Note speaker for this event is Jonathan Cave, a New Zealand-British National who was raised with a very multi-cultural upbringing.
After spending 13 years in Geneva serving some of the wealthiest families in the world in their business, professional and personal affairs, he found himself feeling empty inside. This led him on a deep soul-searching journey in which he discovered how to align performance to purpose in order to foster potential and happiness.

Today, Jonathan helps leaders, teams, NextGen families and individuals align their performance with their purpose in work and non-work environments.
His clients include some of the biggest tech firms, private banks and wealthy families around the world. He currently lives with his family in Geneva, Switzerland.
In this evening of self-discovery, story-telling and networking:

You Will Learn:
- How to turn your expectations into actions
- How to empower your daily thoughts and become your own source of inspiration
You Will Take Away:
- Practical tips to effect the changes you want to make
- Simple strategies to accelerate your personal growth
At the end of Jonathan's talk, you will have a time to network and to receive FREE COACHING by one of our expert coaches. More information below.

Tickets
10CHF - Either via Eventbrite or in case of issues payable also at the door (but please let us know you are coming)
Agenda
6.30pm: Registration
7pm: Key Note talk + Q&A
7.45pm: Meet The Team
8pm-9pm: Networking + Free Coaching

We are the Geneva Coaching Hub - Experience coaching for free!
We are a group of expert coaches who have come together to provide the English-speaking community of Geneva a monthly opportunity to come together, be inspired, grow in their personal and professional journeys and try coaching for free!
If you would like to experience a free coaching session with one of our coaches, please let us know upon registration. You can find out here who we are and what our respective areas of expertise are. This is a free service which will be offered on a first come, first serve basis.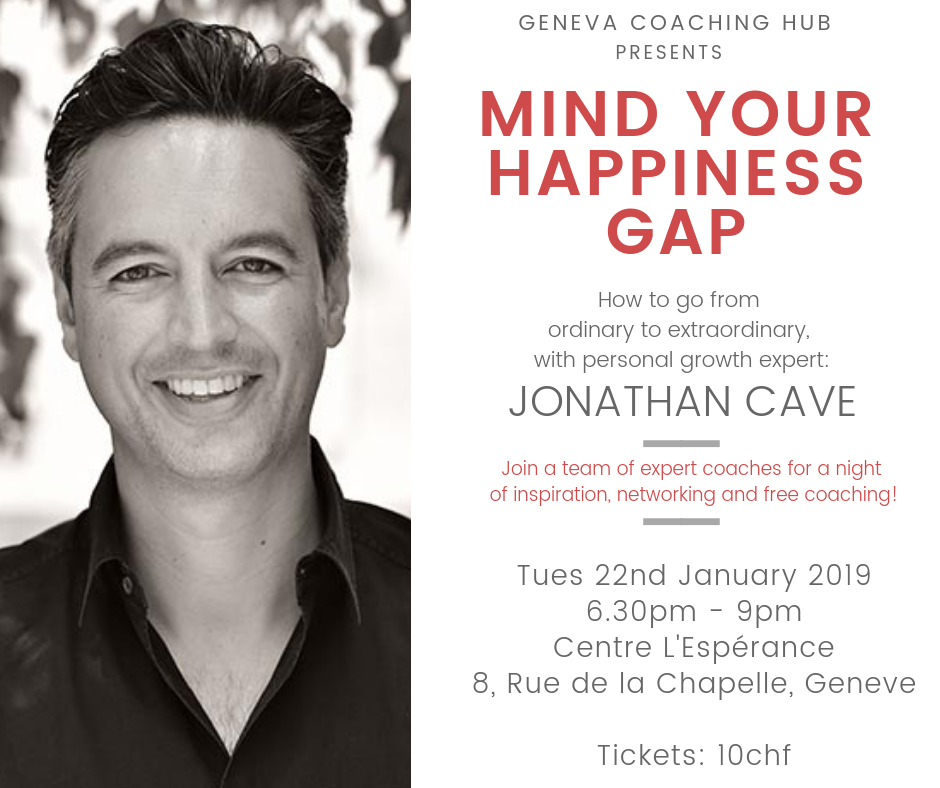 A souvenir from November's Event: