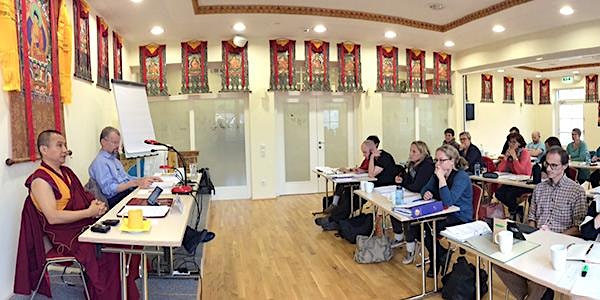 Mind Training: Wisdom of the Dalai Lama and Tibetan Masters
When and where
Location
Dům osobního rozvoje MAITREA 6 Týnská ulička 110 00 Prague Czechia
Description
-- EVENT IS ALREADY FULL -- PLEASE REGISTER FOR THE WAITLIST IN CASE A SPOT OPENS OR IF YOU ARE INTERESTED IN THE NEXT SEMINAR BY LAMA GESHE TENZIN DHARGYE
Tibetan Semjong - the wisdom of the Dalai Lama and the Nalanda Masters
Teacher: Geshe Tenzin Dhargye, Tibet Center Austria - Institute of H.H. Dalai Lama (www.tibetcenter.at)
The key to more joy and serenity is so close that we keep overlooking it - it lies in our own mind! In this seminar, we have the unique opportunity to learn from an authentic Tibetan master the most important points of Semjong (mind training) and to explore the secret of our own consciousness. We will learn how our mind shapes our experience of day to day life and how we can use this as a basis to transform our life. This ancient Tibetan wisdom is now more relevant than ever, and putting it into practice can have a healing effect on the individual and incrementally also on society.
This seminar is for you,
- if you are interested in personal development
- if you are interested in Tibetan wisdom,
- if you want to learn more about Buddhist psychology and get a first glimpse of the Buddhist Map of the Mind
Language: seminar will be in English
Admission free, donations welcome
REGISTRATION REQUIRED - capacity is limited

This event is part of the Festival of Democracy, the associated program of the Forum 2000 Conference.