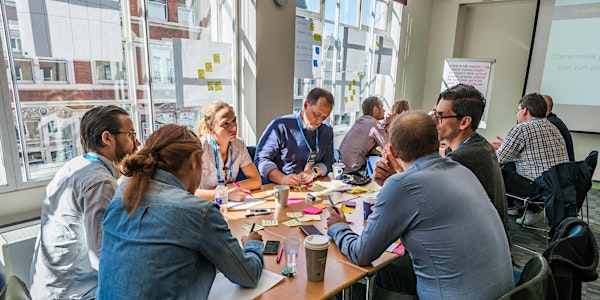 Mind the Product Workshops Spring 2016
When and where
Location
etc.venues Farringdon-Hatton Garden 51-53 Hatton Garden London EC1N 8HN United Kingdom
Refund Policy
Contact the organizer to request a refund.
Description
THREE great workshops to choose from
After the success of our 2015 workshops we are running a new set in April. These workshops will be held on Friday, April 15th at a dedicated venue on Hatton Garden and followed by ProductCamp London on the Saturday.
We're thrilled to have Rich Mironov join us from SF to run a workshop on Product Leadership, C Todd Lombardo is flying in from Boston to run a Design Sprints workshop, and we will of course be repeating our own Product Management Essentials workshop for everyone who wants to brush up their skills.
Of course, we'll also provide a hot lunch and plenty of coffee to fuel you through the day.
Pick the workshop you're interested in and buy your ticket - be quick as there are very limited spaces for each workshop to ensure the best possible learning experience! As the workshops are run in parallel you can only attend one of them, and once purchased you cannot change your workshop.
Access to ProductCamp
We will also be running ProductCamp London on the Saturday after the workshops. Buy a workshop ticket and you'll receive an access code so you can sign up for ProductCamp London too (ProductCamp London is free but has very limited places).
The Workshops
Product Leadership with Rich Mironov
Most product management writing and sessions are about managing individual products/service or feature-level lean/design thinking. This workshop is for those managing teams of product managers, designers and engineers (or who hope to be soon). We'll tailor an agenda plus group exercises based on attendee's specific issues and concerns, but likely to include:

What do Directors or VPs of Product do, Conway's Law: different ways to divide up/assign work within your team, and the predictable problems that result, Portfolio thinking across products and within products, Internal feedback biases and how we reward sales teams, and handling pressures toward one-off custom software.

Rich Mironov has been running product teams, coaching tech executives and working with startups for three decades. He blogs relentlessly at mironov.com.
Design Sprints with C Todd Lombardo
Shortcut the usual endless debate cycle around new product ideas with Design Sprints. Design Sprints are a process for rapidly answering critical business questions through design, prototyping, and testing ideas with customers. In this workshop C Todd Lombardo will guide you through a day-long mini-design sprint so you can get firsthand experience of what it's like to participate in one. You'll walk away knowing how to implement them in your organization. Small groups will work their way through each phase of a design sprint and along the way we'll discuss tips and gotchas for how to execute design sprints in your organization and hear stories of how other organizations have implemented them.
C. Todd Lombardo is a leader who wears many hats, all at once: Author, designer, scientist, professor, and visualizer. After originally beginning his career in science, C. Todd shifted his focus to product and design, ultimately innovating, designing, and managing products for countless companies large and small. In his role as Chief Design Strategist at Fresh Tilled Soil, he employs strategic thinking to craft smart, impactful solutions that radically transform clients' product strategies. C. Todd serves as Adjunct Faculty at IE business School in Madrid, and co-authored the Design Sprint book published by O'Reilly.
Product Management Essentials with Kate Leto and Janna Bastow
Whether you've got a few years under your belt or are new to Product Management, this workshop will bring you up to speed on all the essentials you'll need to know about being an awesome Product Manager. The workshop delves deep into topics such as: the definition of products and product management; the importance of communication with customers; user personas and how to utilize them; the connection between business and product; how to use metrics and KPIs to stay on track; and how to condense your knowledge into user stories to share with your teammates.

Janna Bastow comes from a user-centric design background and has extensive product experience. She's a co-founder of Mind the Product and the Co-Founder and CEO of ProdPad, product management software that helps you manage your roadmap and your product backlog.
Kate Leto is a seasoned product manager with over 16 years experience leading product at companies like Yahoo and Moo.com. Most recently she's been helping numerous London start-ups build their product functions.