Event Information
Location
Mission Bay Conference Center
1675 Owens Street
San Francisco, CA 94158
Description
Level up Your Product Management Skills
#mtpcon returns to San Francisco on July 14, 2020. In addition to our incredible conference, we're offering a day of amazing pre-con workshops, on Monday, July 13, enabling you to dive deep into some new skills. We've lined up a selection of amazing full-day workshops led by true experts in the field. And of course, we'll also provide lunch and plenty of coffee to fuel you through the day.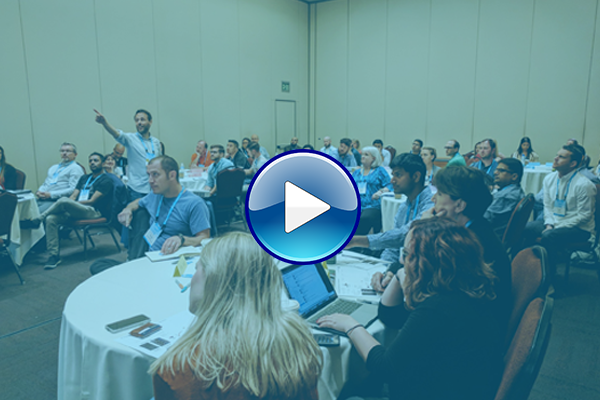 ---
Choose from these amazing workshops
Product Management Foundations
Communication & Alignment
Product Metrics
Mapping for Product Managers
Prioritisation for Impact
User Research
User Behaviour and Psychology for Product
More workshops to be announced soon
---
Workshop + Conference = Separate tickets
You should, of course, also join us at the conference the day after these workshops, but tickets are completely separate. Conference tickets do NOT give you access to workshops, nor do workshop tickets give you access to the conference.
Get your tickets for the conference here.
---
Are You a Senior Product Leader?
If you are a product leader - Director, VP, CPO or higher - and would like to know more about our invite-only, exclusive Leadership Forum - also happening on July 13 - you can learn more here.
---
Workshop Topics
Product Management Foundations
Workshop Overview
Product Management Foundations is an overview course intended for individuals who hold the title of Product Manager, or have some working knowledge of the product development process. The intention of this course is to help product managers develop a broader understanding of their role. It seeks to answer the questions:
What are the core functions and primary responsibilities of a product manager?
What does good product management look like?
How do product managers know if they are adding value?
As such, the course is tightly focused on running an effective core team that is centred around inquiry-driven development process. You will improve your understanding of customer problems and perspectives, solution testing, delivery mechanisms, and team process.
What we'll cover on the day
Product Management Foundations is a full-day workshop that is comprised of nine modules. Each module includes a lecture component on theory and practice, interspersed with up to three hands-on activities. This ensures that you are afforded an opportunity to apply and work with concepts in a setting that will answer questions and facilitate critical thinking. The following modules will be covered:

Learning mindsets: How inquiry breaks down at different points through the product development lifecycle
Goals alignment: How to create effective goals and align the team and organization around them
Design thinking: What design thinking is and how product managers can break down what is needed for product understanding
Persona development: How to effectively create personas and use them in product processes
Lean testing: Unpacking types of lean tests and how to implement them for maximum learning
Interview guides: Writing interview guides that do not bias or lead the subject
Wireframes and prototypes: Using visuals at different fidelities to facilitate the right conversation
User stories: Creating an effective communication mechanism for efficient and transparent delivery
Core team communication: How to think about "culture as product" and foster a team that that is geared towards continuous improvement

Things to reflect on before the workshop
Before your training workshop, we ask that you take some time to consider the following questions. The more time you take to consider your current situation, and the issues and challenges you face, the more you'll gain from your training:
How was your role described to you when you first got started?
What have you learned about product management since taking the job?
How well do you feel you understand your customers?
Do you think you have a healthy team culture?
Key Takeaways
At the end of the workshop, you will be confident in your understanding of the role of a product manager, including a firm grasp of the concept of design thinking and how it is important. You'll have a clear understanding of where the customer sits in the product practice, how to define and prioritise your customer personas, and how not to bias your customer research. You'll go back to the office feeling confident in your ability to facilitate a goals conversation, and how to structure hypothesis for lean tests.
We'll be running a wide variety of product management workshops led by expert trainers. We will announce more workshop topics very soon, so check back here for more details.
---
Communication & Alignment for Product Managers
Training Workshop Overview
We know that product managers are responsible for so much more than simply product delivery but are often given little authority. However, as product managers develop in their roles and continue to confidently deliver value to their customers, it is crucial that they begin to align their organisation around their process and vision in order to have an impact.
Communication and Alignment empowers product people to begin understanding how to align their organisation around product process and practice. In this overview workshop, we outline some of the grounded, tactical skills that product managers can use every day and how they can add a layer of strategic thinking to help collaborate with their stakeholders.
Together we delve into communication strategies that will help foster trust and collaboration within your organisation, how to evaluate an opportunity, how to extract maximum value from your research activities, and much more.
What we'll cover on the day
Communication & Alignment is a full-day workshop comprised of six modules. Each module includes a lecture component on theory and practice, interspersed with up to three hands-on activities. This ensures that you have an opportunity to apply and work with concepts in a setting that will answer questions and facilitate critical thinking.

Syllabus:
Evaluating opportunity: Understanding how to unpack product assumptions and line up macro data to establish product viability and the foundations for product/market fit
Research techniques: Reviewing a range of research methodologies, beyond the classic interview, that help product teams validate problem and solution
Synthesis: Distilling insights from research and how to collaborate with stakeholders to deepen user understanding and influence
Prioritisation: Covering a range of techniques and their uses for alignment at points of product development lifecycle
Stakeholder management: A deep-dive into organisational relationships and understanding how to build a communication strategy
Things to reflect on before the workshop
Before your training workshop we ask that you take some time to consider the following questions. The more time you take to consider your current situation, and the issues and challenges you face, the more you'll gain from your training:
How much effort do you feel you have invested in stakeholder relationships?
How often do you make an effort to make your process more collaborative?
How do new projects or changes to features happen at your company?
How do you currently collect evidence to support decisions?


Key Takeaways
You will leave this workshop with the skills you need in order to build a strategic layer onto your core product practices. You will understand how to evaluate a potential product idea/change for value, and how to use process as an alignment tool within your company. You'll go back to work with a firm grasp of where you should include your stakeholders as collaborators, understanding how to build effective relationships with said stakeholders, and with the ability to create a communication strategy with your organisation.
---
Product Metrics
Workshop Overview
Every product manager understands that they need to gather evidence to help them make decisions and set the right strategy and priorities. However, simply having a huge data warehouse and analytics skill sets doesn't help you ask the right questions or come to the right conclusions. So, how can product managers understand how to use data and metrics to add value to the customer's journey and their businesses?
Geared towards working product managers who need to regularly gather data from different sources to make decisions, this full-day workshop offered by Mind the Product helps participants understand how to adopt a user-driven perspective on measurement, ensuring that your products are optimized for customer success.
This Product Metrics workshop is unique because it specifically focuses on the role of the product manager in driving a common understanding throughout the product development lifecycle.
What we'll cover on the day
Divided into modules, each topic covered focuses specifically on the role that product managers should play in the process of metrics alignment and implementation: The workshop will be driven by a single business scenario, allowing you to work together in a hands-on way, tackling metrics questions similar to aa real-world situation.

The course covers:

How to keep customers at the centre of your metrics process
How to align your stakeholders around measurement goals and help them break down business goals into workable metrics
How to apply the concept of "One Metric that Matters" and how other metrics work with OMTM
How product managers should think about measuring tests and experiments
Implementing metrics and how to effectively collaborate with different roles on your team
Structures for reporting about metrics and achieving alignment with stakeholders
Reflections on what a metrics-driven culture looks like and how product managers can help to create one
Things to reflect on before the workshop
Before your training workshop, we ask that you take some time to consider the following questions. The more time you take to consider your current situation and the issues and challenges you face, the more you'll gain from your training:

Currently what are your most common data sources?
How often do you look at data (qualitative or quantitative) before you make product decisions?

Key Takeaways
At the end of the workshop, you will understand how product managers work with metrics. You'll go away with pragmatic, actionable insights that tie back into your job as a product manager, and specific details and scenarios about working with cross-functional teams to implement metrics tracking. You'll also have a good understanding of the "One Metric that Matters" concept for various types of business models and stages.
---
Mapping for Product Managers
Use maps to create value for your customer and your organisation
Definitions
The definition of systems thinking is a "holistic approach to evaluating how a system's parts relate, and how a system works over time." Using systems thinking through system's mapping in your product practice is critical for understanding risk and spotting opportunities for innovation.


Workshop Overview
Designed for working product managers who are striving to create product strategy, this training workshop will enable you to use maps effectively in order to make critical product decisions, communicate with stakeholders, and facilitate a shared understanding.
Not be confused with the process of story mapping, systems maps come in all shapes and sizes; user journey maps, experience maps, flows, etc. The key part of maps is that they help the people involved in building products understand the system(s) which underpin their organisation, customer base, workflow, etc. At the end of the session, you'll have the key tools and techniques necessary to effectively facilitate mapping sessions and achieve desired outcomes.
What we'll cover on the day
We will use a collaborative scenario in this training workshop to drive hands-on learning. Additionally, you will be prompted at the end of each exercise to reflect on actions or practices from your own products. The following topics will be covered:
- An overview of systems thinking and the utility of mapping
- Aligning on product strategy and discovery goals
- A tactical guide to maps, including:
Types of maps
How interactions create outcomes
Who to include and how to include them
- How to evaluate and decide on structure:

Selling the value of the mapping process to stakeholders
- Map creation process:

What do you need to know?
What are you looking for?
Who is involved?
- How can product managers guide towards success?
- An interactive afternoon of collaborative map building
Things to reflect on before your training workshop

Before your training workshop, we ask that you take some time to consider the following questions. The more time you take to consider your current situation, and the issues and challenges you face, the more you'll gain from your training:
How much do you understand about your customer's current experience of your product?
List 3-5 areas where you feel you wish you had more information about your customer's current experience
How well do you understand how parts of your organisation work together?
How well does your organisation understand dependencies between departments?


Key Takeaways
At the end of the workshop, you will have the ability to use maps to achieve goals and outcomes within your organisation and will have a firm understanding of key mapping frameworks and scenarios. You'll be able to identify the right map for the organisational challenge and have the tools needed to effectively facilitate collaboration on maps within your wider team. In short, you will have a plan for maintaining an effective use of maps and adopting them as a long term asset.
---
Prioritisation for Impact (with Gabrielle Bufrem)
Prioritisation is hard and it's also what makes excellent product managers. Product strategy is about deciding what not to do, but it's hard to know when or what to say "no" to. Prioritisation becomes even harder as companies evolve, grow, and form more product teams since teams lack a common language to make systematic decisions.
In this workshop, product management leader, Gabrielle Bufrem, will teach you a prioritisation framework that you can systematically apply across your team and organization that will enable you to make decisions that will maximize for IMPACT. Gabrielle will share advice from her upcoming book IMPACT Prioritisation: she will break down prioritisation into six buckets and teach you how to define and utilize them for your organization. She will enable you to:
Identify reach
Measure customer and business impact
Predict opportunity cost
Assess confidence
Calculate effort
Total the impact score
Gabrielle will also cover how to make feature requests from beloved Hippo's or customers actually work for you and will provide a workflow to seamlessly integrate them with the IMPACT prioritisation framework. This is a highly interactive workshop filled with real-life examples and exercises so that you can feel confident applying your new skills immediately after the workshop.
About your Trainer
Gabrielle Bufrem, Senior Product Manager, Pivotal
Gabrielle Bufrem is a Senior Product Manager at Pivotal, where she works with a range of clients from enterprise to start-ups in order to build user-centered products. She is originally from Brazil, has lived in 13 cities around the world across 10 different countries, and has built products across North America, Europe, and Asia. She is passionate about the intersection of product management and design - so much so that she is currently conducting research with Brown PHD students on how to improve collaboration in design. She loves to travel, explore different countries, is a barista and a coffee lover. Gabrielle earned a B.A. from Brown University in International Relations.
---
---
---
User Research (with Steve Portigal)
We all know that we build better products when we get more exposure to our users, but how do we get the most out of our time and target our efforts more effectively?
This is a workshop for product managers who need, or want, to do their own user research/user experience testing – how to start, how to do it and then presenting back in a way likely to get people excited about the results rather than dreading them.
The day will be focused on learning techniques that you can start using immediately – so we'll be looking at:
Where to start: it's easier than you think and we do it all the time in our day jobs
Getting buy-in from those around you: including your user researchers if you have them
Aligning research with business goals/objectives
Choosing the right tool for the job (tools, methodologies, terminology, etc.)
How to fit research into agile development processes
Presenting findings (to get even more buy-in)
What happens after you've made your changes
About your Trainer
Steve Portigal, Author, Doorbells, Danger, and Dead Batteries
Steve Portigal helps companies to think and act strategically when innovating with user insights. Based outside of San Francisco, he conducted research with thoracic surgeons, families eating breakfast, rock musicians, home-automation enthusiasts, credit-default swap traders, and radiologists. His work has informed the development of professional audio gear, wine packaging, medical information systems, design systems, video-conferencing technology, and music streaming services. He's also the host of the Dollars to Donuts podcast, where he interviews people who lead user research in their organizations. Steve is an accomplished presenter who speaks about culture, innovation, and design at companies and conferences across the globe.
---
User Behaviour and Psychology for Product (with Joe Leech)
A practical, hands-on way to understand the why behind your user's behaviour and apply that knowledge to user experience and product design.
What you'll learn
Through a series of fun, practical exercises you'll learn:
Psychology and interaction design.

How to evaluate and design interactions such as onboarding, search, navigation and eCommerce using psychology.

Psychology and user experience

. Evaluating and improving digital products based on psychology. How humans perceive and understand the world around them and how to build your product around that framework.

Psychology and the dark arts

. Persuasive design, cognitive biases and other brain hacks. Do they really work and how to apply them in product design. What are the ethics of applying psychology to digital design?
After the workshop
You'll be able to:
Design products, apps and websites that match how people think and behave
Find, understand, evaluate and apply psychology theory to digital product design
Have your own ethical framework for designing using psychology
Make better, informed design decisions and advocate to the wider team using psychology theory
Come to the workshop and you'll able to put psychology into practice as soon as you get back to the office.
About your Trainer
Joe Leech, Product Strategy and UX Consultant
Joe Leech helps companies and startups with Product Design Strategy (building the right stuff in the right order), applying Psychology in Design (training, workshops and consultancy) and User Experience (User research, IA, prototypes). He wrote the book Psychology for Designers and speaks regularly at Product Management, UX and web conferences.
---
Frequently Asked Questions
Do you offer discounts for groups, students, startups, non-profits, etc?
The only discounts we offer are the Early Bird conference tickets (limit one ticket per order), which sell out in a matter of minutes, and the group discounts on General Release conference tickets where we do a 10% discount on 10 or more conference tickets. The ticket limit for purchasing online is 25. If you require more than 25 tickets, please email us at tickets@mindtheproduct.com. Not applicable for Early Bird, Last Chance, Workshops or Leadership Forum tickets. These tickets are limited in number and are only available whilst General Release conference tickets are on sale.
To ensure you hear about the Early Bird tickets make sure you are part of our Slack channel and receive our newsletter.
Can I change the name or other details on my tickets?
Yes, but only the person who purchased the ticket can make these changes on Eventbrite. You are free to change your ticket details up to two days before the conference, including name, title, etc. Please make sure these details are correct as they will be what we show on your badge! Just login to Eventbrite and make the changes, following these instructions. If you can't reach the person who purchased the ticket in order to get them to change the information please contact us on tickets@mindtheproduct.com and we will help you make the updates.
Can I get a refund?
We offer a full refund up to one month before the conference. Simply log in to Eventbrite and request the refund following these instructions. As with changes, only the person who purchased the tickets can request a refund.
Can I pay by invoice?
As we are a small team we only offer payment by invoice if you are buying 5 tickets or more due to the additional overhead. Early Bird conference tickets cannot be purchased by invoice. Please also note that no tickets are held/issued until payment of the invoice has been received. Request to pay by invoice by emailing tickets@mindtheproduct.com

Tickets are not held until payment has been made – there are no exceptions to this.
We cannot agree to any terms and conditions associated with Purchase Order numbers or other supplier agreements.
We do not fill in supplier detail forms for ticket invoices – if you cannot find details you require on our website – please ask.


Frequently Asked Questions | Terms & Conditions | Code of Conduct | Privacy Policy
Date and Time
Location
Mission Bay Conference Center
1675 Owens Street
San Francisco, CA 94158