Sales Have Ended
Ticket sales have ended
Don't forget to grab a place at the workshops the day before! For more details see https://mtpcon.com/sf/
Sales Have Ended
Ticket sales have ended
Don't forget to grab a place at the workshops the day before! For more details see https://mtpcon.com/sf/
Description
THE Product Management Conference
Mind the Product is THE product management conference where we bring together product leaders from around the world to explore the intersection of design, technology and business - inspiring you to build better products.
Watch the recap from 2017 to see what our audience and speakers have to say: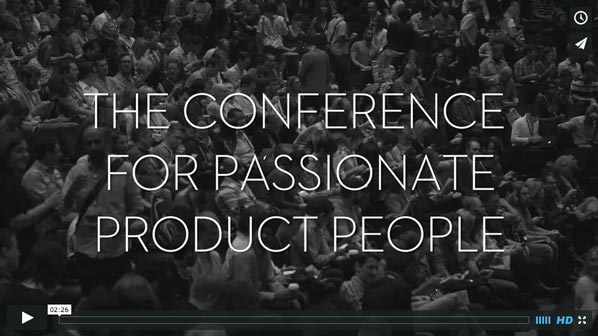 ---
Speakers
We've now announced all of our speakers - see below for more details, and check out our conference website for the day's schedule.

Sarah Tavel, General Partner at Benchmark
At Benchmark, Sarah invests in consumer businesses and the consumerization of IT. Prior to Benchmark, Sarah was a Partner at Greylock Partners, and a Product Lead for search, recommendations, machine vision, and pin quality at Pinterest. As one of the first 35 employees, her first order of business was to launch Pinterest internationally and close the Series C financing. Sarah then moved into product, becoming Pinterest's founding PM for search and discovery, and launching Pinterest's first search and recommendations features. She also led three acquisitions as she helped the company scale through a period of hyper-growth.
Brant Cooper, Co-Founder of Moves the Needle
Brant Cooper helps organizations big and small innovate. He is the co-author of the New York Times bestseller, The Lean Entrepreneur and has over 20 years experience helping companies bring high-growth products to market. His startup career includes Tumbleweed, Timestamp, WildPackets, inCode, and many others. He has experienced IPO, acquisition, rapid growth, and crushing failure. Brant previously authored The Entrepreneur's Guide to Customer Development, the first purpose-written book to discuss Lean Startup and Customer Development concepts and he is the Co-Founder of Moves the Needle, which has advised the innovation practices of such leading companies as GE, Intuit, Capital One, ING and Cisco.
C. Todd Lombardo, Co-Author of Roadmaps Relaunched
C. Todd has been tinkering and doodling since he was four years old. Originally trained as a scientist, he's had job titles ranging from scientist, to engineer, to product manager, to designer, and even professor. He has recently served as the Head of Product & Experience at Workbar, Chief Design Strategist at Fresh Tilled Soil, and Innovation Architect at Constant Contact. He also serves on the adjunct faculty at IE Business School in Madrid, as well as Maryland Institute College of Art (MICA). He is the co-author of both Design Sprint (O'Reilly, 2015) and Product Roadmaps Relaunched (O'Reilly, 2017).
Tom Coates, Co-Founder of Thington
Tom is the co-founder of Thington, a concierge for your smart home or office, which was recently acquired by Eero. Previously he was the Head of Product for the Yahoo incubator Brickhouse where he developed the pioneering location sharing project Fire Eagle. He's also run a small R&D group at the BBC and developed products for UpMyStreet, Time Out, Jawbone, Nokia and many others.
Christina Wodtke, Author and Lecturer
Christina has helped to grow companies like LinkedIn, Yahoo, Zynga, and the New York Times, as well as numerous startups throughout Silicon Valley. She's the author of the business-fable book Radical Focus, a book which uses the power of story to build a new approach to OKRs, as well as the author of Information Architecture: Blueprints for the Web, Pencil Me In, and the upcoming Continuous Feedback. Christina currently teaches at Stanford on the HCI program in Computer Science. She speaks worldwide about humanity, teamwork, and the journey to excellence.
Leisa Reichelt, Head of Research and Insights at Atlassian
Leisa is responsible for building a better understanding of users and customers at Atlassian. Before that she built and led teams who transformed public services with user-centred service design at the Australian government and the UK Government's Government Digital Service (GOV.UK). Before joining the public sector she was a freelance consultant and has worked with clients including Virgin Atlantic, BBC, SonyBMG, HSBC, The Economist, Drupal and the University of Surrey. Leisa tweets at @leisa and occasionally blogs at disambiguity.com.
Cindy Alvarez, Author and Principle Researcher at Microsoft
Cindy is the author of Lean Customer Development: How to Build Products Your Customers Will Buy. She is also a principal design researcher for Microsoft's Cloud & Enterprise division, after spending over a decade leading interaction design, product management, and research for startups including Yodlee, Loomia, Kiss Metrics and Yammer.
Nir Eyal, Author and Investor
Nir founded two tech companies and has taught at the Stanford Graduate School of Business and the Hasso Plattner Institute of Design at Stanford. He is the author of the bestselling book Hooked: How to Build Habit-Forming Products. Nir is also an active investor in habit-forming technologies. Some of his past investments include: Refresh.io (acquired by LinkedIn), Worklife (acquired by Cisco), Eventbrite, Product Hunt, Marco Polo, Presence Learning, 7 Cups, Pana, Kahoot!, Byte Foods, Anchor.fm, and Symphony Commerce.
Mariah Hay, VP Product at Pluralsight
Mariah leads eight cross functional domestic and international product teams at Pluralsight. Under her leadership Pluralsight successfully launched its technology learning platform which today serves more than 40% of Fortune 500 companies which has led to a recent IPO. Mariah has spent her career teaching and advocating human-centered design. In 2017 she was awarded the Excellence in Product award by the Women Tech Council for her outstanding product leadership and success in promoting practices coupled with organizational and philosophy design for measurable business impact. Before Pluralsight, Mariah served as the Director of User Experience for Universal Mind, one of the largest independent digital agencies in North America and lead all user experience for AMC Health. Prior to that, Mariah served as a professor at Savannah College of Art and Design where she developed and directed graduate coursework focused on interdisciplinary collaboration.
Dan Olsen, Author and Consultant
Dan wrote the bestseller The Lean Product Playbook and he works with CEOs and product leaders to help them build great products and strong product teams, often as interim VP of Product. Prior to consulting he worked at Intuit, where he led the Quicken product team to record sales and profit. He also led product management at social networking pioneer Friendster, and was the co-founder and CEO of YourVersion, a TechCrunch award-winning personalized news startup. Dan began his career designing nuclear-powered submarines.


---
Workshops & Leadership Forum
The day before the conference, on July 16, we will also be running a limited number of deep-dive workshops to help you level up your product management skills!

Or, if you're a product leader - Director, VP, CPO or higher - then join us for our invite-only half-day Leadership Forum instead.
Tickets for both of these events need to be purchased separately from your conference ticket:
---
Why you should attend #mtpcon SF
Here are five great reasons why you should join us at Mind the Product San Francisco, and it's not just about the coffee:
1. It's the biggest product conference in the world
Mind the Product San Francisco 2017 brought together 1,500 passionate product people into one space on one day and we expect the same in 2018. There's no bigger event dedicated to product out there. Not only is our crowd the biggest, but we draw the greatest names in product too.
2. Hear real, practical advice you can put to work the next day as well as inspirational ideas on the future of product development and design
We think that a balance is important for a great day of learning. Our speakers are visionaries for the future of product, but they've also got tons of real experience under their belts to pass onto you.
3. Network with a conference full of passionate peers over free lunch and great coffee
OK, so it's a little bit about the coffee. We take care of you all day with plenty to chow down on while you discuss everything you've seen and heard. One of the best bits about Mind the Product is that we offer a single-track experience. No matter who you bump into, you've got the same interesting things to talk about.
4. Build a real community with your product tribe
Mind the Product isn't just a conference; it's a round-the-year blog and community with chapters in 136+ cities around the world that's dedicated to building a tribe around the art of product. We want product people around the world to come to meet with us and each other, so that we can all become the best in our field and move our discipline forward.
5. Enjoy the industry party of the year for great food and free flowing drinks & conversation
Getting together with your industry peers should not just be inspiring and educational, but good fun. We don't hold back on putting on an excellent party (with an open bar and some delicious food) to keep the conversation flowing and help you to build great connections with your product community.
---
Frequently Asked Questions
Do you offer discounts for students, startups, non-profits, etc?
The only discounts we offer are for Early Bird conference tickets (limit of one ticket per order), which sell out in a matter of minutes, and the group discounts on General Release conference tickets where we do 10 tickets for the price of 9. To ensure you hear about the Early Bird tickets make sure you are part of our Slack channel and receive our newsletter.
Can I change the name or other details on my tickets?
Yes, but only the person who purchased the ticket can make these changes on Eventbrite. You are free to change your ticket details up to two days before the conference, including name, title, etc. Please make sure these details are correct as they will be what we show on your badge! Just login to Eventbrite and make the changes, following these instructions. If you can't reach the person who purchased the ticket in order to get them to change the information please contact us on tickets@mindtheproduct.com and we will help you make the updates.
Can I get a refund?
We offer a full refund up to one month before the conference. Simply log in to Eventbrite and request the refund following these instructions. As with changes, only the person who purchased the tickets can request a refund.
Can I pay by invoice?
As we are a small team we only offer payment by invoice if you are buying 5 tickets or more due to the additional overhead. Early Bird conference tickets cannot be purchased by invoice. Please also note that no tickets are held/issued until payment of the invoice has been received. Request to pay by invoice by emailing tickets@mindtheproduct.com

Tickets are not held until payment has been made – there are no exceptions to this.
We cannot agree to any terms and conditions associated with Purchase Order numbers or other supplier agreements.
We do not fill in supplier detail forms for ticket invoices – if you cannot find details you require on our website – please ask.
Frequently Asked Questions | Terms & Conditions | Code of Conduct | Privacy Policy