Description
Tickets for the conference, workshops, and Leadership Forum are now sold out.
Tickets for MTP Engage Manchester are now on sale for 8th February 2019 - this is a great alternative event where you can meet with like-minded passionate product people to learn, share, and engage. Learn more and get tickets here.
THE Product Management Conference
Mind the Product is THE product management conference where we bring together product leaders from around the world to explore the intersection of design, technology and business - inspiring you to build better products.
This will be our seventh conference in London and we promise it will be better than ever!
Watch the recap from 2017 to see what our audience and speakers have to say: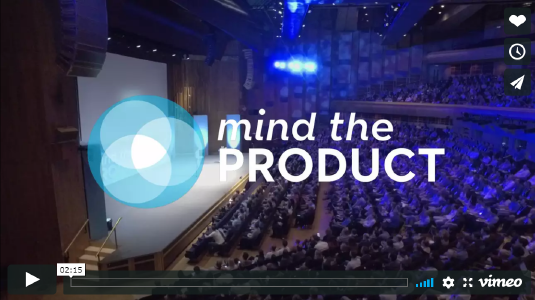 ---
Speakers
Ivy Ross, VP Design for Hardware at Google
Ivy is currently the Vice President of Design for the Hardware Product Area at Google, which was officially formed in 2016. In 2017, she and her team launched a family of consumer hardware products ranging from smartphones to smart speakers, earning 26 different design awards. This collection established a design aesthetic for technology products that is tactile, bold, emotional and undeniably Google. Previously, Ivy has held executive positions spanning from head of product design and development to CMO and presidencies with several companies, including Calvin Klein, Swatch, Coach, Mattel, Art.com, Bausch & Lomb, and Gap.
Ivy has also been a contributing author to numerous books, including The Change Champion's Field Guide and Best Practices in Leadership Development and Organizational Change. She has also been referenced in Ten Faces of Innovation, Rules of Thumb, and Unstuck, among other books. A winner of the prestigious National Endowment for the Arts grant, Ivy has also received the Women in Design Award and Diamond International Award for her creative designs.
Ryan Freitas, Director of Product Design at Facebook
Ryan currently serves as Director of Product Design on News Feed at Facebook. Previously, he was a design leader at Uber, and before that the co-founder and Chief Product Officer of about.me. Ryan has spent the better part of two decades working as an interaction and user experience designer in Copenhagen, Tokyo, and Stockholm, ultimately settling down in San Francisco. In addition to his regular work, he has advised and invested in a small portfolio of companies looking to create compelling human experiences.
Janice Fraser, Chief Product Officer at Bionic
Janice is a serial entrepreneur and a globally recognized expert on the management practices needed to support innovation at scale. Her clients have included the Obama White House, Proctor & Gamble, Lyft, and the Navy Seals Training Command. Fraser currently serves as Chief Product Officer at Bionic, where she installs entrepreneurship and venture capital as forms of growth management in Fortune 100 companies, which enables them to launch new billion-dollar businesses. Previously, Fraser was Director of Innovation and Transformation at Pivotal and she has founded and served as CEO for several startups, including Luxr, an early Lean Startup firm, and Adaptive Path, the world's first User Experience firm.
Joe Leech, Product Strategy Consultant
Joe Leech is a Product Strategy and UX consultant with 14 years experience helping companies and startups with product design, building the right stuff in the right order, and applying psychology in design and user experience. He has led large-scale UX and product design projects for clients like Disney, eBay, Marriott and more and wrote the acclaimed book Psychology for Designers.
Kim Goodwin, VP Product & UX at Patients Like Me
Kim Goodwin is the author of the bestselling book, Designing for the Digital Age. Kim is currently consulting for clients in varied industries including aviation, consumer electronics, and retail. She spent most of the last decade as Vice-President, Design and General Manager at Cooper, leading an integrated practice of interaction, visual, and industrial designers and the development of the acclaimed Cooper U design curriculum. Kim has led projects involving a tremendous range of design problems, including websites, complex analytical and enterprise applications, phones, medical devices, services, and even organizations. Her clients and employers have included everything from one-man startups to the world's largest companies, as well as universities and government agencies.
Richard Banfield, Co-Founder and CEO of Fresh Tilled Soil
Richard is the CEO and co-founder of Fresh Tilled Soil. Before that he co-founded Acceleration, an international advertising technology business headquartered in London (now owned by advertising giant WPP). Richard has delivered product design, business strategy, global marketing campaigns, and workshops to clients in the US, UK, Europe, and Africa. His colorful life experience includes being an army officer and a dive master on the Comoros, where he learned the survival skills he uses daily in the fast paced tech world. Richard is a mentor at several incubators and accelerators as well as Advisor and lecturer at the Startup Institute. Richard is the co-author of three books – Product Leadership, Design Leadership, and Design Sprint (all published by O'Reilly).
Sally Foote, Director of Product Innovation, Photobox

Sally is a deeply commercial Product Director with over 20 years of tech and digital experience. She is currently Director of Product Innovation at Photobox Group where she leads an end-to-end team who develop new physical products and build the digital journeys that allow customers to personalise and buy them.
Prior to Photobox Group she ran a boutique product consultancy who very quickly built a wide range of clients (from the BBC to Manchester City Football Club and Jaguar Land Rover) and specialised in helping them to develop product propositions and transform their digital teams. She worked with the executive leadership of almost every quality press publisher in the UK (Guardian, Telegraph, FT, News UK), consumer magazine houses (Time Inc, Which?) and a wide range of international B2B publishers (Informa, Plexus, Macmillian). Three of the products she was directly involved in developing went on to win awards: BT Sport, The Pool and HSJIntelligence
At the Times & Sunday Times as Head of Product she was instrumental in the launch of the award winning subscription product and its early success. She has also worked at a number of other media organisations including the Guardian and Sky.
Sally is passionate about supporting women in the digital sector and is an associate of 10 Digital Ladies, a 2000+ community of senior women working in tech in London. They hold monthly networking events and an annual awards that recognises inspiring female talent.
Roan Lavery, Chief Product Officer, FreeAgent

Roan is the co-founder and Chief Product Officer of FreeAgent, an online accounting software company based in Edinburgh. Over the past 11 years Roan has helped build FreeAgent from a weekend side project to one of the leading accounting software companies in the UK, with over 65,000 customers. Prior to FreeAgent, Roan cut his teeth as a designer in the earlier days of the web, and firmly believes that companies live or die on their ability to build products that solve real customer problems through exceptional user experiences.
Emily Webber, Author of Building Successful Communities of Practice
Emily Webber is a London-based independent agile and lean consultant, coach and trainer. She works with people and organisations in both the private and public sectors. She helps those going through digital transformations develop their capability for sustainable change. She was the Head of Agile Delivery at Government Digital Service (GDS). There she built, developed and led an amazing team of ~40 agile delivery professionals. While she was there, she created a model for developing communities of practice which serves as a guide to organisations across the industry. She continues to be a subject matter expert in communities of practice and agile capability. Emily is passionate about agile, people, learning and the magic that comes from connecting people. She is the author of Building Successful Communities of Practice and The Agile Team Onion.
Rik Higham, Principal Product Manager at Skyscanner
It took Rik a mere 10 years to escape from academia. After flirting briefly with life as a ski bum he discovered Product Management and hasn't looked back since. Now he's a Principle Product Manager at Skyscanner, the leading global travel search company who recently became one of Scotland's first unicorns. Having joined an 80-people team, he's experienced their exponential growth to over 1000 people. He's worked on all aspects of travel planning, from inspiration & discovery, to flights and car hire, from search to booking, on web and app, leading teams to achieve 10 times revenue increase in the process. He's currently the Product Lead for Skyscanner's Data Platform. He loves product discovery, and with a background in physics he will always have a soft spot for experimentation.
---
Workshops & Leadership Forum
The day before the conference, on October 18th, we will also be running twelve deep-dive workshops to help you level up your product management skills!
Or, if you're a product leader - Director, VP, CPO or higher - then join us for our invite-only half-day Leadership Forum instead.
Tickets need to be purchased separately from your conference ticket:
Tickets for both of these events have now sold out.
---
Why you should attend #mtpcon London
Here are five great reasons why you should join us at Mind the Product London, and it's not just about the coffee:
1. It's the biggest product conference in the world
Mind the Product London 2017 brought together 1,600 passionate product people into one space on one day and we expect the same in 2018. There's no bigger event dedicated to product out there. Not only is our crowd the biggest, but we draw the greatest names in product too.
2. Hear real, practical advice you can put to work the next day as well as inspirational ideas on the future of product development and design
We think that a balance is important for a great day of learning. Our speakers are visionaries for the future of product, but they've also got tons of real experience under their belts to pass onto you.
3. Network with a conference full of passionate peers over free lunch and great coffee
OK, so it's a little bit about the coffee. We take care of you all day with plenty to chow down on while you discuss everything you've seen and heard. One of the best bits about Mind the Product is that we offer a single-track experience. No matter who you bump into, you've got the same interesting things to talk about.
4. Build a real community with your product tribe
Mind the Product isn't just a conference; it's a round-the-year blog and community with chapters in 136+ cities around the world that's dedicated to building a tribe around the art of product. We want product people around the world to come to meet with us and each other, so that we can all become the best in our field and move our discipline forward.
5. Enjoy the industry party of the year for great food and free-flowing drinks & conversation
Getting together with your industry peers should not just be inspiring and educational, but good fun. We don't hold back on putting on an excellent party (with an open bar and some delicious food) to keep the conversation flowing and help you to build great connections with your product community.
---
Frequently Asked Questions
Do you offer discounts for students, startups, non-profits, etc?
The only discounts we offer are for Early Bird conference tickets (limit of one ticket per order), which sell out in a matter of minutes, and the group discounts on General Release conference tickets where we do 10 tickets for the price of 9. To ensure you hear about the Early Bird tickets make sure you are part of our Slack channel and receive our newsletter.

Can I change the name or other details on my tickets?
Yes, but only the person who purchased the ticket can make these changes on Eventbrite. You are free to change your ticket details up to two days before the conference, including name, title, etc. Please make sure these details are correct as they will be what we show on your badge! Just login to Eventbrite and make the changes, following these instructions. If you can't reach the person who purchased the ticket in order to get them to change the information please contact us on tickets@mindtheproduct.com and we will help you make the updates.
Can I get a refund?
We offer a full refund up to one month before the conference. Simply log in to Eventbrite and request the refund following these instructions. As with changes, only the person who purchased the tickets can request a refund.
Can I pay by invoice?
As we are a small team we only offer payment by invoice if you are buying 5 tickets or more due to the additional overhead. Early Bird conference tickets cannot be purchased by invoice. Please also note that no tickets are held/issued until payment of the invoice has been received. Request to pay by invoice by emailing tickets@mindtheproduct.com

Tickets are not held until payment has been made – there are no exceptions to this.
We cannot agree to any terms and conditions associated with Purchase Order numbers or other supplier agreements.
We do not fill in supplier detail forms for ticket invoices – if you cannot find details you require on our website – please ask.
Frequently Asked Questions | Terms & Conditions | Code of Conduct | Privacy Policy

Organizer of Mind the Product London 2018
Mind the Product is the world's largest product management community, with regular local ProductTank meetups in over 180+ cities around the world, as well as the biggest and best training events, workshops, and conferences in the world - with annual events in London, San Francisco, Singapore, Hamburg, Manchester, and more. These are the go-to events for meeting other product managers, designers, and developers and honing your product craft.