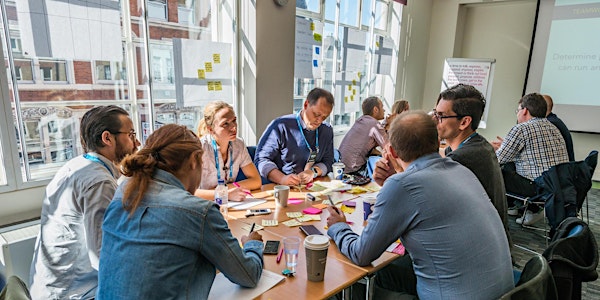 Mind the Product London 2017 Workshops
When and where
Location
etc.venues Farringdon-Hatton Garden 51-53 Hatton Garden London EC1N 8HN United Kingdom
Refund Policy
Contact the organizer to request a refund.
Description
TEN awesome workshops to choose from
As Product Managers we are always hungry to learn more so we're adding even more amazing in-depth workshops to help you step up your product management skills. These workshops will be held on Thursday, September 7 at a dedicated venue on Hatton Garden and followed by the Mind the Product Conference on the Friday.
Of course, we'll also provide a hot lunch and plenty of coffee to fuel you through the day.
Pick the workshop you're interested in and buy your ticket - be quick as there are very limited spaces for each workshop to ensure the best possible learning experience! As the workshops are run in parallel you can only attend one of them, and once purchased you cannot change your workshop.
Workshop + Conference = Separate tickets
You should of course also join us at the conference the day after these workshops but tickets are completely separate. Conference tickets do NOT give you access to workshops, nor do workshop tickets give you access to the conference. Get your conference ticket here.
The Workshops
Product Psychology with Joe Leech

A practical, hands on way to understand how the human brain works and apply that knowledge to User Experience and product design. You know somethings are 'good design' and some things are 'bad design' for UX but have never been quite sure why? Learn the psychological principles behind how our brain makes sense of the world and apply that to product and user interface design.
After the workshop you'll be able to:

Design products, apps and websites that match how people think and behave
Make more compelling designs
 that use psychology theory to enhance their effectiveness
Make better, informed design decisions and advocate to the wider team using psychology theory
Come to the workshop and you'll able to put psychology into practice as soon as you get back to the office! Joe Leech has spent the last 13 years working in UX with organisations like eBay, Marriott and Virgin. He has a degree in Neuroscience and an MSc in Human Computer Interaction and is a trained, experienced teacher so expect to be sketching, designing and applying the psychology from the very start.


User Research for Product Managers with Morag McLaren

This is a workshop for product managers who need, or want, to do their own user research / user experience testing – how to start, how to do it and then presenting back in a way likely to get people excited about the results rather than dreading them.
We all know that we build better products when we get more exposure to our users, but how do we get the most out of our time and target our efforts more effectively?

The day will be focused on answering those questions and learning techniques that you can start using immediately – so we'll be looking at:

Where to start: it's easier than you think and we do it all the time in our day jobs (hint: it rhymes with hippopotamus)
Getting buy-in from those around you – including your user researchers if you have them
Aligning research with business goals / objectives
Choosing the right tool for the job (tools, methodologies, terminology, etc.)
How to fit research into agile development processes
Presenting findings (to get even more buy-in)
What happens after you've made your changes
Morag McLaren has been working in the digital/tech start-up scene for (almost) 20 years specialising in rapid growth to exit environments – working in everything from construction to design/creative sectors. Her career in product started accidentally – by building products and interrogating interviewing users before knowing that 'product manager' or user research were real things. A not-so-secret techie and passionate foodie, she currently keeps out of trouble as the Head of Product for international user research & testing service WhatUsersDo.
Achieving Product/Market Fit with Dan Olsen

In this workshop, Dan Olsen will share his 6-step Lean Product Process for how to iterate your way to product-market fit. The workshop starts with how to understand, define, and prioritize customer needs. You will learn how to formulate your value proposition to ensure your product is differentiated from the competition. You'll also learn how to define and build an MVP prototype to test your value proposition with customers. The workshop will also explain how to translate what you hear from customers into actionable learning so you can rapidly iterate and improve your product. Workshop concepts will be illustrated via real world case studies and class exercises.
Dan Olsen is a product management expert and author of The Lean Product Playbook. Based in Silicon Valley, Dan helps CEOs and product leaders build better products and stronger product teams as a hands-on consultant, trainer, and coach.
Running Effective Workshops with Alison Coward

If your work involves creativity, design, innovation or strategy, workshops will be a large part of what you do. You'll need to get insights from users and clients, brainstorm with your team and regularly get together with colleagues for high-level discussions.
Running great workshops can transform projects. They help you to generate better content, participants will leave the workshop with more clarity and you'll increase your capacity for delivering great work.
The day covers tools and techniques that you can start using straight away, the knowledge and best practices that engage and motivate teams for creativity and innovation and practical methods for leading productive workshops:
Introduction and group dynamics: how to encourage creativity and support collaboration in workshops
Workshop design: setting goals and expectations, types of workshops, activities, structuring workshops
Workshop facilitation: the role of the facilitator, skills and techniques, facilitation styles, troubleshooting
Follow up and next steps: workshop outputs and maintaining momentum
Alison Coward is the founder of Bracket and author of "A Pocket Guide to Effective Workshops". She is a strategist, trainer and workshop facilitator. With over 15 years' experience of working in, leading and facilitating creative teams, Alison is passionate about finding the perfect balance between creativity and productivity. At Bracket she helps teams to use the best of their talents to develop great ideas and collaborate to make them happen.
Product Management Essentials with Rosemary King (SOLD OUT)
Whether you've got a few years under your belt or are new to Product Management, this workshop will bring you up to speed on all the essentials you'll need to know about being an awesome Product Manager. The workshop delves deep into topics such as: the definition of products and product management; the importance of communication with customers; user personas and how to utilize them; the connection between business and product; how to use metrics and KPIs to stay on track; and how to condense your knowledge into user stories to share with your teammates.
Rosemary King is an experienced product manager who has specialized in software development, agile enablement and lean methodologies for the past seven years. She has worked across diverse domains including government, finance, retail and enterprise. After starting her tech career in the New York City start-up scene, she moved into consulting and has spent time with ThoughtWorks and Pivotal Labs London. She has done freelance consulting and training with incubator programs like start-up bootcamp, done UX research on four continents and likes cold water surfing. She is currently Director of Training Products at Mind the Product.
Product Roadmapping with C Todd Lombardo and Bruce McCarthy (SOLD OUT)
Ask 10 people what a product roadmap is and you will get 10 different answers! This artifact is often misunderstood, yet an incredibly powerful if done right. Creating a great one is part art and part science. In this full-day session, we will talk through the purposes of a roadmap and a process for establishing your product's vision, gaining alignment with your stakeholders, validating themes, and presenting to upper level execs in order to maximize your team's impact.
Key Questions to Answer:

What are the differences between product strategy, a product roadmap and a feature release plan?How do I relate my product work to business objectives?
How can I balance the need to plan, while staying lean and agile?
How do I look beyond the next quarter without over-committing?
How do I confirm projects or initiatives that have not been fully validated by customers?
How do I manage stakeholders and their pressure/influence?
How do I prioritize what product aspects to work on 1st, 2nd, 3rd…?
What's the best way to present a product roadmap to my stakeholders?
Having made all the mistakes one makes as a product management rookie, C. Todd Lombardo is a co-author of the book Product Roadmapping (O'Reilly Media, 2017). He brings his vast experience in design, innovation, and strategic thinking to craft smart, impactful solutions that radically transform his clients' business strategies. He's the Chief Design Strategist and Boston-based design company Fresh Tilled Soil, an Adjunct Professor at IE Business School in Madrid and also co-authored the first book on Design Sprints, appropriately titled Design Sprint (O'Reilly Media, 2015).
User Story Mapping with Jeff Patton (SOLD OUT)
Ideal Agile development teams build small valuable chunks of functionality. But, that's easier said than done. Not all products or features are small and breaking them down into small buildable parts is challenging. And, even when you do, how do the people building those small parts not lose sight of the big picture?
Story mapping is a simple practice for telling the story of a whole product or feature starting by telling the stories of the users who'll use it. In this fast paced workshop you'll learn the concepts of story mapping by building a map collaboratively with others. You'll learn advanced techniques for slicing a map to find small viable product releases, and then how to build your product using smaller stories without losing sight of the big picture.
Jeff Patton helps companies adopt a way of working that's focused on building great products, not just building stuff faster. Jeff blends a mixture of Agile thinking, Lean and Lean Startup Thinking, and UX Design and Design Thinking to end up with a holistic product-centric way of working. Jeff is the inventor of User Story Mapping and the author of the bestselling O'Reilly book on it.
Using Value and Urgency to Prioritise with Özlem Yüce (SOLD OUT)
How do we improve the way we prioritise to ensure that we're delivering value quickly and not wasting our precious capacity to innovate? Since economics is all about scarcity, we can turn to economics to help us quickly discover, nurture and speed up the delivery of value.
The first essential building block is to understand the value. To help structure the conversation we will use a simple economic framework to surface the assumptions and drive to the economic impacts. The second essential building block is to understand the urgency. For this, we will look at different urgency curves to help us understand how value is likely to decay over time.
We will look at some simplified scenarios that help you put what you've learned about Value and Urgency into practice, then do the same for a real life example from a real company. To help us learn about what the key assumptions were we will compare results across the group to help us understand what the value might be and the areas of greatest uncertainty.
You will learn how understanding Value and Urgency helps with managing demand from multiple stakeholders, prioritisation decisions, surfacing assumptions about where the value is, and how time-sensitive that value is, enabling the team to make better trade-off decisions, and changing the focus of conversations: less about cost and dates, more about value and urgency.
Özlem Yüce has 15 years experience working in product management in everything from Fortune 500 behemoths to fast-growing Inc 5000 startups. Along the way, she has engaged with all sorts of organisational cultures and loves helping them learn and improve. She also enjoys sharing her experience with others and regularly speaks and delivers workshops at international conferences. She recently co-authored an IEEE paper called "Black Swan Farming" on the use of value and urgency to calculate the cost of delay at a Fortune 500 company.
Product Discovery with Kate Leto (SOLD OUT)
Product Discovery is an essential to today's ways of working - no matter if you're in a larger company or startup. TIme, money and resources are always tight - meaning you have to be able to quickly, cost effectively (and confidently) lead your team in solving big problems. Product Discovery helps you get there. In this workshop we'll explore into various frameworks and tools to help you become a Product Discovery guru.
Kate has more than 20 years product and marketing experience with the likes of Yahoo! (Sunnyvale and London) and MOO.COM (London). Since 2011 she's been working as a strategic product consultant with organisations of all shapes and sizes -from seed stage start-ups to global corporations - on everything from operational projects and mentoring to designing product/organisational transformations. She's been leading product Discovery projects since 2007 (before they were called "Discovery projects")!
Lean Product Optimisation with Craig Sullivan
(SOLD OUT)
In this workshop, Craig Sullivan will teach the complete lifecycle of his Methodology for Optimising Products. From initial research and sizing up what tools to apply and where to test - you'll then learn how to generate solid hypotheses for product changes and how to build, implement and iterate designs using AB testing, data and feedback.
You will find out how to stop guessing about product design and figure out what defects or product areas cost you money, what people actually want and which things will really make a difference to your performance figures. You'll get hands-on coaching with Q&A - to help you find, prioritise and launch tests, with credible statistics and washup reports to share with your team.
Craig will share hands-on techniques covering Lean Analytics, Research Tools, Prioritisation, AB testing, Voice of Customer, UX Research and Hypothesis Generation. With a complete slide pack, A3 worksheets, downloads and printables - you'll be better armed to transform your own teams.
Craig has been blending UX, Analytics, Split Testing, Voice of Customer and Conversion Optimisation techniques since 2006. He's also been building teams, launching products and hacking the growth of websites for companies like Google, LOVEFiLM, Lego, John Lewis, eBay and more. You can find him tweeting from @OptimiseOrDie on everything to do with Numbers, UX and Psychology.