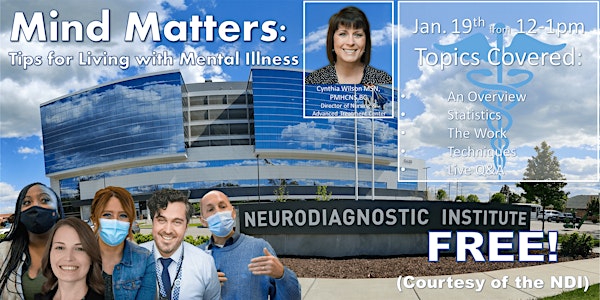 Mind Matters: Tips for Living with Mental Illness
Your Mind Matters! Get the info you need to better help yourself and your loved ones with mental illness and substance-use disorders.
About this event
This virtual, live program will be facilitated by director of nursing, Cynthia Wilson. Join her as she will present a current understanding of living with mental illness. Learn all about the tips, techniques, and methods of living with your mental health and the mental health needs of your loved ones. This stand-alone program is part of our 12-part educational series brought to you free of charge from the NeuroDiagnostic Institute.
NeuroDiagnostic Institute is located in Indianapolis, Indiana. It is managed by the Division of Mental Health and Addiction within Family and Social Services Administration.
Organizer of Mind Matters: Tips for Living with Mental Illness