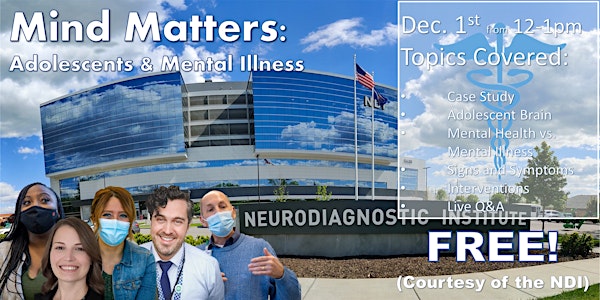 Mind Matters: Adolescents and Mental Health
Your Mind Matters! Get the info you need to better help yourself and your loved ones with mental illness and substance-use disorders.
About this event
This virtual, live program will be facilitated by child and adolescent psychiatrist, Dr. Andrew Miller and certified physician assistant of child and adolescent psychiatry, Kathleen Kleckner, MMS, PA-C, CAQ-PSYCH. Join them as they will present a case vignette that we will follow throughout the discussion. Learn all about the adolescent brain, mental health vs. mental illness, statistics involving adolescent mental health, signs and symptoms of concern, treatment considerations and interventions, and a brief overview of the adolescent care that is provided at NDI. This stand-alone program is part of our 12-part educational series brought to you free of charge from the NeuroDiagnostic Institute.
NeuroDiagnostic Institute is located in Indianapolis, Indiana. It is managed by the Division of Mental Health and Addiction within Family and Social Services Administration.
Organizer of Mind Matters: Adolescents and Mental Health