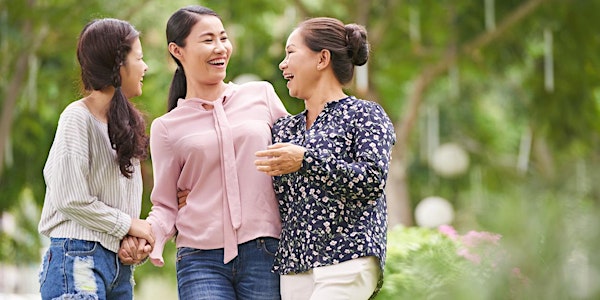 Mind, Body, Spirit – Lifecycle Care for the Whole Woman
Join us for a conversation about a relationship-based, holistic approach to women's health.
About this event
Throughout each phase of life, the physical, emotional, and spiritual needs of a woman changes. From becoming a woman in your teen years, having your family, to aging, a relationship-based approach to your health can ensure you receive personalized care. Join us for a conversation with Northwell Health Physician Partners Midwifery at Harrison to learn about a lifecycle and holistic approach to women's health and wellbeing and how a midwifery practice differs from traditional obstetrics and gynecology. Through this webinar, we will explore the gynecological needs and an integrative approach to care for each age group, including sexual health and functioning, mental wellbeing, pregnancy and postpartum care, and menopause. Breathing exercises for stress management will be demonstrated.
Registration required. This program will take place via Zoom. A link for the program will be sent prior to the program. If you cannot attend the live event, it is recommended you register to receive the link to the program recording.
For questions about this event, please email chl@northwell.edu.
This program is brought to you by Northern Westchester Hospital, Phelps Hospital, and the Katz Institute for Women's Health, all part of Northwell Health.
About our Presenters:
Kathy Herron, CNM, MS, FACNM has been a midwife for 35 years. Most of her career has been in full-scope practice, working in a variety of hospital, clinic, and office settings. In 2000, she created an independent, midwife-owned, private practice with hospital privileges at Phelps. She currently works full-time in this thriving practice, which is now part of Northwell. She has a special interest in helping women who struggle with sexual pain and dysfunction, and she cares for these women together with a colleague who is a pelvic-floor physical therapist. Kathy is also a faculty member at the Midwifery Institute at Jefferson, where she is using her expertise and experience to nurture the next generation of midwives. Kathy says, "My passion is helping women to be knowledgeable about and comfortable with their bodies, to be inspired to take good care of themselves, and to feel respected, supported, and empowered by their health care. In return, my patients have made me feel honored and privileged to be involved in so many intimate and profound moments in their lives."
Michelle Lehmer Chiafulio, CNM, MS is a Certified Nurse Midwife (CNM) practicing at Northwell Midwifery of Harrison since 2010. Before joining Northwell, Michelle worked at Jamaica Hospital in Queens, NY and she spent two years in Benin, West Africa as a Peace Corps volunteer working at a small village maternity center. She also is an adjunct faculty member at Jefferson University where she teaches midwifery. Michelle offers highly personal and individualized prenatal, delivery and postpartum care as well as routine gynecological care including birth control, preconception care and perimenopause. She has a special interest in the impact of nutrition and lifestyle habits on wellness. Midwifery care is appropriate for many women and families seeking to be partners in their care. Her patients tend to desire low-intervention in their experiences, yet their underlying need is to be given information and be able to make choices about their options. Her office in Harrison also offers other specialties to assist with common diagnoses for women and their families: acupuncture, pelvic floor physical therapy, prenatal and postnatal yoga, and massage therapy. In addition to all things related to women's health and holistic healing, Michelle has a wide variety of interests: being outdoors, camping and hiking, exploring new places and cultures through travel, reading, cooking and gardening. And if her husband and two sons are sharing these experiences with her, she is especially happy!
(Moderator) Amy Rosenfeld MS RD CDN: Community Outreach Program Manager for the Center for Healthy Living and Community Health Team at Northern Westchester Hospital.
Disclaimer:
You are now directed to a third-party registration site, Eventbrite. Please note that Eventbrite is a third-party information portal that is not owned, operated, or managed by Northwell Health. Your use of Eventbrite is solely at your discretion and is governed by Eventbrite's Privacy Notice and Terms of Service. Northwell Health does not make any representation or warranties of any kind, express or implied, with respect to the contents or operation of this website.