Description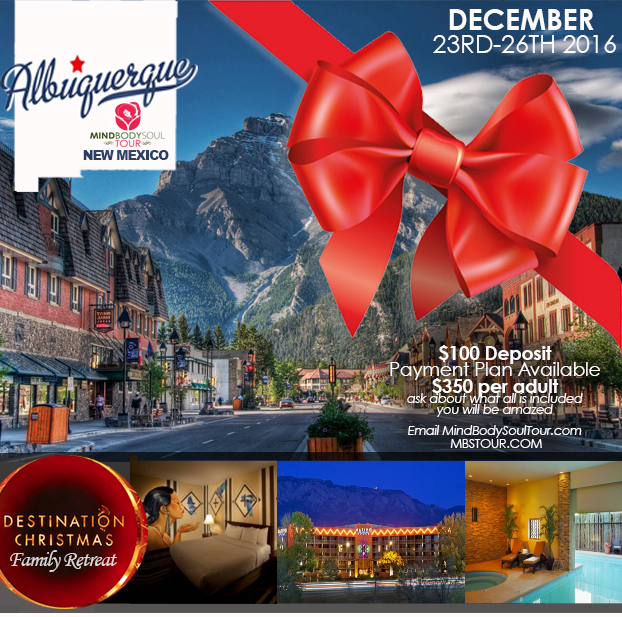 Christmas is almost here and Mind Body Soul Tour want to treat you to an experience of your lifetime. That you will forever remember. All the materialistic gifts would not add up to the priceless memories and joyful time you will have at our Destination Christmas Retreat with your loved ones.
Do something different, live a little, come refresh the soul, and connect on a deeper level with your loved ones.
Our retreat will be held in New Mexico at a beautiful hotel located walking distance to many attracttions.
Our packages for $350
includes your 4 day 3 nights stay private hotel rooms,
meals, Hiking trip with lunch, fitness sessions with fitness coach, 1on1 or family sessions with Transformation lifestyle coach, Special Family Christmas Dinner, 70's christmas after party, MBSTour Christmas gift bags, Family game night-Secret Santa, and so much more fun activities.
Flight not included. Feel free to contact us for help with finding best deals on flight/travel.
Only a $100 deposit is needed to lock in your spot.
and we will create a payment plan to make sure you are taken care of with no worries of coming out the pockets on too much. We want you to be at ease knowing you will enjoy your vacation without the financial worries. We will work with you.
Live life and treat yourself for all of your hardwork.
We hope to spend this holiday with you and your family. With goals to help you leave feeling rejuvenated.
For more info and in you are ready to book your trip please take a ticket leaving your contact info so we can contact you and send registration and more info. Or just email mindbodysoultour@gmail.com