Event Information
Location
Seafield Golf & Spa Hotel, Ballymoney, Gorey
Wexford
Ireland
Description



We are delighted to introduce our

MIND, BODY & SOUL MORNINGS!

Our first Mind, Body & Soul Morning event will take place on
Sat 8th July from 10am until 2pm
at Seafield Hotel, Ballymoney

Our Mind, Body & Soul Mornings will run regularly every couple of months.

The beauty of our regular morning events will be that participants can benefit from regular boosts of inspiration, rejuvenation & empowerment as there will be a unique focus at each morning event.


Join Clair (Master Practitioner of Neuro Linguistic Programming)

Shelley (Nutrition & Fitness Teacher)
&
Lisa (Life Coach & Meditation / Mindfulness Practitioner)

and
EXPAND your MIND, FUEL your BODY & FEED your SOUL
Invigorate yourself by taking some time out to invest in you! You will learn and experience easy, straightforward approaches, which will empower all aspects of you- Mind, Body & Soul- for deeper, more lasting, positive changes.
MIND- Learn how to get your mind working for you rather than against you and how to truly impact your behaviour, your experiences and what you attract into your life. Understand how to become a much more positive you!
BODY- Learn simple but powerful tips in nutrition which will improve your daily lifestyle to get the best out of your body. Invigorate yourself by enjoying some exercise by the beach (suitable for all fitness levels)
SOUL- Learn how to find meaning, purpose and passion in life. Experience meditation and the benefits of mindfulness in order to develop the art of mindful living so that you can begin to bring these practices into your busy day to day lives.

The morning will cost €40 per person and this will include a tea / coffee break.

To celebrate the launch of our MIND, BODY & SOUL MORNINGS we are offering you a €5 DISCOUNT if you book by 15th JUNE 2017.

Places are limited so make sure you book early by paying a €20 non refundable deposit & then the balance on arrival.

Bookings made by 15th June 2017 will avail of €5 off!
Just type 15JUNE17 in the Discount Code box when booking.


Follow us on Facebook to keep informed of all upcoming events and offers.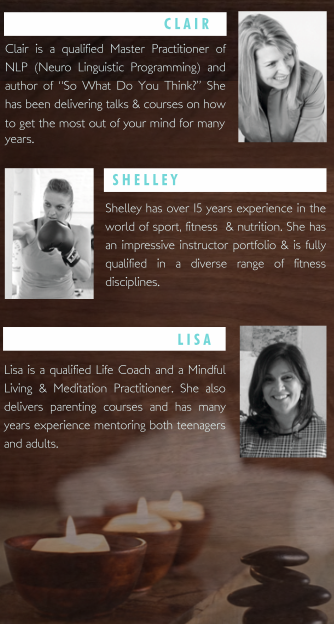 Location
Seafield Golf & Spa Hotel, Ballymoney, Gorey
Wexford
Ireland