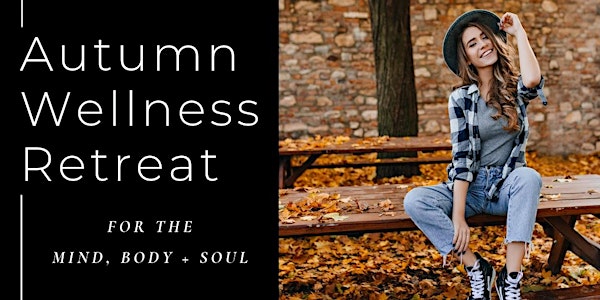 Mind, Body + Soul Autumn Wellness Retreat
"Take the extra care today to multiply your harvest tomorrow." Come gather with us to embrace change, transformation and live with purpose!
When and where
Location
Integrity celebration center 2789 Browns Lake Drive Burlington, WI 53105
Refund Policy
Contact the organizer to request a refund.
Eventbrite's fee is nonrefundable.
About this event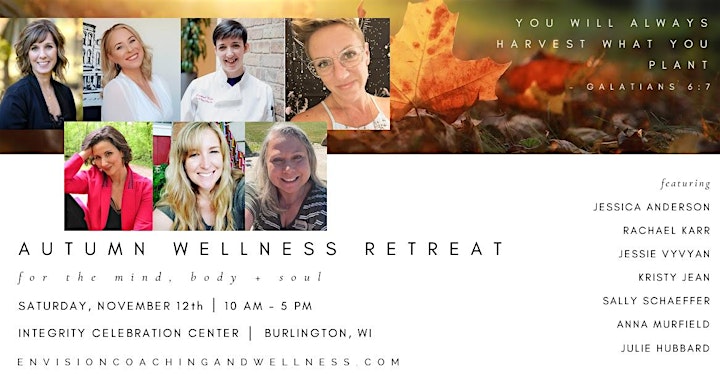 Envision Coaching + Wellness in collaboration with The Let Love Live Ladies, is sponsoring a private and exclusive, half day wellness retreat at Integrity Celebration Center located in Burlington, Wisconsin. Together, we will help you transition into the beautiful Autumn season with confidence!
You will experience:
CHANGING YOUR MIND ABOUT CHANGE with Kristy Jean - Author, Educational Leader and Motivational Speaker
UNLEASH YOUR CREATIVE SOUL PAINTING WORKSHOP with Anna Murfield - Professional Artist, Illustrator and Teacher, Owner of Crooked Feather Studio
DECADENT THREE COURSE LUNCHEON with Chef Rachael Karr - Certified Holistic Health Coach, Executive Chef and co-owner of The Busy Beestro
LIVE LIFE COACHING DEMONSTRATION + EMOTIONAL HEALING GROUP BREAK OUT SESSION with Jessica Anderson - Professional Life Coach, Motivational Speaker, Leadership Trainer and Founder of Envision Coaching + Wellness
CHAKRAS + ALTERNATIVE HEALING with Jessie Vyvyan - Intuitive Medium, Spiritual Coach, Reiki Master, Certified Yoga Instructor and Owner of Chi, Trees & Oils inside Riverside Studio
RELEASE THE GODDESS WITHIN - REDISCOVERING YOUR IDENTITY + CREATING PURPOSE The Let Love Live Ladies get vulnerable
INDIVIDUALIZED AROMATIC HAND MASSAGES with Julie Hubbard
INDIVIDUALIZED THERAPEUTIC MASSAGES with Cayla Brown - Licensed Massage Therapist at Silver Lining Therapeutic Massage
WINE TASTING + FOOD PAIRING FOR HOLIDAY GATHERINGS with Scott Chenier - Owner of Fox & Fork
*Wine tasting with food pairing is optional
Three Course Luncheon includes:
First Course - Carrot + Ginger Soup with Roasted Pumpkin Seeds
Second Course Lentil and Charred Broccoli Salad with Roasted Chicken: roasted broccoli, kale, rainbow carrots, grapefruit and pomegranate seeds tossed with creamy matcha dressing topped with roasted chicken
Third Course - Caramelized Honey Nut and Seed Tart with Ginger Spiced Whipped Cream
Breakfast, refreshments and snacks provided. Breakfast includes mini crustless quiche, overnight oats, fresh fruit, and homemade breakfast bakery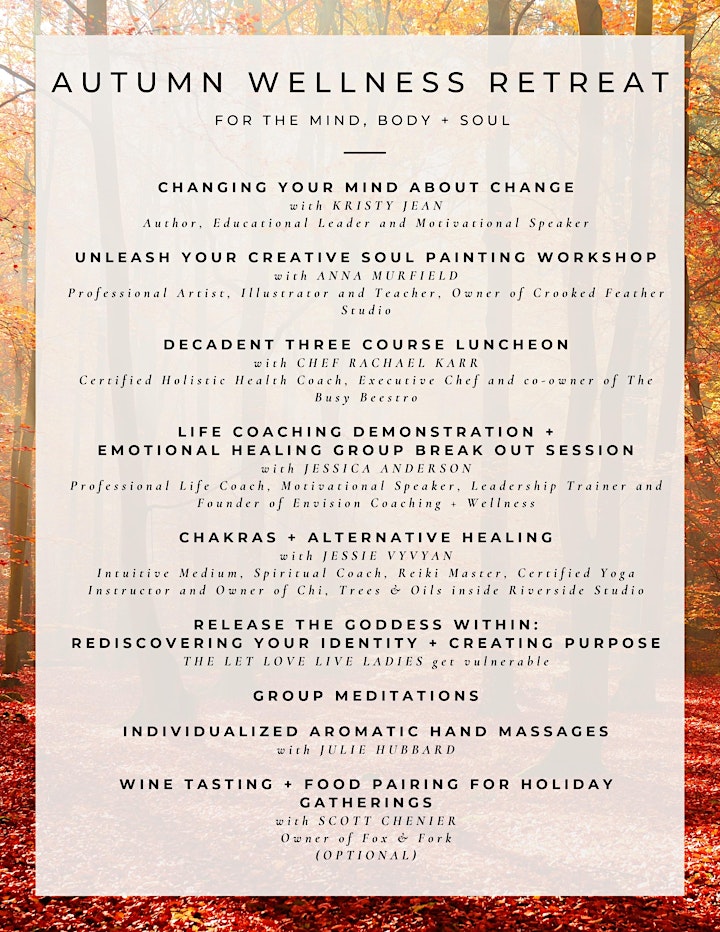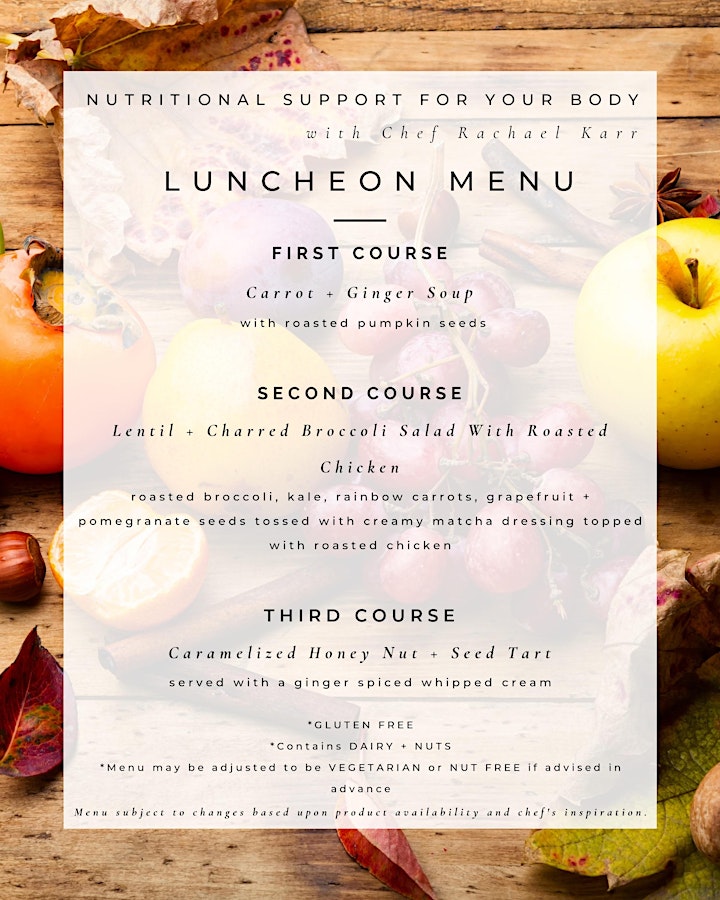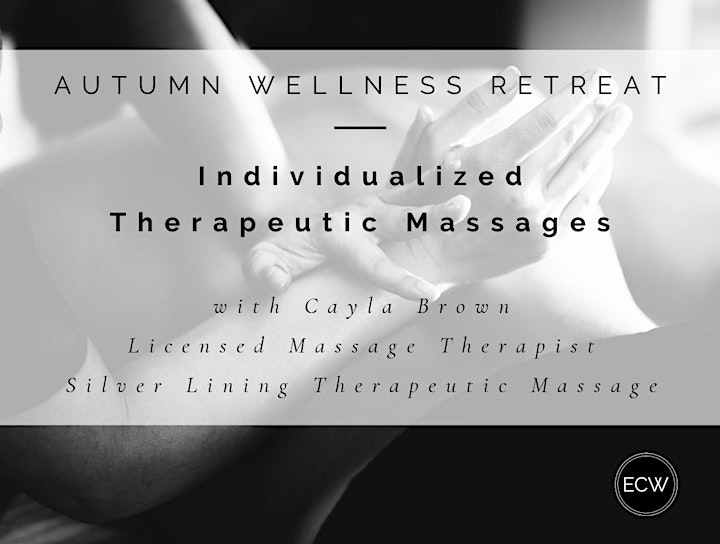 TESTIMONIALS
"If you need a pick me up and time with a gal pal, I highly recommend taking the day and surround yourself with a bunch of wonderful people with a lot of positive energy! You will leave a changed person, loving and accepting who you are." - Stella
"We need more good energy in this somewhat negative world. We are put down too often not only by ourselves, but by our peers. Giving ourselves the tools to think outside of the box and push ourselves forward is a life skill that can not only be used by ourselves but to help us lead and encourage others. With the team of women organizing and leading this event is so motivating. Supporting one another and building a team built on success is so inspiring and encouraging." - Jennifer
"ECW July 2022 event was a great way to be mindful of my own needs to be successful and empowering to be with other women!" - Anonymous
"Felt like a community of like-minded women right from the start. Warm and inviting!" - Anonymous
"ECW creates a sense of community while taking time to care for yourself." - Elizabeth
"There are a variety of speakers who all have relatable yet informational content. I went out of my comfort zone to come here and so happy I did! I loved the activities and made new friends, thank you!" - Haven
"This is truly uplifting, working on yourself. I love this is woman building up other women when in today's world women are often the biggest critics of other women. We need to come together, lean on each other, build each other up, and celebrate in each others' success. That's what this does. It helps you feel good about yourself and others around you." - Toni
"This event was absolutely amazing - my soul needed today and as women who take care of everyone but ourselves. Days like today - soul searching goodness!" - Judy
"The entire retreat was well done and the people were enthusiastic, experienced, professional and so friendly! I felt welcome and relaxed, well-nourished my mind, body and soul! Thank you!" - Anonymous
"I totally enjoyed every aspect of the retreat...the food was the icing on top (loved everything, but the dessert was to die for!)" - Kathy
"The life coaching was exceptional and triggered many questions. It was an amazing experience, transforming in so many ways! I'll be back and highly recommend this for everyone!" - Patti
"I was excited to participate in this wellness retreat and was very happy that the results aligned with my expectations. Great talks on perspective and resilience and delicious food for the mind and body. Thank you ladies, this was amazing!" - Kara
"I loved every minute of today, the raw and real talk, the positive vibes, the wonderful people, amazing food and yoga. I loved the judgement free zone and feelings of empowerment. I loved the fact that we focused on mind, body and soul and everything came full circle for me today. The food was amazing as well!" - Anonymous
"I didn't realize how much I needed this, truly emotional in every way I will be back and will be getting life coaching in my future." - Dessirae
"This experienced has allowed me to learn the importance on doing something for myself and to value that. I also now know there isn't anything holding me back from finding my perfect world." - Avery
"I think everything was perfect. I really enjoyed everyone and the elements. I really enjoyed it, very good!" - Louise
"Each speaker was incredibly interesting and feel that I walked away knowing more than when I arrived. I loved the meditation and yoga!" - Georgean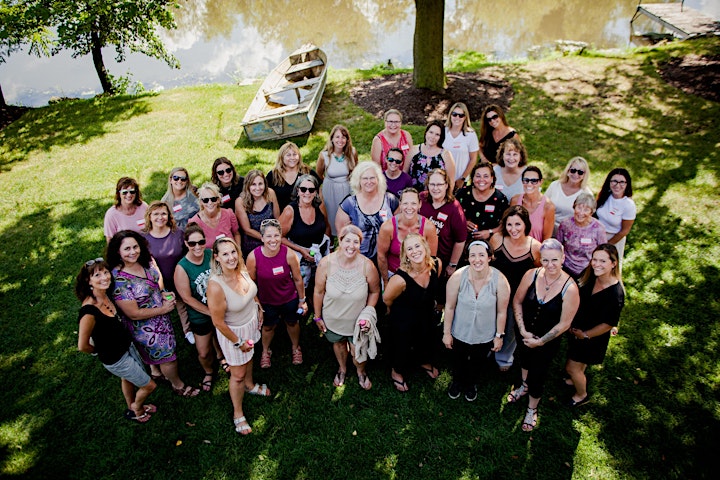 PHOTOGRAPHY AND VIDEO NOTICE
MEDICAL AND LEGAL ADVICE DISCLAIMER