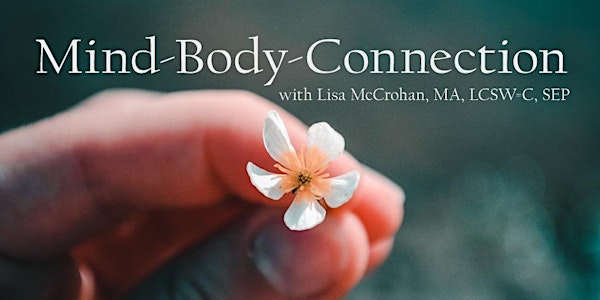 Mind Body Connections
Come join us for a year-long experience to invigorate your body, mind, heart, and soul.
About this event
(Note: please register with your georgetown.edu account. Only those with a georgetown.edu email account will be given the Zoom link)
We have a new program for you in 2021-2022! MBC is specifically designed to nourish and replenish you during these times.
Maybe you are feeling drained and overwhelmed. We've definitely all been at our desk andon our devices more. Some of us have back problems and joint issues, others of us have felt more anxious.
MBC is all about offering you mindful and compassion body-centered, heart-nourishing, soulful inspiration to help you:
- restore your vibrancy
- practice radical self-care and compassion for your body, mind, heart, and soul
- nourish your joy and live it
- move your body in rejuvenating and restorative ways
- bring some calm to your mind
- experience beauty
- harness your energy and channel it in ways that are aligned with how YOU want to live
- build soul-nourishing and sustaining habits for you to flourish
- care for others and your community with healthy boundaries and compassion.
MBC will incorporate: mindful movement, guided meditation, soulful poetry, body-centered practices, journaling, reflection, and compassion-based practices
Here's what MBC will look like:
Weekly Inspiration: Each week, you will receive an email with a short practice, poem, or resource for the week that you can enjoy and practice on your own. Please note: we will be using the Calm App a lot. This app is free for Georgetown employees. Please download it.
LIVE Monthly Community Practice on Zoom: Once a month on the second Wednesday of each month, we will meet virtually on Zoom for a midmonth Wellness Break where we will practice together. These sessions will be 40 minutes at 1pm – 1:40 pm. They will include an opening grounding exercise, a body-centered mindful movement experience, calming reflection, and soulful inspiration.
Schedule for Spring 2022
March: Mini Habits - Mega Love. As the weather starts to warm up, this month is all about looking at our wellness habits and creating mini habits that really nurture ourselves -- with a mega dose of self-love weaved in it all.
April: Mini Habits - Mega Love (Part 2). This month, we will continue with the theme of creating mini wellness habits with mega love and go deeper into how we keep thriving.
May: The Power of Joy, Leisure, and Lingering. This final month, we will explore how to bring balance into our lives and nourish our nervous system through the power of small moments, mini rests, and learning to linger.