Mimaride Işık - Vol 1

Tuesday, November 22, 2011 from 7:00 PM to 9:00 PM (EET)
Event Details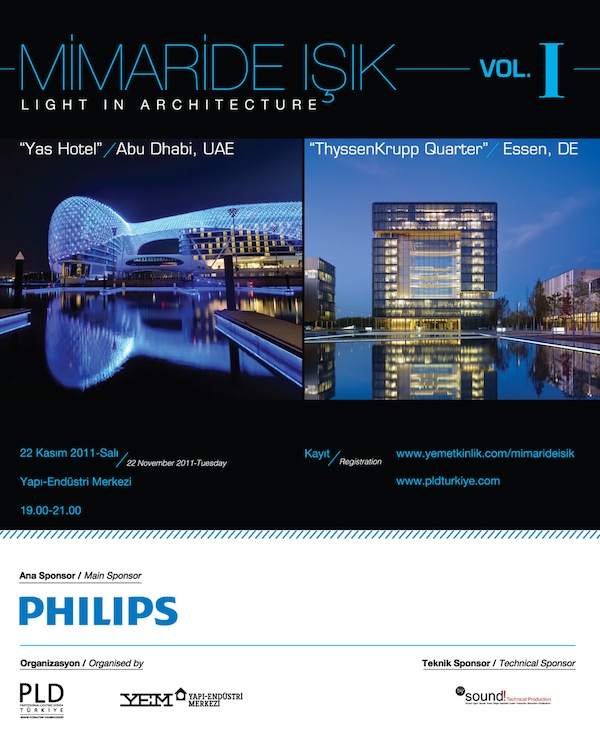 Abu Dhabi'deki YAS Hotel ile Essen'deki ThyssenKrupp Quarter'ın mimari ve aydınlatma tasarımı ilişkisini konuşmak üzere, ARUP'tan Brian Stacy ile Licht Kunst Licht'ten Alexander Rotsch, 22 Kasım 2011 Salı akşamı saat 19.00'da Philips ana sponsorluğunda, YEM Etkinlik Salonu'nda gerçekleşecek olan "Mimaride Işık vol.1" seminer dizisinin ilk konukları olacak.
Aydınlatma tasarımının yaşam kalitemizdeki önemi ve aydınlatma tasarımcısı mesleğinin kabulü ile ilgili bilincin gelişmesi için etkinlikler düzenleyen PLD Türkiye dergisi, 40 yılı aşkın süredir yapı ve mimarlık sektörünü buluşturan Yapı-Endüstri Merkezi ile beraber yeni bir etkinlik serisine imza atıyor.
"Mimaride Işık vol.1", aydınlatma tasarımı ve değeri hakkında bilinç oluşturmak amacıyla düzenlenecek olan seminerler dizisinin ilk ayağı. Bu seminer dizileri ile aydınlatma tasarımının kente, mimarlığa ve yaşam kalitesine olumlu etkilerini sergilemek hedeflenirken, aynı zamanda aydınlatma tasarımına olan ilginin her düzeyde artırılması ile bu alanda farkındalık yaratılması öngörülüyor.
Philips ana sponsorluğunda gerçekleşecek ilk etkinliğin konukları Amerikalı aydınlatma tasarımcısı Brian Stacy ve Alman aydınlatma tasarımcısı Alexander Rotsch.
Abu Dhabi'de konumlanmış olan YAS Hotel'in, mimari ve mühendislik açısından en önemli özelliklerinden biri 217 metre genişliğindeki Grid Shell olarak bilinen LED aydınlatma sistemi. Bu sistem aynı zamanda 5389 adet elmas şeklindeki LED bölmeleri aracılığı ile renk değiştirebilen ve video yayınları yansıtılabilen bir iletim sistemi özelliği taşır ve projeyi çok uzak mesafelerden bile görünür kılar. Abu Dhabi için bir simge olması amacı ile Asymptote Mimarlık tarafından tasarlanan yapının aydınlatma tasarımı ARUP Aydınlatma tarafından gerçekleştirildi ve tasarım alanında T+L 2011 Ödülü'ne layık görüldü.
Essen'de bulunan ThyssenKrupp Quarter binası ise gün ışığı ile suni ışığın mükemmel uyumunu yakalamış, aralarında Aydınlatma&Mimarlık Tasarım Ödülü, 2011 Üstün Başarı Ödülü ve 2010 Mükemmeliyet Ödülü de bulunan 5 ödüle layık görülmüş çok başarılı bir proje. Thyssen Krupp Quarter, 5000 kişiye ev sahipliği yapan bir genel merkez olmasına rağmen, mimari detayları, ışık entegrasyonu ve modern yaklaşımı ile dikkat çekiyor.
Son teknolojiyi tüketiciyle buluşturmayı ilke edinen Philips, mimari aydınlatma tasarımı kültürünün Türkiye'de yaygınlaşması için desteklerini sürdürüyor.
Philips Hakkında Detaylı Bilgi için: www.lighting.philips.com.tr
Konferans simultane olarak İngilizce'den Türkçe'ye çevrilecektir.
Sınırlı kontenjan nedeni ile konferansa katılım için mimarideisik.eventbrite.com veya yemetkinlik.com/mimarideisik adreslerinden kayıt yaptırılması gerekmektedir.
Program:
18.30–19.00   Kayıt
19.00–19.05   Açılış Konuşmaları
19.05–19:50   ThyssenKrupp Quarter - Alexander Rotsch
19.50–20.30   YAS Hotel - Brian Stacy
20.30–21.00   İkram
Brian Stacy Hakkında:
Tiyatro eğitimi sonrası The Field Museum, Chicago'da aydınlatma tasarımcısı olarak çalışmaya başlayan Brian, 1997 yılında dünyaca ünlü mühendislik firması Arup group'a katılıyor. 2001 yılından itibaren ise Arup Group Amerika bölgesi aydınlatma tasarımı bölümünün yöneticiliğini yapıyor. Brian, aynı zamanda IALD (Uluslararası Aydınlatma Tasarımcıları Derneği) profesyonel üyesi.
Alexander Rotsch Hakkında:
Weimar'daki Bauhaus Üniversitesi ve Ecole Nationale Supérieure d'Architecture de Paris-Belleville'de mimarlık eğitimi alan Alexander Rotsch, uluslararası arenada dikkat çekici birçok aydınlatma tasarımının sahibi. Rotsch, 2004 yılından beri Licht Kunst Licht firmasında senior aydınlatma tasarımcısı olarak çalışıyor.
Attendee List
Sort by:

Date

|

First Name

|

Last Name
When & Where

Yapı-Endüstri Merkezi
Fulya Mah. Yeşilçimen Sok. No:12/430 (Polat Kulesi Yanı)
Fulya
Istanbul, Istanbul 34394
Turkey

Tuesday, November 22, 2011 from 7:00 PM to 9:00 PM (EET)
Add to my calendar
Organizer
PLD Türkiye uluslararası PLD dergisi türkçe edisyonu olarak yayın hayatına devam etmektedir. 
2007 yılından beri PLD Türkiye, mimari aydınlatma tasarımı mesleğini tanıtmak için seminer, konferans, workshop gibi etkinlikler düzenlemektedir.  
Daha fazla bilgi için:  
PLD Türkiye Etkinlikleri
----------------------------------------------------------------
PLD Türkiye Türkiye is turkish edition of the international PLD Magazine.  
Since 2007, PLD Türkiye has been organising events like seminar, conference, workshop etc, to promote the architectural lighting design profession.   
For more information (Turkish):   
PLD Türkiye Etkinlikleri