Sales Have Ended
Registrations are closed
Thank you for your registration! We look forward to seeing you at the Opportunity Zone Convening & Workshop on Thursday, June 27, 2019. Don't forget to keep your ticket handy, either in the Eventbrite app or print it out and bring it with you. Please see the schedule below and make special note of the 10:30AM-11:30AM session which is only for Developers, Investors, & Business Owners. 10:30AM-11:30AM OZ Benefits, Features & Updates ONLY for Developers, Investors, & Business Owners 11:30AM-12:30PM Lunch – Keynote 12:30PM-2:00PM Breakout Workshop Sessions
Sales Have Ended
Registrations are closed
Thank you for your registration! We look forward to seeing you at the Opportunity Zone Convening & Workshop on Thursday, June 27, 2019. Don't forget to keep your ticket handy, either in the Eventbrite app or print it out and bring it with you. Please see the schedule below and make special note of the 10:30AM-11:30AM session which is only for Developers, Investors, & Business Owners. 10:30AM-11:30AM OZ Benefits, Features & Updates ONLY for Developers, Investors, & Business Owners 11:30AM-12:30PM Lunch – Keynote 12:30PM-2:00PM Breakout Workshop Sessions
About this Event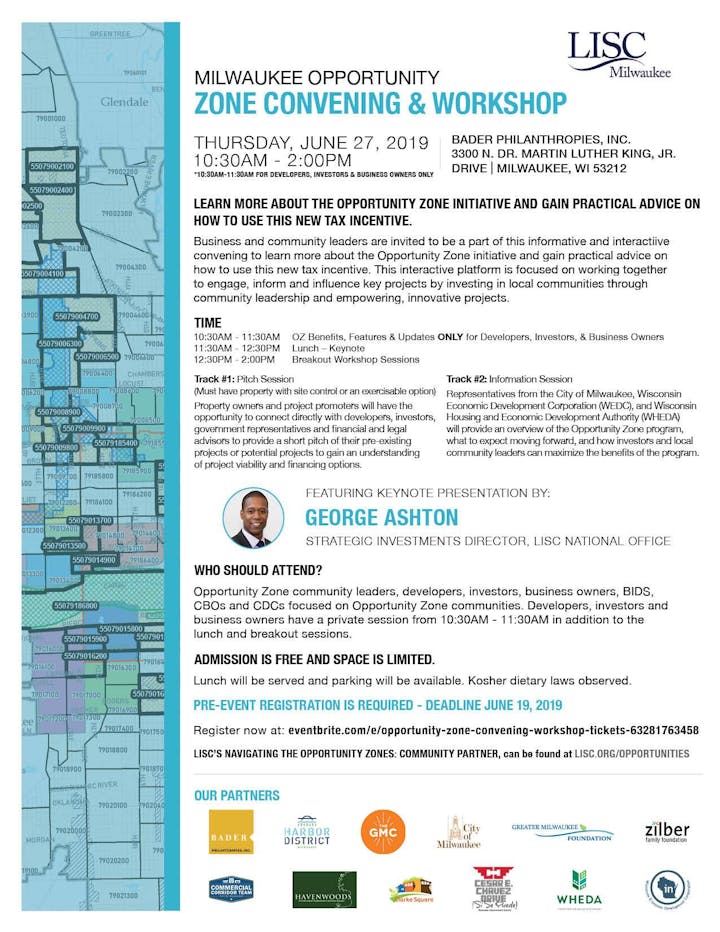 *Please Note: 10:30AM-11:30AM session is for Developers, Investors and Business Owners ONLY. 11:30AM-2:00PM is open to all participants.
There will be five short Opportunity Zone questions before you complete your registration to determine which track you will be eligible to attend: Pitch Session or Information Session.
We are asking organizations who have pre-existing or potential projects with site control or an exercisable option should come prepared to provide a short pitch. Our LISC team members and partners have been asked to work closely with those organizations to ensure they come ready with any necessary information.
Please Note: The pitch session is meant to be more of a clinic format where groups can receive specific advice, information, and assistance to see forward movement and progress. We are not asking groups to put together a presentation, but any information they have to date they want to share to provide guidance in assisting them.