About this Event
The Zombies are taking over Union St! Our annual Zombie Fest has grown! This year, we're closing the street and hosting a FREE Zombie Block Party complete with live music, vendors, food trucks, a costume contest for adults, kids, and pets, and, of course, ZOMBIES! Become a part of the COUNTRY'S LARGEST LIVE ZOMBIE EXPERIENCE! More details below and on our Milton Zombie Fest Facebook page.
LIVE MUSIC on the Mainstage (12:00-10:00PM):
Milton Theatre's own Triple Threat and Musical Theatre Ensemble
Hoochi Coochi (4:00-4:45)
Lower Case Blues (5:00-5:45)
Mama's Black Sheep (6:00-6:45)
Kategory 5 (8:00-10:00)
8 FOOD TRUCKS (Sign up to be a Food Truck)
MAKEUP STATIONS
BEER GARDEN @ Quayside (Next to the Milton Theatre)
Live Zombie Experience including Zombie Walk (7:30PM)
Laser Light Show! Embrace the lights as lasers shine across the entire block.
BECOME A SPONSOR! OR BUY AN AD!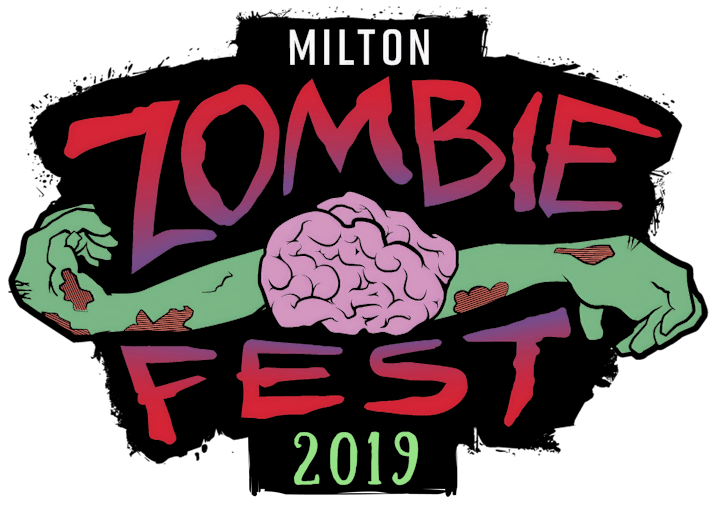 Live Zombie Experience
Our Traditional Zombie Walk has been completely revamped into a LIVE Zombie Experience. Zombie Walkers and Vehicles will line-up on Atlantic Ave starting at 7:00PM. Zombie parade step-off is at 7:30PM proceeding south to the Zombie Fest stage. Zombie Walkers and Vehicles must register to participate. REGISTRATION IS FREE.
Parade Judging & Viewing
Parade viewing will be along Union St between Atlantic Ave and Federal St. Zombie Vehicles will be judged at the Corner of Union St and Magnolia St while Zombie Walkers proceed into Zombie Fest to show off their makeup and acting skills.
This will be the largest staged zombie attack experience in the country! You won't want to miss out on the fun of transforming yourself and the entire crowd into zombies!
Zombie Kids Fest
Hosted by the Milton Library, Zombie Kids Fest is an event just for kids! Celebrate Zombie Kids Fest from 2-5 pm in the Milton Library or in the Milton Theatre!
Zombie Kids Fest features face painting, zombie crafts, storytime, and, of course, a costume contest!
This year's Zombie Kids Fest will also feature visits from your favorite storybook characters including Harry Potter and the gang.
Calling all Dragon Slayers! Join Zombie Kids Fest at the Library for a special a Dungeons and Dragons contest from 1:30-3:30 pm.
More Details Coming Soon!
NEW Costume Contest (FREE)
Who's the scariest Zombie, best dressed boogie monster, or craziest creeper? Find out at the Zombie Fest Costume Contest! Judging for adults, kids, and pets! Dress up in your Halloween costume or zombie garb for a chance to win cash prizes!
Winners of the costume contest will lead the Zombie Parade down Federal St. at 7:30 pm!
Judging will take place on the Main Stage between bands. Pet costume judging at 5:45 pm and adults at 6:45 pm. Kid costume judging will take place at Zombie Kids Fest in the Library (Time TBA).
NEW Horror Film Fest (FREE)
New this year to Zombie Fest will be a Horror Film Festival inside the Milton Theatre from 5-8pm. All the films are completely FREE. Join us for one or all of these classic and modern horror films.
Horror Film Fest will also feature a re-screening of the Revival House's Oh the Horrors! Horror Film Trailer Challenge.
Join us later for the Rocky Horror Picture Show at 9pm (Purchase Tickets)
Zombie Pre-Fest Events & Activities
Zombies can't be limited to just one day! Join us for one of our Zombie Pre-Fest events happening all week at the Milton Theatre!
About Zombie Fest
Join the picturesque town of Milton DE as we try to survive a weekend of haunting entertainment of epic proportions! What started as the "Zombie Walk" in 2014 has become a full blown "Zombie Fest" that will plunge the quaint historic town of Milton into an epicenter of the undead. A monstrosity of entertainment awaits people of all ages as we bring in magic shows, mentalists, horror movies, live music and a host of other activities for a full weekend that is sure to stir the undead out of their graves!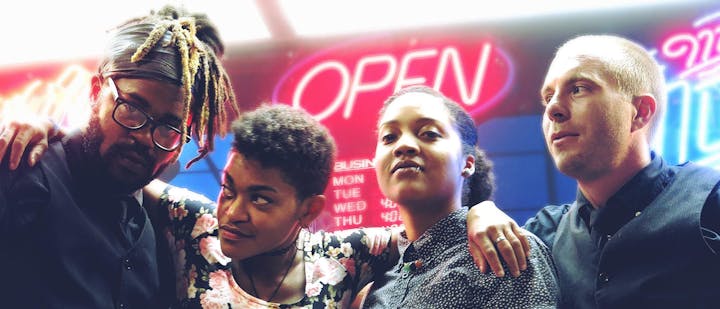 Hoochi Coochi (4:00-4:45 pm)
Hoochi Coochi is a hand clapping soul stirring indie blues band from Dover, De. Starting in the warm fall of 2015, members Fatz Hawkins and Danielle Johnson have been hitting the music scene hard and heavy together. Both coming from well-established musical projects and closing in on a decade of musical experience, the two have joined forces to create something that's sure to make you dance. Mixing genres like blues, southern rock, rhythm and blues and adding a touch of indie they have been able to engage a wide demographic both young and old. Hoochi Coochi picked up multi-instrumentalist Spencer Greene in May 2016 to play keyboard and longtime drummer Chelsea Grant in July of 2016 on drums to round out their sound and add movement and flow to their live performance. Always a crowd favorite Hoochi Coochi brings the people together. They have entertained a wide array of venues from The Milton Theater to the Grand Opera House in Wilmington and winning The Annual Delmarva Folk Hero Competition 2016 and becoming finalist in Musikarmaggedon X they're only getting better. They have recently finished writing for their debut EP and anticipate releasing their first EP by late 2016.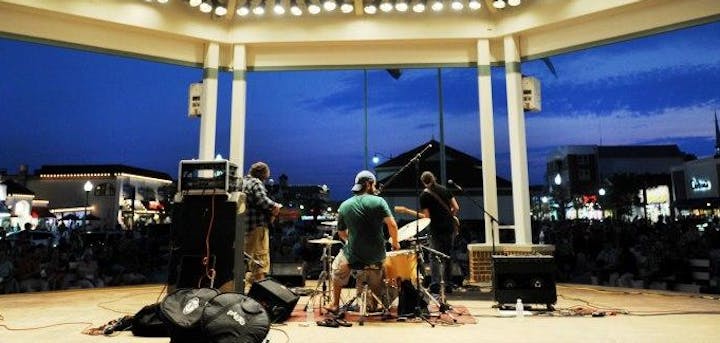 Lower Case Blues (5:00-5:45 pm)
Lower Case Blues is a power trio originating from Newark, Delaware. The band features Jake Banaszak (lead guitar), B.J. Muntz (bass and vocals), and Paul Weik (drums). Since the Band started in '03, They have established themselves as some of the best in the area.. Taking blues to a whole new level and earning respect as being some of the best up and coming musicians.
LCB focuses on playing original music with a reasonable amount of covers thrown into the mix to pay tribute to their inspirations. The band always plays with feeling and improvisation… you'll never hear a song played the same way twice.
Some of LCB's accomplishments include…
Inducted to "The Blues Hall of Fame" 2012
Played "Firefly Festival in Dover DE" 2012
"Best Band in Delaware in 2009" ... Delaware Today Magazine
Opened for acts such as Buddy Guy, Kenny Wayne Shepherd, Jonny Lang, Blues Traveler, Grand Funk Railroad, .38 Special, Michael Burks, The Junco Pardners, Los Lonely Boys, Jakob Dylan, and Robert Randolph..
Backed up funk guitar great - Leo Nocentelli (The Meters) @ Dogfish Head Brewery in 2010
Competed in the International Blues Challenge in Memphis, TN.
Was voted Best Blues Band in Delaware by Out 'n' About Magazine.
Won award for Best Americana Band in April 2007 at the Delaware Music Festival.
Won "Battle of the Blues" for local radio station 98.5 Big Classic Rock.
Recorded and performed with producer and keyboardist Johnny Neel (formerly of the Allman Bros.)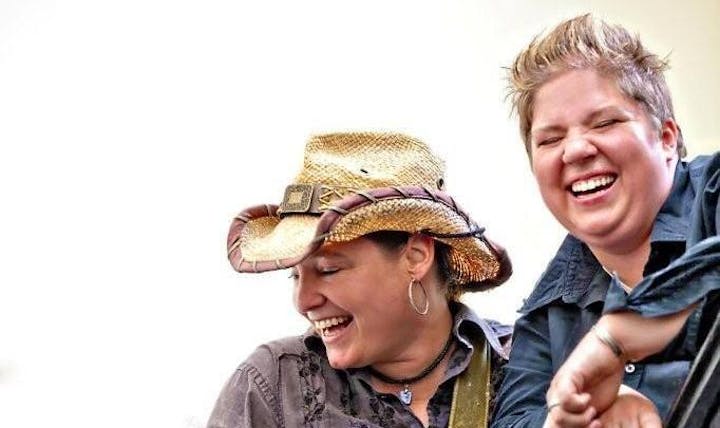 Mama's Black Sheep (6:00-6:45 pm)
Official Website | Facebook | Instagram
Mama's Black Sheep is the soulful collaboration of singer-songwriters Ashland Miller (guitar/vocals) and Laura Cerulli (drums/vocals). Together, this duo creates a blend of hit-worthy originals and covers with a unique spin. Each song allows you to travel with time, whether you're swinging to Country, Rocking to Pop, Grooving to Soul, or swaying to the Blues; there's always something to move your body and stir your soul!
Touring together since 2008, Miller & Cerulli (veterans of the singer-songwriter circuit), will make you feel like every aspect of their journey is in Real-Time. Creating a sound all of their own, Mama's Black Sheep is driven by Miller's versatile guitar grooves, Cerulli's innovative percussion, and two voices that blend like honey & whiskey in perfect harmonious balance. These ladies rock to their own beat, sharing songs of life and love, and empowering the listener to live boldly beyond the barriers.
Ashland and Laura, produce magical tapestries of songs, weaving energetic color and rich texture to create an infectious and lively conversation between guitar and percussion. Miller's passionate voice will make you laugh, cry, feel inspired, and ultimately, desire more. Bob Steel of "Baltimore Out Loud" writes "Cerulli opens her mouth and the world stands still as she wrings every drop of emotion out of the lyrics with her powerful, soaring voice, forged in the fires of the blues and tempered in the cool technique of her classical training."
This thought-provoking duo will tantalize your aural appetite, regardless of your musical taste buds, with a diverse blend of blues, soul, country, pop, and more by unapologetically dipping into the well of all music genres. It's called soulful, poetic storytelling with an irresistible groove.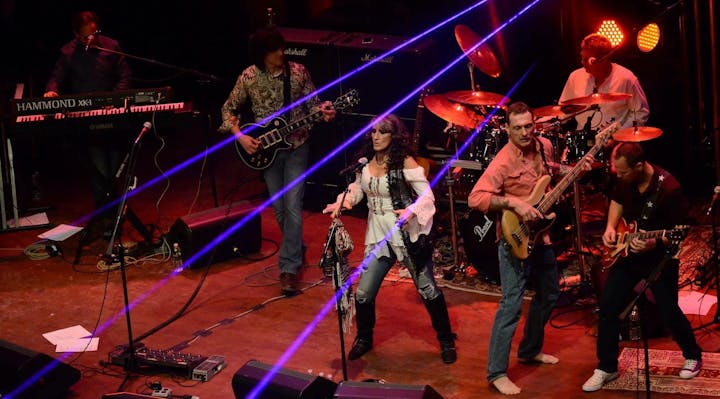 Kategory 5 (8:00-10:00 pm)
Kategory 5 are a 6 pc rock group who play an amazing variety of classic and progressive rock and pop from the 70's and 80's as well as newly written original songs. Formed in 2014 as a 5 pc with Kat, John, Al, Kyle and Chris they quickly realized they needed another guitar player to fill out the complex array of cover songs being played and in 2015 Brian joined the band. Entering and winning the Houseband contest for WMGK 102.9FM Philadelphia in the summer of 2016 quickly catapulted them into the spotlight where they were featured in many of the radio station's big events culminating in their appearance at the BB&T Pavilion in Camden, NJ opening for Joan Jett and Boston. That gig is what ultimately led them to writing and recording their own music. Another big opportunity came with opening for Taylor Dayne and Eddie Money in the summer of 2017 sponsored by Wilmington, DE radio station WJBR 99.5FM. In the early winter of 2017 they started writing songs to be recorded with a release date of November 2018 and this is where the Kategory 5 story is now, writing and recording for their CD release date of November this year. During this time Kategory 5 is performing live shows playing cover songs with original material sprinkled in as each new song comes to life. Their detailed musicianship and dynamic 3 and 4 part harmonies with both male and female lead vocals, layered guitars and keyboards, bring an exacting quality to every performance that you will want to hear again and again.
Performers
Date and Time
Location
Refund Policy