Hawaiian Themed Milpitas Executive Lions & LEO Clubs Installation of Officers and Induction of New Members.
About this event
Enjoy a Hawaiian Summer Luncheon with the Lions & LEOS at Sonesta Silicon Valley located at 1820 Barber Lane Milpitas, CA at 11 am. Your presence and support will be much appreciated.
See you there!
Milpitas Executive Lions Club 408-430-7830 Email:milpitaslions@gmail.com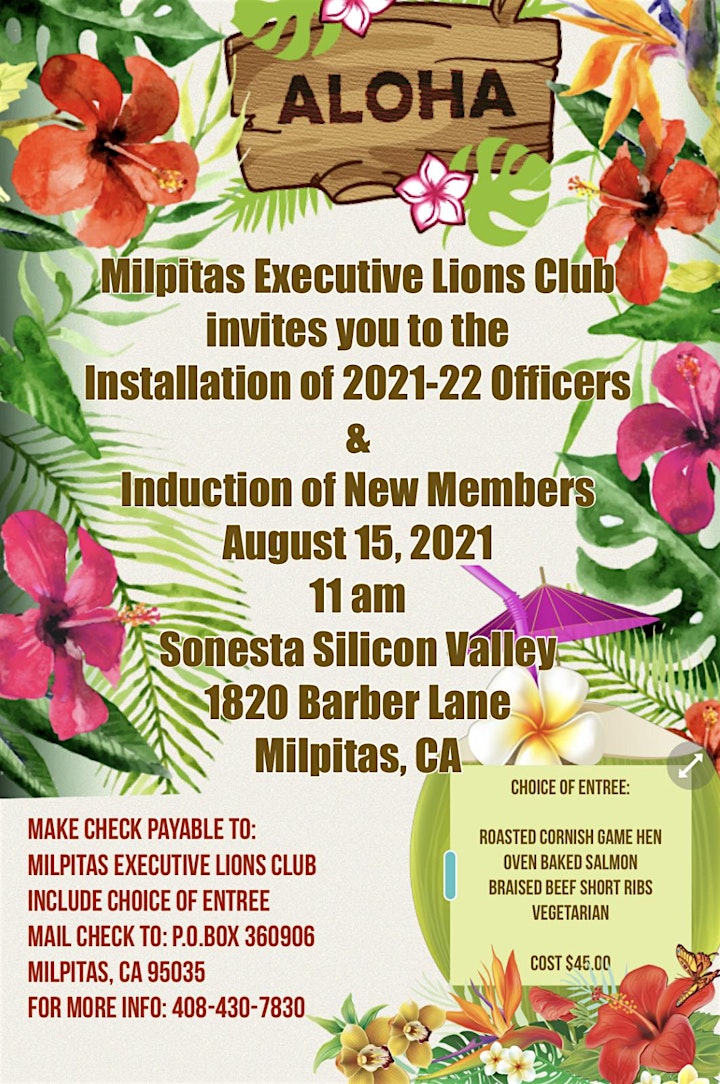 Choice of Entree:
Roasted Cornish Game Hen
Oven Baked Salmon
Braised Beef Short Ribs
Vegetarian
Cost $45.00
Organizer of Milpitas Executive Lions Club Installation of 2021-22 Officers
The Milpitas Executive Lions Club is part of the world's largest and most effective community service organization, with more than 1.4 million members.
We are one of more than 48,000 Lions clubs in approximately 205 countries and geographic areas. Regardless of what language you speak, religion they practice or politics they espouse, all Lions are dedicated to seeking out and helping those in need.
Since our beginning in 1917, we have been united in a single cause; helping those less fortunate. We are tackling the tough problems like blindness and diabetes awareness.
In fact, whatever the community needs to make life better, we're there to help.For more than 100 years, Lions have been recognized throughout the world for their services to the blind and visually impaired.
Back in 1925, when Helen Keller challenged the members to become "Knights of the Blind," she could not have possibly imagined the impact of Lions commitment to blind prevention.
Mission
To create and foster a spirit of understanding among all people for humanitarian needs by providing voluntary services through community involvement and International cooperation.