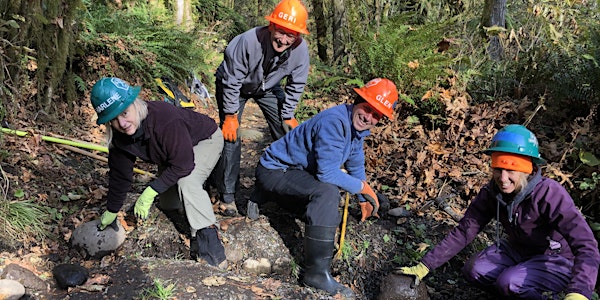 Milo McIver State Park Trail Party
We will be improving drainage on the equestrian and hiker/equestrian trails in the park
When and where
Location
Milo McIver State Park South Springwater Road Estacada, OR 97023
About this event
Crew Leader: Pat K, Elaine K.
Hike Distance: <0.5 mile
Elevation Gain: minimal
Hike Difficulty: easy
Work Difficulty: moderate
Project Overview:
The equestrian trail system has several miles of popular trails. Many of them are cupped from extended use, causing water to flow down the trails rather than across them. For the next few trail parties, we will be building a large turnpike at a crossing of two trails (4 intersections total). This will involve placing a total of 13 logs and filling the interior spaces with large rocks, then topping with gravel.
Hiking information:
Most of the equestrian trails parallel paved roads so hiking distance will never be extended.
What to expect:
You should expect to participate in this work party for its entirety. For safety reasons, please do not arrive late or expect to be able to leave early.
You will be working with experienced sawyers and trail crew leaders to cut, peel, and store the logs. We will be working on the ground so you may want to consider padding for your knees.
What to bring:
Lunch
Plenty of water
Snacks
Face mask
What to wear:
Boots (Please wear something sturdy that will protect your toes from sharp tools. No tennis shoes allowed.)
Work gloves (loaner gloves available)
Long sleeved shirts and pants.
Rain gear as appropriate for the weather
TKO will supply hard hats and safety glasses
Directions: Milo McIver State Park is located on Springwater Road between Oregon City and Estacada. Directions to the trailhead will be provided 48 hours prior to the event.
COVID-19 Information:
**You will be asked to electronically sign an e-waiver for this event, provide proof of vaccination or recent negative COVID-19 test result, and perform a self-assessment health screening within the 24 hours preceding the event.** The crew leader for this event will verify that you have completed these requirements at the trailhead safety talk before the trail party begins. The registration confirmation and pre-event emails will contain further details and links.
Land Acknowledgement: TKO recognizes that the trails we work on travel through the traditional lands of many indigenous tribes. In every corner of what we now call Oregon, these people were forced to cede their land, their home, to the US government at various times throughout history. We are privileged to volunteer on these lands & express gratitude to the descendants of these tribes for being the original stewards of this land.
Personal safety: Your physical & emotional safety is our number one priority. If a person's actions or comments make you feel uncomfortable/unsafe - interrupt directly, tell a crew leader or complete a post-event survey.
Equity & Inclusion: TKO seeks to make Oregon's trails a place where people can go to connect with nature & one another. Not everyone feels safe & welcome in the outdoors due to racism, bias & hate. We commit to being part of the solution to change that. Conduct, speech, or expressions that target individuals or groups will not be tolerated by TKO.