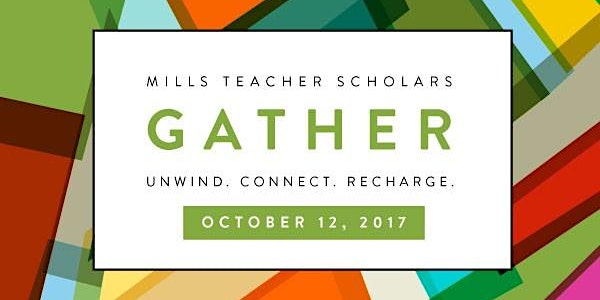 Mills Teacher Scholars Gather 2017
When and where
Location
Lokey Graduate School of Business Gathering Hall Mills College 5000 MacArthur Blvd. Oakland, CA 94613
Description
Join Mills Teacher Scholars at Mills College on October 12th from 5:30-7:30 p.m. for a gathering of current teacher scholars, Mills Teacher Scholars' alumni, and friends. Enjoy dinner and wine while you learn, share, and connect with colleagues from around the Bay. We encourage you to invite friends and colleagues. Please RSVP soon--we have a limited number of spaces.

Evening Highlights
5:30 - Light Dinner and Wine Reception
5:50 - Teaching in the Time of Trump: Informal, cross-district discussion groups on curricular strategies that build belonging and respond to our political reality
6:15 - Round-Table Discussions
Round Table Discussions will include a variety of topics to choose from.
6:15: Round Table session A
6:45: Round Table session B
Among the discussion topics:
Meeting the Needs of Newcomer and ELs
Growing a Mathematical Mindset (k-12)
Scaffolding for Student Success
Beyond the K-W-L: Growing Curiosity in the Classroom
Leveraging the Promise and Avoiding the Perils of Technology in the Classroom
Supporting Students in Collaborative Conversations
Managing a Workshop Approach to Balanced Literacy
Collaboration that Promotes Learning
Inquiry as an Equity Strategy
Argumentation Throughout the Grades