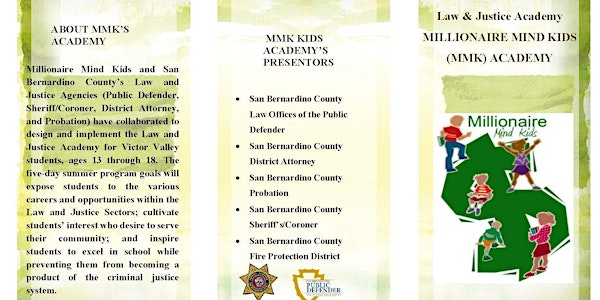 MILLIONAIRE MIND KIDS LAW & JUSTICE ACADEMY (5 DAYS)
MMK collaborates with SBC Law & Justice Agencies and SBCSS to introduce Victor Valley students (ages 13-18) to Criminal Justice Careers.
When and where
Location
15579 Eighth St 15579 Eighth Street Victorville, CA 92395
About this event
The Law and Justice Academy are limited to 35 SB County Victor Valley High Desert Students (ages 13-18). APPLICATION DEADLINE: JUNE 1, 2022
The five-day summer program will expose students to the various careers and opportunities within the Law and Justice Sectors; cultivate students' interest who desire to serve their community, and inspire students to excel in school while preventing them from becoming a product of the criminal justice system. Students will visit the High Desert Detention Center, work with Public Defenders and District Attorneys to analyze a fact pact to solve a case, observe how CSI evidence is processed, experience a simulation arson investigation, and try their case in a mock trial at the Victorville Superior Court. All students must complete ALL Law & Justice applications/forms, sign, scan, and email back to: millionairemindkids@verizon.net by June 2, 2022. To get your applications: https://drive.google.com/file/d/1zqkFQDwtrpPE8KpfLRFoWDiU2qgxTuVB/view?usp=sharing
Ask your school about earning Civic Engagement hours that may be used towards acquiring a Distinguished Civic Engagement Seal on your high-school diploma.