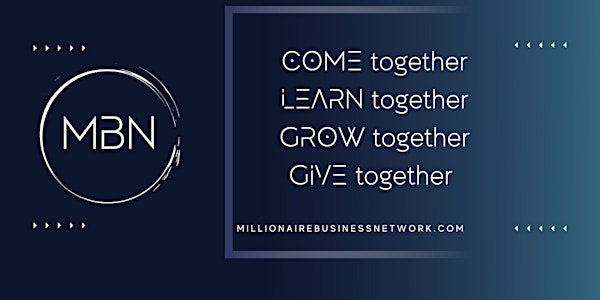 MILLIONAIRE Business Network Chapter of Salt Lake City, UT Monthly Workshop
We are a peer network of business professionals that meet monthly to have group coaching, mastermind and share referrals.
When and where
Location
Keller WIlliams Real Estate 2121 South McClelland Street #201 Salt Lake City, UT 84106
About this event
Are you a business owner tired of visiting networking groups where you are required to give referrals or leads?
Do you want something new and refreshing?
Imagine being in a room of high-energy business owners where they:
Come together
Learn together
Grow together
Give together
Would you like to be part of this experience?
We are not a BNI Chapter or a Leads Group with the Chamber.
We are MILLIONAIRE Business Network (MBN), an exclusive partnership between Business MAPS, KW MAPS, and their selected KW agents.
We are a peer network of one person per profession that receives coaching that focuses on three important action steps on a monthly basis:
1. Masterminding with like-minded business owners about the growth and challenges of their business
2. Business Group Training and Business Group Coaching
3. Referral sharing among members
1st attendees, no cost to attend; RSVP now as a guest.
Meet the top professionals in your local area who want to help you become successful in business and life.
We meet on the 3rd Wednesday of the month from 8 AM to 11 AM (3-hour workshop) at KW Real Estate at 2121 South McClelland Street #201 Salt Lake City, UT 84106. Please be there no later than 7:45 AM.
We start right on time at 8 AM. You do not want to come late. You will fall behind, feel left out, and not see the value.
Here is our agenda for the workshop:
30 minutes: Homework review & AHAs from the last session
10 minutes: Business Member of the Month introduction
90 minutes: Training Session from BMAPS leaders w/homework (delivered live by video to all chapters)
10 minutes: Let's take a break
30 minutes: Coach Facilitated MM around the next steps & commitments (scorecard)
10 minutes: Referral Swap in our tech solution (with a bit of competition)
The members of this MBN Chapter are:
1) Liz Bare, with the Burnside Team at Keller Williams Realty
2) Jordan Campagna with Neo Home Loans
3) Chris Leonard with Watthub Renewables & Linq Solar
4) Tera Shoop with Shoop Financial Services
5) Stephanie Legname with Spruced Up Cleaning, LLC
6) Arnel Tanyag with Business MAPS Training and Coaching
When you come to the workshop, bring your laptop, business cards, a notebook, a pen, and a mindset to change your future.