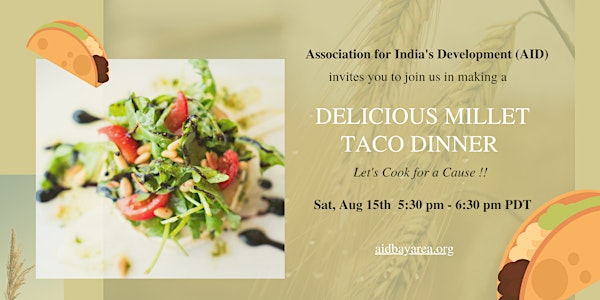 Millet Taco Dinner - Let's Cook for a Cause
Learn simple and delicious millet recipes. Millets are gluten-free, high-fiber, low glycemic index grains also rich in antioxidants.
About this event
The class is being taught by Anitha Majji - an AID volunteer, techie, runner, mother, healthy-eater and millet enthusiast. She will lead the creation of incredibly easy and delectable millet-based recipes.
In an hour, you'll learn to cook the following meal
Salad (15 mins)
Tacos (25 mins)
[Bonus Dessert] Pancakes (10 mins)
Ingredients Needed
For Salad (4 servings)
1 cup chickpeas, drained and rinsed (1 14-ounce can) or soaked and boiled chana
2 tablespoons + 1 teaspoon olive oil
1½ cups halved cherry tomatoes
½ cup large cucumber, chopped
¼ cup largered onion, thinly sliced
⅓ cup chopped Kalamata olives
1 lemon, juiced
½ cup crumbled feta
For Tacos (4 servings)
1 cup Any millet flour
½ cup Whole wheat flour
1 can Black beans – canned or soaked and bolied
2 Avocado
1 Tomato
½ cup Cilantro
1 cup Mexican mix shredded cheese
For Pancakes (2 servings)
2 cup millet flour (Found in Indian stores. Finger/Red millet works well for sweet dishes) -
3 tbsp Ragi flour
2 tbsp Flax seed powder
1 Banana (ripe banana works well)
2 Eggs (replace with flax seed + water for vegan)
½ tsp Baking soda
1 tbsp Butter/vegetable oil
Benefits of Millets
Millets are small-seeded grains from hardy plants which are capable of growing in areas where there are low rainfall and poor irrigation facilities. Millets are one of the oldest foods known to humans and possibly the first cereal grain to be used for domestic purposes. Millets are classified as Major Millets (Ragi, Jowar, Bajra) and Minor Millets (Foxtail, Barnyard, Prosco, Little Millet, Kodo Millet).
Millets have a wonderful nutritional profile compared to other cereals. They are rich in proteins, dietary fiber, minerals and vitamins. Millets are gluten-free, high-fiber, low glycemic index grains that are also rich in antioxidants and may help with controlling blood sugar levels and lowering cholesterol.
Millets are a better crop for the planet. They consume less water and they are resilient to climate changes and droughts. They are less susceptible to unpredictable weather changes.
All the proceeds from this event will go to the Association for India's Development (AID). AID partners with grassroots organizations in India to support various causes agriculture, education, environmental justice etc. A few of the projects currently being supported are
A community based after-school program designed to improve the quality of education in rural Tamil Nadu.
An organic agriculture training program focusing on climate change adaptation techniques and improving nutrition status of communities in West Bengal.
You can see some of the projects being supported by the Bay Area chapter here. You can learn more about the parent organization here. AID has various chapters in the United States. If you would like to get involved with the Bay Area chapter, feel free to email us at info@bayarea.aidindia.org. If you would like to get involved with other chapters then you can fill out this form.
Follow us on Facebook and Instagram to stay up to date with our activities and events.