Description
MANTELS AND TREES CELEBRATES HISTORIC HOLIDAY CHARM
10th Annual Miller Mantels and Trees Holiday Home Tour

Eight homes -- from grand domiciles to cozy bungalows -- will be decked out in their holiday finery for public viewing. The 2018 tour will showcase the diverse architecture that exists within an established historic neighborhood.

Mantels and Trees takes place on Saturday, December 8, from 6-9pm.
Tickets for this self-guided tour are $10.

This year's tour will feature eight homes:
Tracy Blair, 1505 N. Miller Blvd

Robyn Coventon, 1415 N. Miller Blvd

Larry Wilson/Greg Jones, 2636 NW 14th

Living in the 405, 2709 NW 12th

Stuart Hall Properties, 2821 NW 12th

Mike Stuart & Bruce Hall, 1221 N. Miller Blvd

Living in the 405, 1215 N. Miller Blvd.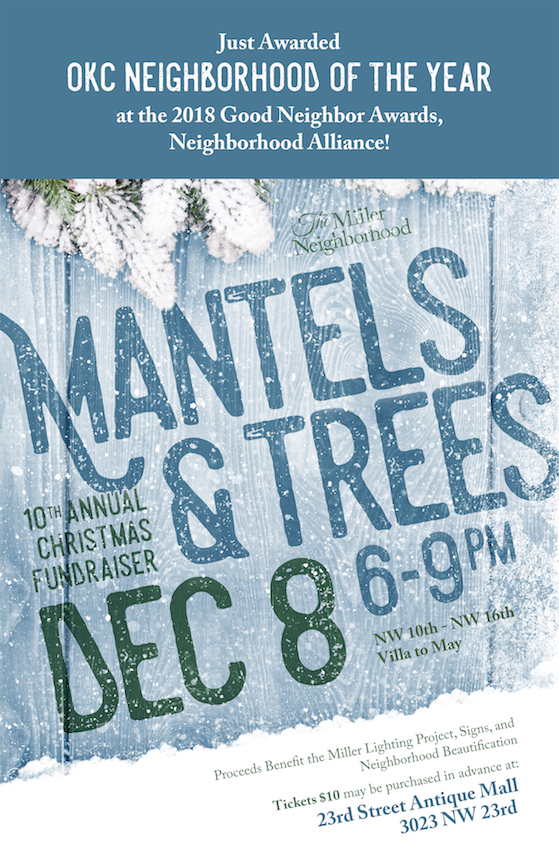 Proceeds benefit the numerous ongoing improvement and beautifiction projects of the Miller Neighborhood Association that enhance the quality of living for residents and maintain the area's historic integrity.