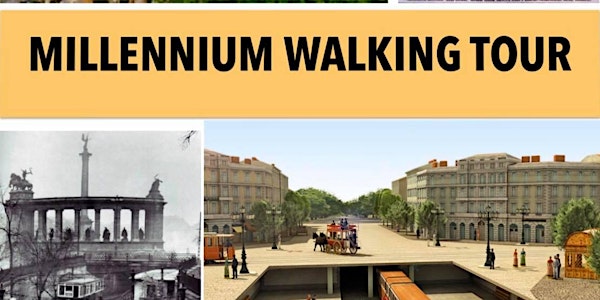 Millennium Walking Tour
Travel down Andrassy Avenue with our licensed guide and learn about the development of the area.
When and where
Location
Hungarian State Opera (we meet outside the building). 22 Andrássy út 1061 Budapest Hungary
About this event
Many of the most beautiful and eccentric buildings in Budapest were built for one event, the 1896 celebrations of the 1000th anniversary of 7 tribes of Hungarians arriving in Europe from Central Asia, namely their conquest of the Carpathian Basin in 896 AD.
The 1896 celebrations marked a high point of a peaceful half-century when the country then named Austro-Hungary felt finally prosperous, accepted, and its Hungarian half's newly named capital Budapest was culturally thriving as a major European city.
Our walking tour takes you out of the city centre through the area of central Pest that was rebuilt for the 1896 festival, including the world's first electrical underground railway, the statues and twin art museums of Heroes' Square, and Andrassy avenue itself.
This walk from the Opera House to the City Park (also created for the Millennium celebrations) leads visitors through some of the most impressive vistas of any European capital. The buildings you'll see poignantly mark Budapest's moment of pride and glamour before the trauma of World War 1 heaved the country back into another grim era of hardship and autocracy.