Description
Brought to you in partnership between APA CMS and Illinois ASLA, this engaging event will offer insight into the creation of Millennium Park, a Chicago gem enjoyed by tens of millions of visitors each year.

From Millennium Park's inception, the idea to turn the unsightly railyards into a park and tourist destination, to the construction of the "Bean", to the park we all know and love today, hear from those who made it happen; including stories you've never heard! Hear how the iconic Millennium Park became a reality from the perspective of three individuals Ed Uhlir, Terry Guen, Benet Haller, and Christy Webber. The event will consist of three parts, the first, a panel presentation and discussion with Ed, Terry, Benet, and Christy about the park, and its design, construction, and impact on the city of Chicago. Followed by a walking-tour through the park lead by our panelists. Immediately after a social will be held at (details provided below) to meet your local APA and ASLA members.
NETWORKING EVENT

Join us for a sponsored networking at the Park Grill Plaza immediately following the event! Can't make the tour, but still want to connect? All are welcome to attend the networking event, just select the "Reception Only" ticket ($10 includes 2 drink tickets and light appetizers). Brought to you by generous support from our sponsors including Hoffie Nursery, Inc., The Midwest Companies, Kaneville Tree Farms, Inc., and Hydrotech.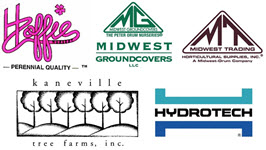 SPEAKERS
Edward K. Uhlir, FAIA, Ed Uhlir was Director of Architecture and Engineering and then the Director of Research and Planning at the Chicago Park District until his appointment in 1998 by Mayor Richard M. Daley as the Director of Design of the Millennium Park Project until it opened in 2004. He is now the president of Uhlir Consulting LLC and the past Executive Director of the Millennium Park Foundation (MPF). In that position, he had the responsibility of managing the maintenance and improvement of the public art and gardens of Millennium Park; representing MPI with the various government agencies and the public; managing MPI staff and budget; directing and designing continued additions and improvements for Millennium Park and assisting the City with the continued programming, maintenance and development of Millennium Park. He also is a consultant to various private and public organizations regarding park planning and development and was an Adjunct Professor of Architecture at the Illinois Institute of Technology for ten years.

Terry Guen, FASLA, is principal & founder of Terry Guen Design Associates and Master Landscape Architect of Chicago's Millennium Park. TGDA's "Design for Life" philosophy, aims to improve the quality of life in all communities through ecological and cultural design. TGDA integrates the work of architects, engineers and planners to transform developed urban sites into iconic, nature inspired, well-loved public spaces. TGDA's projects have transformed the urban landscape, setting a standard for connecting major cities and their residents to nature. An advocate for community service, Terry serves as member and expert on the Federal Advisory Council for Historic Preservation and the Policy Council of the Forest Preserves of Cook County.

Benet Haller, Assoc AIA, AICP, LEED AP, has worked as a planner, architect, and in non-profit housing development and management. Benet has been working for the City of Chicago since 1998 in a variety of roles from chief planner for the north part of Chicago's Central District, to managing the development of the Central Area Plan, and leading city-wide planning and urban design initiatives. He reviews larger development projects within the city, conducts design review, and works with metropolitan planning agencies to ensure that metro-wide planning policies promote reinvestment in the central city. Benet was the city lead for several major planned development negotiations including the proposed Shelbourne Spire (designed by Santiago Calatrava) as well as the revisions to the Lake Shore East Planned Development (which includes the Aqua Tower and the proposed Wanda Tower designed by Chicago architect Jeanne Gang).

Christy Webber, President and CEO of Christy Webber Landscapes. Christy's company has over 500 employees and maintains the landscape on over 450 single family homes in Chicago, as well as provides landscaping services on some of the city's iconic properties, such as the Museum Campus, Millennium Park, Water Tower, and Soldier Field. The full Christy Webber & Company team includes Christy Webber Landscapes, Christy Webber Farm and Garden Center, Kinsella Landscaping, RR Landscape Supply, Greenworks, and RR Resourceful Recycling. Service offerings include residential landscape maintenance, design, construction, seasonal rotations, snow removal, regional contract management, edible landscaping, and educational programing for her clients.
QUESTIONS: For program questions, please contact the CMS Board at cms@ilapa.org

PROFESSIONAL DEVELOPMENT CREDITS: 2.00 AICP CM & 2.0 LA CES Credits pending
---
REFUND POLICY: If you are unable to attend an event any requests for a refund must be emailed to cms@ilapa.org within 4 days of the completion of the event. Refunds will not be made available for any events with a waitlist with the exception of extenuating circumstances. Requests for a refund will be granted at the discretion of the APA CMS
Organizer of Millennium Park Panel & Walking Tour – From Concept to Icon