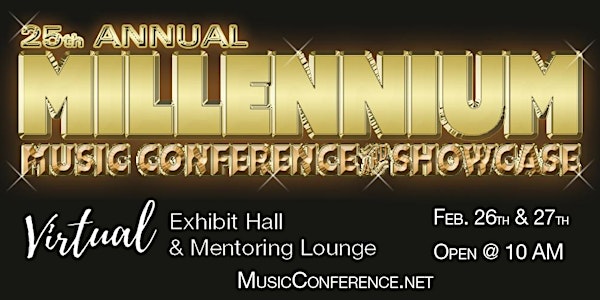 Millennium Music Conference
The conference will feature 2 afternoons of virtual music industry trade show & mentoring lounge. Register & join us @ 10AM each day.
About this event
The 25th Annual Millennium Music Conference & Showcase will be held February 26 & 27, 2021 online. The conference will feature 2 afternoons of music business panels and workshops. The virtual trade show and mentoring lounge will have over 50 industry professionals providing information about their businesses and services. Register here for all access where you can meet and network with music industry professionals and other musicians. Make sure to get in early to network !
Since 1997, the conference & showcase has become one of the premier music industry events on the East Coast. MMC has educated and showcased thousands of independent acts and artists. Music industry professionals participate as panelists, speakers, mentors, exhibitors and talent scouts to network, do business and share their experience with musicians, registrants and attendees. The community is invited to join in the celebration of emerging talent, independent artists and new music. In light of the Covid-19 Pandemic the annual event will follow the current Commonwealth Of Pennsylvania health and safety guidelines to offer a virtual only conference and showcase.
For more information about the conference, go to musicconference.net to see the schedule and events.