Description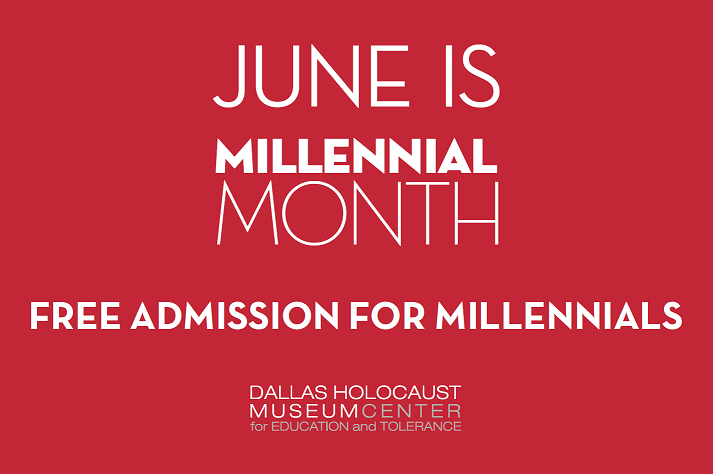 Millennial Nights
Join the Museum's Millennial staff on Tuesday evenings on June 14, 21 and 28 from 5:30 p.m. – 7:30 p.m. for docent-led museum tours, food and beverages. FREE.
#MillennialMonth #InspiringUpstanders #DallasHolocaustMuseum
Millennial Month
Free Admission for Millennials in June
In June the Dallas Holocaust Museum/Center for Education and Tolerance will be offering Millennials the chance to visit the Museum free of charge. Any amount that they choose to donate will be used for our Pay-It-Forward July program. This annual program allows disadvantaged families to pick up Free Admission vouchers from various non-profit organizations in the area and see the Museum at no cost.
Organizer of Millennial Nights
Hosting more than one million visitors in the past 34 years, the Dallas Holocaust Museum/Center for Education and Tolerance in the historic West End is one of only 23 Holocaust Museums in the nation, and it's the only one serving North Texas, Oklahoma, Arkansas and Louisiana. A non-profit organization, we are dedicated to teaching the history of the Holocaust and advancing human rights to combat prejudice, hatred and indifference.
The Museum has been recognized repeatedly for compelling programming, innovative and original exhibits, and world-class speakers. Along with its core exhibit, the Museum presents thought-provoking, rotating special exhibits several times each year. The Museum hosts more than 86,000 visitors each year.