Description
For College Students that need guidance on options available in the Market preparing for Graduation and Young Professionals that are looking for a new Career Direction. This is an AMAZING EVENT not to be missed. 25 top Industry Experts and Community Leaders sharing their Insights on how to Succeed in Business and in Life. See more Info here: MillennialCareerExpo.com
AGENDA
Day One - May 25, 2018: Leadership Summit and Networking (6-8:30PM):

Networking and Kick-Off 6-7PM
KEY ADDRESS: 7-8:30PM

Challenges and Opportunities for Millenials

Goal Setting and Closing the Generation Gap

Become a Leader TODAY - Key Note Address
Day Two - May 25, 2018: Career Expo (9-5pm):
Part 1: The Miami Job Market for Millenials (9AM-11AM)
Miami is one of the most vibrant markets in the world a mecca for both US and Global focused individuals. Learn Who's Here and How to Target your Job Search and Career.
Part 2: Recruiters UNPLUGGED (11-1PM)
Learn the Secrets to Succeed in your Career Search from HR Managers, Recruiters and Career Coaches
Part 3: Topic: "How to have a Successful Career In __(blank)_?" (1PM-5PM)
Focused Industry Sessions in Multiple Fields by Top Experts in those Fields (See Speakers List Below)
BI, Analytics, Accounting and Corporate Finance

Banking and FinTech

Commercial and High-End Residential Real Estate

Tech and Innovation

Digital Marketing, PR and Advertising

Legal, Compliance and HR

Health and Insurance

Logistics, Supply Chain, Distribution

Becoming a Successful Entrepreneur
and Many More...

EXHIBITORS FROM ALL OVER THE US...CONTINUOUS NETWORKING!!!
FREE PARKING FOR ALL ATTENDEES BOTH DAYS. PRICES WILL BE $20/$40 after and at the DOOR.
WE WILL HAVE A FOOD DELIVERY STATION FOR PICK-UP DURING THE EVENT (PREPAID DIRECTLY OR UBER EATS/GRUB HUB/ETC.) YOU CAN CALL RESTAURANTS FEATURED FOR DISCOUNT (CODE: MILLENIAL CAREER EXPO)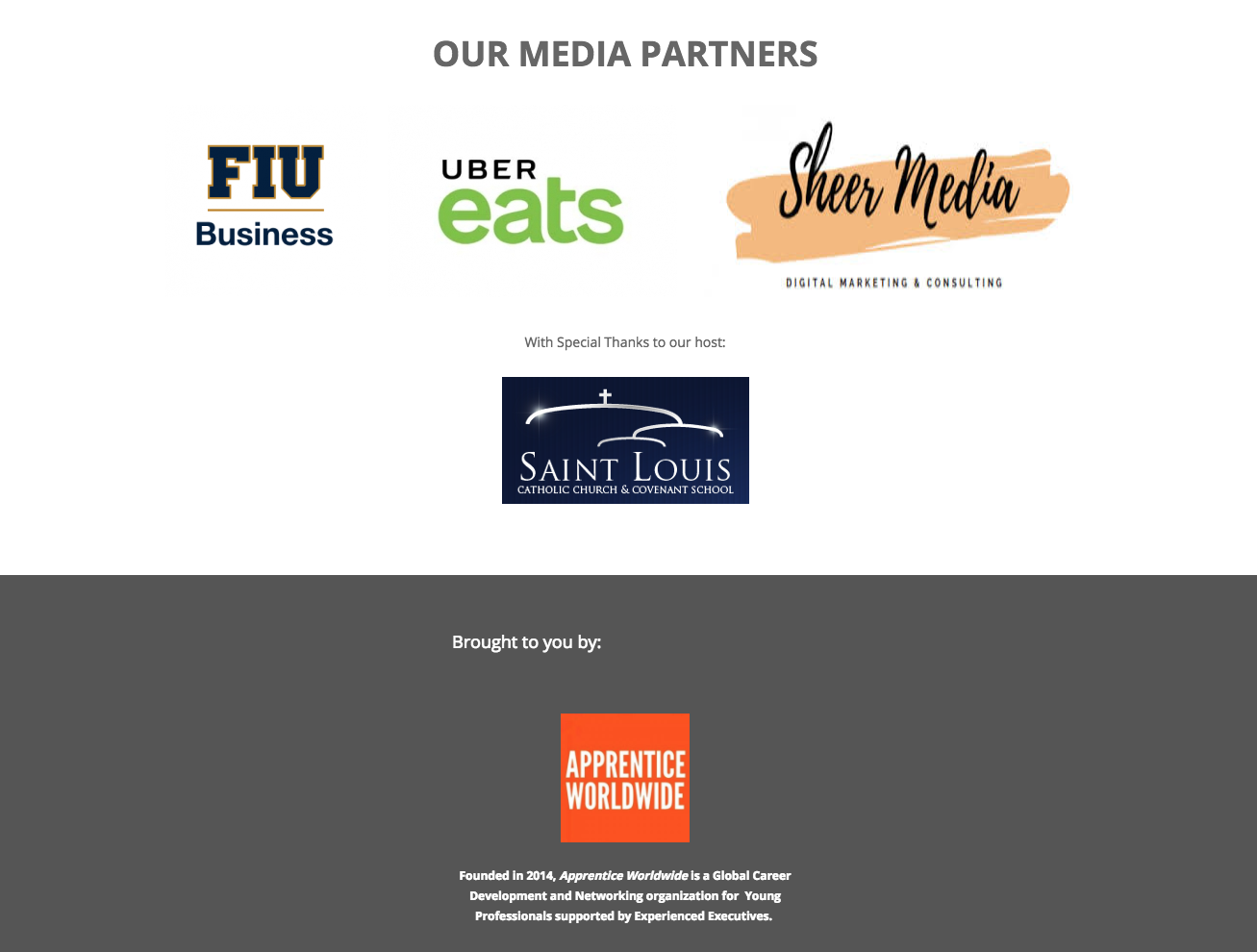 MEET OUR SPEAKERS (CLICK ON THEIR NAME FOR BIO)
Luly "Luly B." Balepogi

Motivational Speaker, Consultant and Coach

Business Owner

Robert Barthelmess

Real Estate Fund Management

President

Michelle Bryan

Human Resources and Recruiting Expert

Founder

Ydalmis Carrasco

Healthcare Management

Global Commercial and Marketing Executive

Lisa Dorment

Head-Hunter Extraordinaire - Experienced Recruiter

Partner

Pastor Fuster

Financial Services Rising Star

Certified Financial Planner and Entrepreneur

Richard Lavina

Millennial Business Leader and Owner

Co-Founder & CEO

Alejandro Masferrer

Senior Leadership Expert and Advisor

Partner

Hernan M. Mayol

International Banking Expert

Managing Partner / CEO

Karen Newball

Top Banking Credit Risk Manager

Managing Director

Chris Principe

FinTech Expert

CEO

Gabriel Souza

Luxury Real Estate Sales

President