About this Event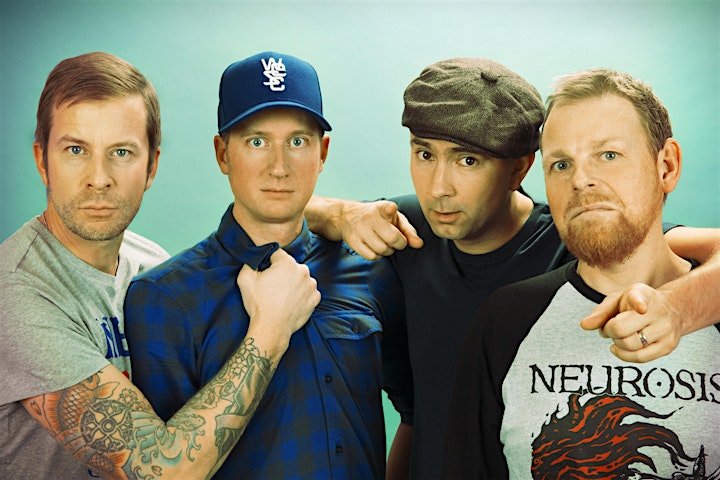 MILLENCOLIN — TRUE BREW
NIKOLA SARCEVIC - VOCALS/BASS // MATHIAS FÄRM - GUITAR
ERIK OHLSSON - GUITAR // FREDERIK LARZON - DRUMS
There's no point in denying it: It's been a long time since Millencolin have made a new album. Seven years, in fact. The Swedish skate-punk quartet's last effort, the peppy Machine 15, kept them on the road playing to hundreds of thousands of diehard fans across the globe, as was its intention. But guitarist Mathias Färm says there was another reason for the time lapse. "We felt that it was important to have something really good to offer in terms of a new album," he admits.
Färm and vocalist/bassist Nikola Sarcevic—the two men responsible for Millencolin's songwriting for the past two decades and change—explored their other musical muses, with Sarcevic continuing to release low-key solo records and Färm starting a side band called Franky Lee, as well as producing other bands in Millencolin's Soundlab Studios. Ohlsson continued exploring his interest in graphic design, and Larzon kept himself rooted in music by running a record label (De:Nihil Records) and a number of clubs in Örebro. The quartet fused together all of these passions to create True Brew, out April 28 on Epitaph —an album self-recorded by the band, produced by Sarcevic and Färm in Soundlab Studios, mixed and mastered by Jens Bogren (Opeth, Soilwork, Katatonia, Paradise Lost) at Fascination street studios and with all artwork, photography and music videos created by Ohlsson. It's clear theband members are just as unified as they were when they formed Millencolin,roughly 23 years, seven albums and 1,500 live shows ago. "We're a band truly formed from respect and understanding for each other and our passion for rock music," explains Sarcevic. "If you ask us, this is the best job in the world!"
And one listen to True Brew will tell you that Millencolin are back, they're as strong as they've been in a decade or more and they've never lost that fire. "We tried to explore the 'essence' of Millencolin, what made us what we are and what influenced us when we grew up," says Färm about True Brew's writing process. "Since we started the band we have tried with every new record to explore new ground," agrees Sarcevic. "If the other albums were going further away from where we once were, this one is digging deeper right down in the core of the kind of punk rock the once got us started."
Don't call it a throwback, though. While True Brew musically draws upon some of Millencolin's earliest influences like Bad Religion through galloping drums and fast, technical riffing, the album lyrically tackles modern sociopolitical issues in ways the band never have before. Take standout track "Sense & Sensibility," which Sarcevic wrote about the growing problem of nationalist and racist political parties in his native Sweden but could be applied to just about anywhere in the Western world. "During the weeks before the elections here in Sweden, there were so many ignorant comments being tossed around social media by 'normal' people that I just had to write this song as a comment on all that," he explains.
True Brew isn't all doom and gloom, however. The album's title track is the kind of positive jam fans have come to expect from Millencolin over the years with a message that is universal. "It´s about the struggle of finding freedom and control over your life and trying to live the life you want, no matter if it might be a bit against the grain," Sarcevic explains. "The message is to follow your heart and be true to yourself rather than taking the road recommended by others."
When it comes down to it, True Brew is the kind of album that sounds both timeless and modern, a record that could only come out of four adults who have been side by side since they were teenagers, who have weathered changing politics, shifting cultures and the rise and fall of all kinds of musical trends. Most bands never make it this far in their careers, at least not without a handful of ex-members, lawsuits and various skeletons in their respective closets. So how have Millencolin not only stayed together this long but continue to flourish creatively? "If you're nice people like us, 20 years isn't a problem," Färm jokes. "The fact that we like and respect each other is probably the strongest glue," agrees Sarcevic. "What we hope for now is that people will dig the new album!"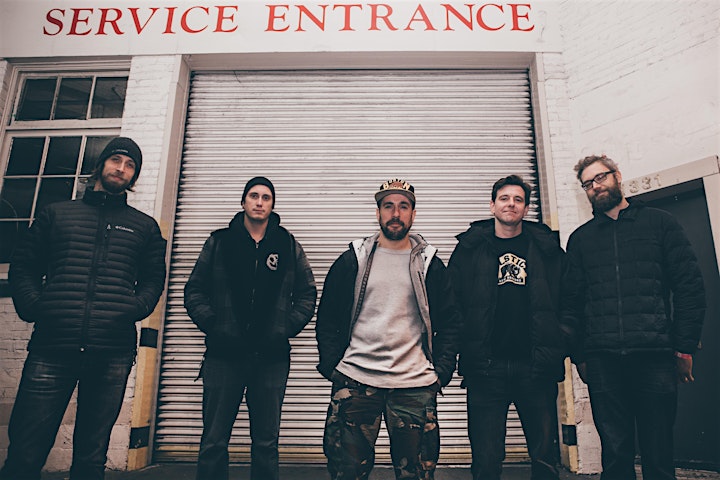 How does one gauge the success of a band pushing the envelope of a genre that receives little to no credit by the mainstream media? In the case of A Wilhelm Scream, the answer is "Who cares?" – As a band playing punk rock for over a decade, members Trevor Reilly, Nuno Pereira, Nick Angelini, Brian Robinson and Mike Supina haven't focused on success, image or whatever bandwagon a group can jump on to get their music into the ears of listeners: It's the ideal of music from an honest place, playing to the kids who want to hear more than a simple love song, or want an opinion rammed down their throats.
Despite operating just below the radar A Wilhelm Scream have carved out a reputation as one of the best live bands around, bolstered by their staggeringly rich albums of ultratechnical melodic punk rock firestorms. Playing 250+ worldwide shows each year, the band posses a work ethic best described as 'heroic'.
A Wilhelm Scream is:
Nuno Pereira – Vocals
Trevor Reilly – Guitar, Vocals
Brian Robinson – Bass, Vocals
Mike Supina – Guitar
Nick Angelini – Drums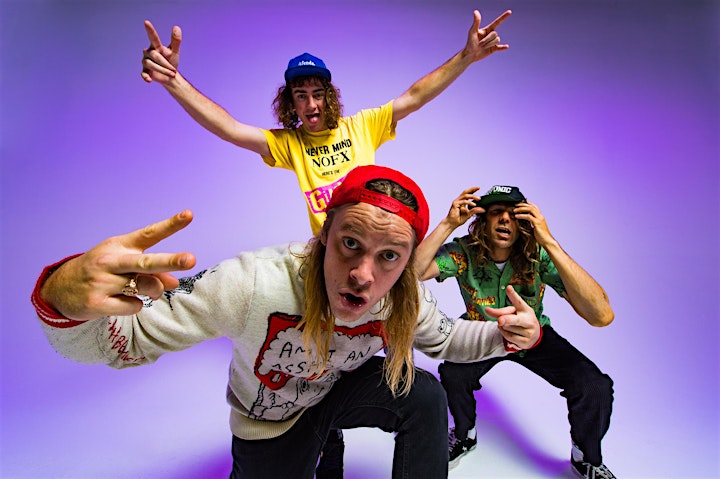 Dune Rats
At a time when true rock tales are as rare as chicken lips, Dune Rats
are traveling the globe as punk rock pied pipers, attracting an army of
ferocious life enthusiasts who are as willing as they are to throw the
dice, turn reality sideways and roll with whatever goes. Ratbags, nerds,
delinquents, outcasts, the brave, the loud, the shy - Dune Rats don't
care who or what you are, only that you abide by just one rule – no
kooks, no gutties.
Palming Dunies off however as your average trio of wasted lunatics,
would be a sad and narrow-minded mistake. These three take as much
pleasure in overt politeness and the odd spot of gardening as they do
in the eyes-wide open adventure of tilting reality. But at the core of it
all - the platform for everything that follows - is their uncalculated lust
for making music. It's taken them from Brisbane to the US, South Africa
(ask them how the hell they found themselves here!), China, Indo,
Malaysia, Canada, Singapore, a small seaside shanty South of Sydney
and to the proudest musical moment so far – the writing, recording and
the imminent release on Dune 1st of their first full-length record.
Dunies self titled debut album began to bed in when they read a letter
Steve Albini wrote to Nirvana in the lead in to the recording of In Utero,
which got them frothing on the idea that if they couldn't record their
album in little over a week, they had no right to be in a rock band.
They connected with the ethos of no bullshit songs, written in a garage
and recorded by a friend. That friend turned out to be Woody Annison,
tour manager and sound engineer for Children Collide whom they'd not
long before bro'd up with when the two bands toured together. Dune
Rats took to the challenge with the same merciless conviction that's
gotten them both fucked up and famous. Over the span of a month
they bunkered down in a tiny shed at Brett's Mum's house on the
beach and began to pen songs with fervor. Those four weeks became
all about growth. The creative well bubbled over beyond the tunes and
they took to renovating the tiny shed, turning it into a tiny soundproof
studio, they built a vege garden, they surfed, they chilled out, they
slept in beds (for a change), they wrote songs together in the true
spirit of what it means to be a band and they recorded all the demos.
By the time they went into the studio with Woody in Melbourne, they
were ready for the Albini-esque timeframe and needed just a half-day
of pre-production and they were on their away.
'Funny Guy' is the first single from the brand new album. A track that
rips, just like the Dunies. It's an anthem calling out to all those that feel
the need to look like something they ain't - living one life, presenting
another - leading to the lyrical catch cry ' Why you gotta lie, all the
time??'
Live the Dune Rats way - 'NO KOOKS, NO GUTTIES!!'
Performers
Date and Time
Location
Refund Policy