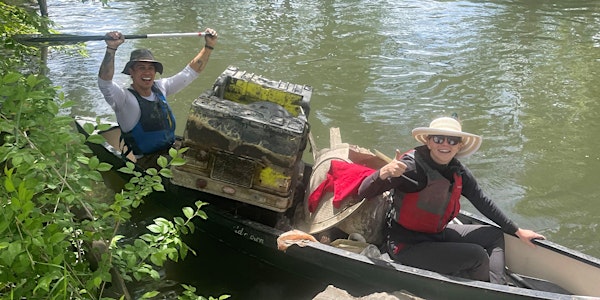 Millcreek Business Council Jordan River Canoe Clean Up
Please Join the Millcreek Business Council and the Jordan River Commission in a canoe clean-up to improve a section of the Jordan River.
When and where
Location
Zevex Park Lane & Confluence Avenue Zevex Park Lane & Confluence Avenue Murray, UT 84123
About this event
This project will involve habitat preservation by removing debris and trash from the river to restore ecological integrity to the Jordan River Parkway and maintain the natural area.
What is a Canoe Cleanup?
The Jordan River faces many challenges as an urban river running through the heart of the Salt Lake Valley, one of which is trash in the river.
The litter comes from a variety of sources, litter and debris wash into the river from the many stormwater drains that empty into the river, some litter is a result of the adjacent trail users neglect, and other debris is thrown in the river intentionally.
The most effective way (and in some cases ONLY way) to remove the trash is from the river using canoes with nets.
The Jordan River Commission has 6 canoes for a maximum of 18 people to get the job done.
The JRC brings the canoes, PFDs, paddles, and instruction. All we need is volunteers to help with hauling trash from the river.
Go to the following link to find out more information on what is involved in a canoe cleanup: https://jordanrivercommission.com/wp-content/uploads/2021/02/Volunteer-Projects-Canoe-Cleanup-1.pdf
Please use the following link to fill out the Volunteer Contract for participating in this cleanup event: https://forms.gle/UmX9pnamPPWJnXbE9.
We are excited to work with you to help beautify our community!